Penske Truck Leasing has ushered in the next generation of truck maintenance technician training using augmented reality to instruct a portion of its workforce virtually. The company is employing a state-of-the-art interactive classroom concept already in practice by Design Interactive, an Orlando, Florida-based human factors engineering firm, whose clients include the U.S. military, the U.S. Department of Transportation and Fortune 500 corporations.
"Penske is proud to be at the forefront of industry innovation by offering this cutting-edge training to our associates," stated Holly Gerke, Penske vice president of technical training and development. "The virtual nature of the program allows our technical trainers to reach a larger number of technicians in the field quicker and boost the consistency and scalability of technician training."
While the planning and implementation of this program were in play prior to the COVID-19 pandemic, the pandemic's arrival certainly accelerated the timetable.
Design Interactive is primarily a software services provider that specializes in augmented and virtual reality training, allowing companies to instantaneously provide livestreamed instruction to remote technicians. According to Matt Johnston, Design Interactive's commercial solutions director, Penske took a unique route to create this program.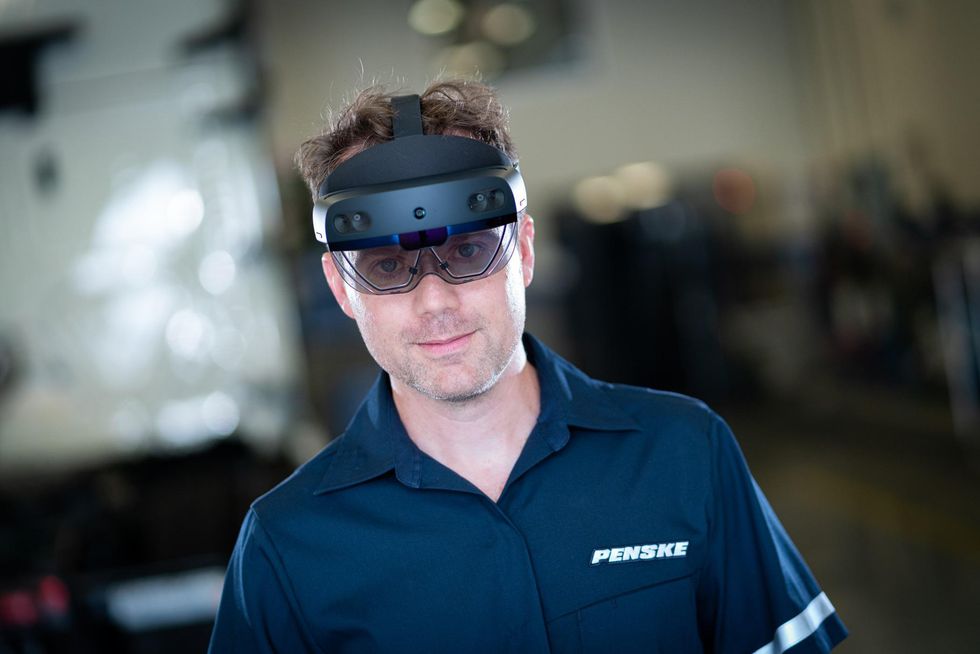 "What is innovative is that Penske flipped the script," he explained. "They put the augmented reality hardware on a single expert and used it to livestream training to remote technicians. It is a concept of one to many."
Currently, select Penske entry level technicians have received training on the basics of truck brake maintenance in the AR pilot program. While many of these new techs are recent tech school graduates in the beginning stages of their careers, some new Penske techs may be 20 years removed from their high school graduations.
"Techs of all experience levels who have attended the training expressed positive feedback," Gerke noted.
The Penske AR training program is a series of technical lessons retrofitted to meet Penske's needs and industry standards. By leveraging virtual environments and access to AR capabilities, Gerke's team can better keep pace with training needs.The Penske technical trainer is in one city, at a Penske facility, providing live instruction while wearing a Microsoft HoloLens 2 device and positioned at a truck.
A small group of technicians are then at several other Penske facilities, each on their own, following along via their company-issued work tablets (these devices are used daily for a wide variety of work duties, which includes wireless diagnostic work) while stationed next to a like vehicle for the practice repair.
The virtual offering incorporates three primary components:
Design Interactive ClassroomXR™ instructor led training: Software that delivers an engaging, yet virtual classroom experience, allowing the Penske technician to see the trainer's first-person view of the skills being taught. There is a live feed chat box, training manuals and photo guides to complement the lesson.
Microsoft HoloLens 2: Augmented reality device employed by the Penske trainer to deliver the curriculum.
Design Interactive XRMentor ™ (formerly AUGMENTOR™): This is a proprietary AR software platform the Penske expert uses to create training content, and technicians use, to gain hands-on experience and work through the sessions in real time alongside the trainer.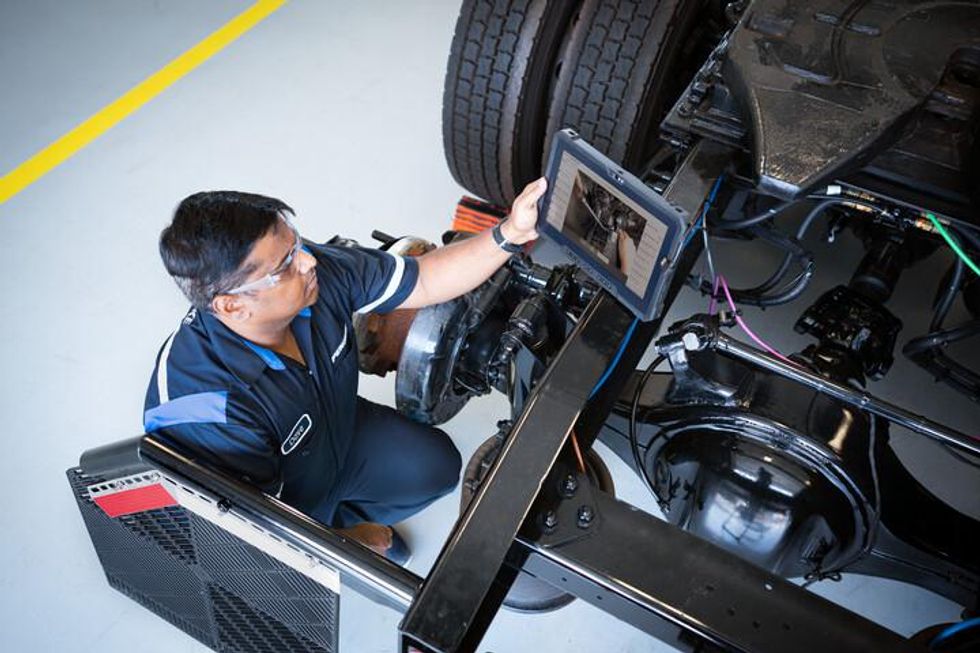 Ernie Luzania (pictured in the top photo) is a Penske technical training manager based in Denver who has trained all the program participants to date.
"No one in the industry has used this technology the way we are using it in the service department today," he explained. "We are still learning the software and hardware. The technicians really get the feeling that the training is tailored to them. Using this program, we can achieve a more consistent repair coast-to-coast."
Sawyer Seville, 21, is a technician in Hagerstown, Maryland. He went through the program a few months ago.
"Seeing it and then going ahead and doing it helped me learn," he explained. "It is the first time I have ever done it and I could see it as the future." Seville benefited from watching the trainer demonstrate the training and Seville was able to easily access the manual while he went and tried it himself.
Chris Rodriguez is a third-year tech working in Fontana, California. The 30-year-old was one of the first participants to experience the AR training.
"This is a better way to learn," Rodriguez recounted. "I had it all in front of me and you can do the training on your own. It feels more like one-on-one training even though other people were in the class. It was a really good way to get experience with hands-on training."
Moving forward, Penske aims to train 70 new technicians each month through the end of the year and 1,000 new technicians by June 2022.
Please click here if you are interested in a maintenance career with Penske Truck Leasing.
By "Move Ahead" Staff