Penske Logistics Positioned as Visionary Within 2021 Gartner Magic Quadrant for Third-Party Logistics, North America, Report
Penske Logistics has been placed by Gartner, a global research and advisory firm, in the Visionary category, as part of the 2021 Gartner Magic Quadrant for Third-Party Logistics, North America report.
---
"Being recognized as a Visionary within the industry reinforces our commitment to innovation and utilizing technology to provide industry-leading services to our customers," said Marc Althen, president, Penske Logistics. "Through our ClearChain® technology suite offerings, Penske is able to provide a heightened level of end-to-end visibility and transparency, which allows us to deliver greater results and satisfaction to our customers."
Gartner's Magic Quadrant evaluates the third-party logistics providers in North America based on completeness of vision and ability to execute.
The Growing Need for Technology
Penske Logistics utilizes multiple paths to address supply chain challenges and increase efficiency, including the use of artificial intelligence and machine learning.
Andy Moses, senior vice president of sales and solutions for Penske Logistics: "We continue to try to improve on age-old challenges inherent in trucking, warehousing and logistics. Customers are incredibly receptive to technologies that save them time and money."
Moses said supply chain disruptions, the labor shortage and growth opportunities make shippers more receptive to technology-based solutions.
Freight markets are currently experiencing significant disruptions. "Within that freight management space, there are innovations that help us navigate these turbulent times," Moses said, adding that being able to understand and predict where freight rates are going aids in planning. "You can get yourself organized so more of your freight can move in a routine market and not on the spot market, which is turning out to be very costly, as well as unreliable and unpredictable, from a service perspective."
Technology is also at the forefront of Penske's maintenance practices, which include data-driven preventive maintenance and a move toward more predictive maintenance. "That manifests itself in terms of reliability. Minutes matter for our customers, and they need to not only be on time but also be precise with time," Moses explained. "We're continuously recalculating ETAs as our drivers are out encountering various obstacles in the real world. That is meaningful."
Quality labor is getting harder and find, and Penske uses artificial intelligence and machine learning to provide meaningful information on work utilization. "That can't typically be discerned to the naked eye. So that is a practical example of where technology is helping front-line supervisors intervene and make decisions to keep people engaged with our customers," Moses added.
Technology can also help monitor driver pay, optimize routes to maximize drivers' time, and streamline the work drivers complete each day. "We're very sensitive to continuously making the technology better for our drivers," Moses stated, adding that a good example is through Penske's extensive use of geofencing. "It relieves the driver of having to complete inputs around arrival and departure."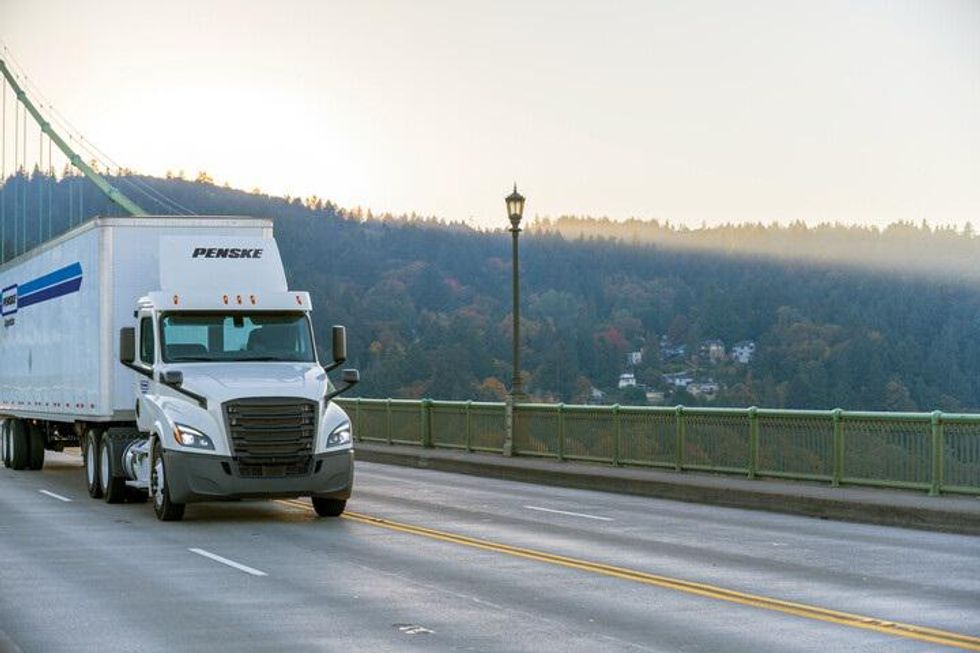 The Value of Relationships
Relationships are one of Penske's top strengths, and it builds those relationships from a strategic and collaborative perspective. Customers of Penske have outlined that one of its greatest strengths is its focus on customer centricity and relationship investment.
It is critical for companies to align with partners that can scale and bring value across multiple product offerings across multiple sites, Moses said.
"There is a huge value in the provider learning and understanding their business rules, such as cut-off times, customer constraints, parking constraints and cost accounting processes. There are a myriad of things the depth of relationship brings to the shipper-3PL/4PL relationship," Moses said.
Customers' businesses are growing nicely right now, and there are opportunities available, Moses said. "We're at a moment where everything is growing rapidly and efficiently. Customers are really wrestling with rapid growth. In many cases, having partners that can implement solutions quickly can bring additional value through technology," he noted.
Moses said procurement is a team sport within customer organizations. "Commonly, people from five or six functions have input," he said. "It is rare that you work with one operations person, and he or she decides everything."
At the same time, not everyone in every function deals with logistics providers in-depth on a day-to-day basis, so for many companies and their buying groups, having reputable, third-party sources to reference is valuable, Moses said. "There is internal due diligence and having it supported by external due diligence is an important factor in how people make buying decisions," he explained.
Gartner, 'Magic Quadrant for Third-Party Logistics, North America', Farrah Salim, David Gonzalez, Susan Boylan, Brian Whitlock, Chris Kina, May 17, 2021
Gartner does not endorse any vendor, product or service depicted in its research publications, and does not advise technology users to select only those vendors with the highest ratings or other designation. Gartner research publications consist of the opinions of Gartner's research organization and should not be construed as statements of fact. Gartner disclaims all warranties, expressed or implied, with respect to this research, including any warranties of merchantability or fitness for a particular purpose.
By "Move Ahead" Staff