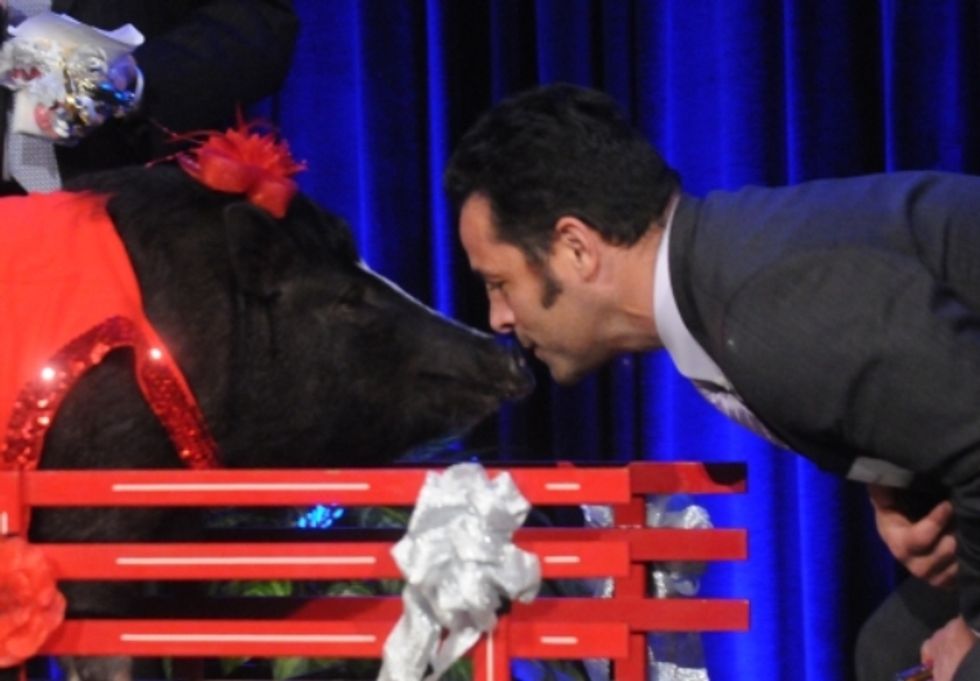 Penske's VP Named Top Fundraiser, Wins Smooch with Pig
Penske Truck Leasing's Vice President of Supply and Planning Paul Rosa won theOlivet Boys & Girls Clubs' Kiss A Pig fundraiser May 22 with a record-breaking $111,884.
---
Rosa was one of 12 Reading, Pa.-area business leaders competing for the opportunity to kiss a pig, a reward that goes to the top three fundraisers. The goal for candidates is to generate enough funds to receive the honor of laying a smooch on potbellied pig Maycie May at the Boys & Girls Club Steak and Burger Dinner.
"A deep heartfelt thank you goes to everyone who has supported our efforts," Rosa said. "When you understand the good work that the Boys & Girls Club does, it's easy to understand why everyone came together to rally for this worthy cause."
Rosa became 100 percent committed to join this year's fundraiser after he met a young Boys & Girls Club participant at the orientation meeting. She drew several pictures depicting how important the club is to her. Rosa still has those pictures on his desk.
"Those drawings motivated me every day during the campaign," Rosa said. "They helped me understand what we're able to accomplish for these children," Rosa said.
The day after being named champion, Rosa received a special email from a fellow Penske associate confirming the Boys & Girls Club's community impact. Penske's insurance analyst Daniel Rutkowski – who was a member of the club in the '60s – thanked Rosa for his successful efforts.
"As a fourth and fifth grader in Reading very many years ago, I was a member of the Olivet Boys Club on Mulberry Street. It was, to say the least, one of the best, most memorable experiences during that formative time," Rutkowski wrote. "I am deeply moved remembering the generosity from that oasis in my life; now it remains very dear to my heart."
As a 12-year coach of youth sports, Rosa used his connections with individuals and youth organizations to reach his record-breaking total, as well as hosted a variety of innovative fundraisers. "I was amazed how everyone supported this cause," he said. "It's a true testament to the Penske name and what Olivet stands for."
The previous single candidate record of nearly $89,000 was set in 2005. The 12 candidates raised a combined record $290,166, beating last year's previous record by $41,423.
The Olivet Boys & Girls Club is a chartered member of the Boys & Girls Club of America.
Penske's VP named top fundraiser for Reading, Pa.-area Boys and Girls Club, wins smooch with pig http://t.co/XQfaBJ47cd

— Penske Transportation Solutions (@Penske Transportation Solutions) 1369341845
By Kandace Wertz