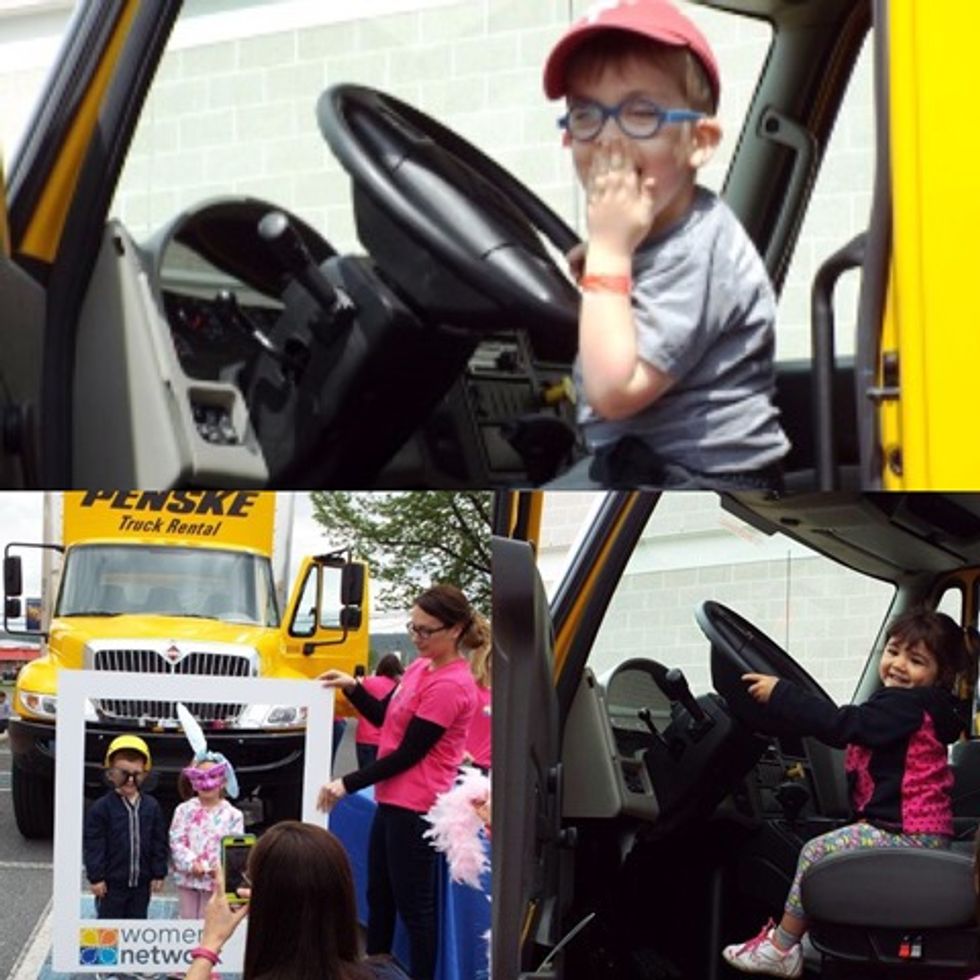 Penske Women's Network Lends a Hand at Touch-A-Truck Event
The big yellowPenske rental truck with its wide-open door was too much for little Ryan Noyse, a truck aficionado all of five years old, to pass up.
---
Once in the driver's seat, Ryan grabbed hold of the steering wheel, pressing firmly on the horn. Startled for just a moment at the loud sound, he let out a little giggle, to the delight of his parents. "He just loves trucks," said Ryan's mom, Melissa Noyse, of Newmanstown, Pennsylvania . "He could stay here all day."
Ryan was among the many children who lined up for their turn to sit in the cab of the rental truck on display recently as part of the 11th annual Touch-A-Truck event sponsored by The Junior League of Reading and the Reading Fightin Phils and held at FirstEnergy Stadium in Reading, Pennsylvania.
Members of the Penske Women's Network (PWN) were on hand to assist the children, helping them in and out of the truck cab, providing truck stickers to the children as keepsakes of their experience and spearheading other activities, including a popular "selfie" station and an obstacle course.
What once started as a fundraiser for the Junior League, an organization that promotes community volunteerism, the Touch-A-Truck event has grown into a community-wide celebration for children and their families.
"Kids can crawl all over the trucks, honk the horns and parents can do other things. There is something for everyone in the family." said Marisa Hunsicker, president of The Junior League of Reading.
Proceeds of the event will go to fund the Junior League's community-centered projects and services, including the organization's Youth Empowered Initiative which seeks to improve the self-esteem of area youth and provide them with the necessary tools to lead.
For the PWN, whose membership includes associates in roles across the company, the event is in keeping with Penske's deep commitment to the community.
"Being involved in Touch-A-Truck contributes to Penske's commitment to community service by supporting initiatives that directly impact future leaders across our community," said Melody Kaag, human resources information systems manager.
For PWN volunteers like Chileen Yeager, an operational excellence project specialist for Penske Logistics, the event builds kinship among associates while offering a fun activity for children.
"It is really fun to see how excited all of the kids get when they get to run the obstacle course or take a look around the big yellow trucks," she said.
Maureen Haskell-Wodnick, an instructional designer in the maintenance department, said she was "excited to share our commitment to the Reading community by teaching children about careers in technology and showcasing Penske as a great place to work."
By Bernie Mixon