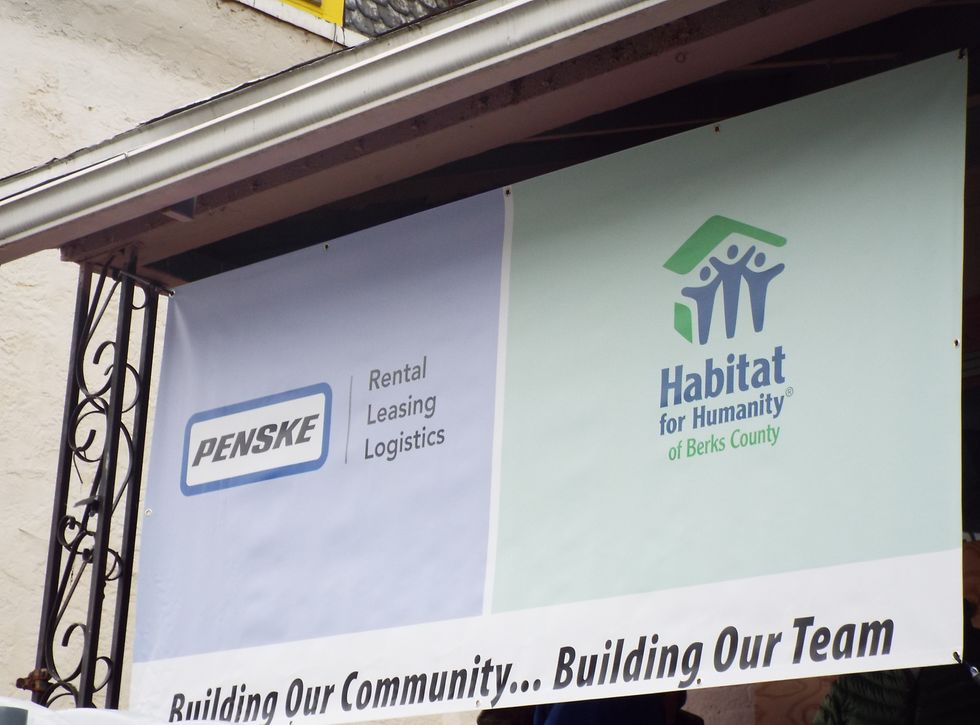 Penske Teams Up with Habitat For Humanity on Home Revitalization Project
A home's warm embrace wrapped around a lifetime of cherished memories can prove to be elusive for families unable to navigate the economic path to homeownership.
---
A unique partnership between Penske and Habitat For Humanity of Berks County is hoping to transform an aging Reading, Pennsylvania, house into a new home for a local family.
For the next 14 months, associates from Penske's Remarketing Department will work to take the house down to its frame and build a new home in its place, thanks in part to a $5,000 donation from Penske.
"As one of the largest employers in the Greater Reading area, Penske is committed to finding ways to positively engage with this community and improve the lives of our friends and neighbors," said Michael Duff, senior vice president, government relations and chief compliance officer for Penske.
The partnership is the first for Penske, with corporate offices in suburban Reading, and Habitat, a non-profit and a United Way of Berks County agency partner.
It also marks the first time that a local business has assumed the role of title sponsor of a Habitat project, said Tim Daley, executive director of Habitat For Humanity of Berks County.
"We've never had a company come out and say they want to be the sponsor of a build," Daley said. "The pride and congratulations must go to Penske for seeing an opportunity to make a difference in the community."
Transformation for a city in transition
With its peeling paint and boarded-up windows, the weathered façade of the Tulpehocken Street house in Reading is a testament to the endurance of the building and its humble, working-class neighborhood.
A shock of green grass in the rear yard stands in equal parts a lasting symbol of the home's past and a promise of its rebirth.
It is also an enduring metaphor for a city in transition.
Times have been tough for Reading, a Rust Belt city, which has suffered as manufacturing jobs have disappeared over the years, leaving it with 40 percent of the population living in poverty and unemployment at more than five percent.
Habitat For Humanity of Berks County was formed in 1988 to address the need for affordable housing by serving as a conduit for neighborhood revitalization and providing opportunities for home ownership for area families.
"People want to live in a place that is clean and safe. They want opportunities for themselves and their children. That's what they want. At the end of the day, that is what it is all about," Daley said.
Habitat's philosophy is to provide a helping-hand to home ownership. Families vying for a Habitat home must perform 300 hours of "sweat equity" as part of the qualification requirements to be able to purchase a Habitat home.
A key component of the family's commitment will be to attend a 75-hour financial class, which will cover topics including investments, banking, mortgages and home repair.
"We put a tremendous emphasis on education. We are teaching them how to be a responsible homeowner," Daley said. "Habitat For Humanity is transformational. We take people who can't own anything of their own because of their economic status, and we allow them to become homeowners," Daley said.
Homes are sold to the families at no-profit, financed by Habitat with little or no interest mortgages. The mortgage payments made by the families are then used for more Habitat projects in the community.
"We don't just transform families; we transform the neighborhood by design. It is an intentional type of strategic plan," Daley said. "We get some people in there to take ownership not only of their homes but of the neighborhood in general."
Yet, to magnify the impact partnerships – like the one between Penske and Habitat – are essential.
"People as well as businesses communicate 24/7 even when they don't say anything. For example, if you are driving down the street, you will see a sign that says 'Penske and Habitat For Humanity'," Daley said.
"You are communicating to me and you are telling me something," he continued. "You are telling me something that is important for me to know – that you have stepped up in an area that other people have written off, and you are making attempts to make it better."
The focus of the project is not to just make the house better but to make it over.
"It was not lived in for some time. It certainly has its fair share of things that need to be done," Daley said. "Our methodology is not to fix what is there; we are going to build a new house within the framework. It will be new floors, new roof, everything."
"Penske is taking the lead by setting the example of how a true partnership can work with a non-profit to create items of action with intended results for the good of the community," Daley said.
Driving community service
Good works for the community is nothing new for Justin Sobotka, a telephone sales representative in the Remarketing Department. He had participated in can drives for the Greater Berks Food Bank and even spent time on a Habitat project as a teenager.
Sobotka first approached Jack Mitchell, vice president of Remarketing, and Bob Glenn, director of Remarketing, with the idea of donating time to a Habitat project as a department-wide team building project.
From there it blossomed into so much more.
"Originally, we talked about a couple of weekends, but then it took on a life of its own," Mitchell said. "Bob and I talked for years about doing things to give back. We thought it would be great for 67 people to give up a Saturday to bond and do something together to make a difference."
The Habitat project was a natural fit.
"We found out that Habitat has a need that is significant and far greater than one day's effort. They were talking through all the different things they do for the Reading community, and we got pretty excited about being part of that bigger picture," said Glenn.
"We care so much about our employees and our employees' families why not extend that same type of thought process into the community and have it not just be about ourselves but have it be about others around us," he said.
There has been no shortage of associates willing to lend a hand.
"It has been tremendous to see the support from the whole team rallying around a good cause," Mitchell said.
For Lainey Maracine, a remarketing support specialist, working on the project has been a homecoming of sorts.
"It's my old neighborhood," said Maracine, on a recent work day at the house. "A lot of my friends lived here."
Childhood memories filled with games of "Hide and Seek" started to flood back for Maracine, who now stood ready to help bring a home back to life for a local family.
"It's a good cause," she said. "Our work is going to go to a family in need, so it is worth it."
By Bernie Mixon