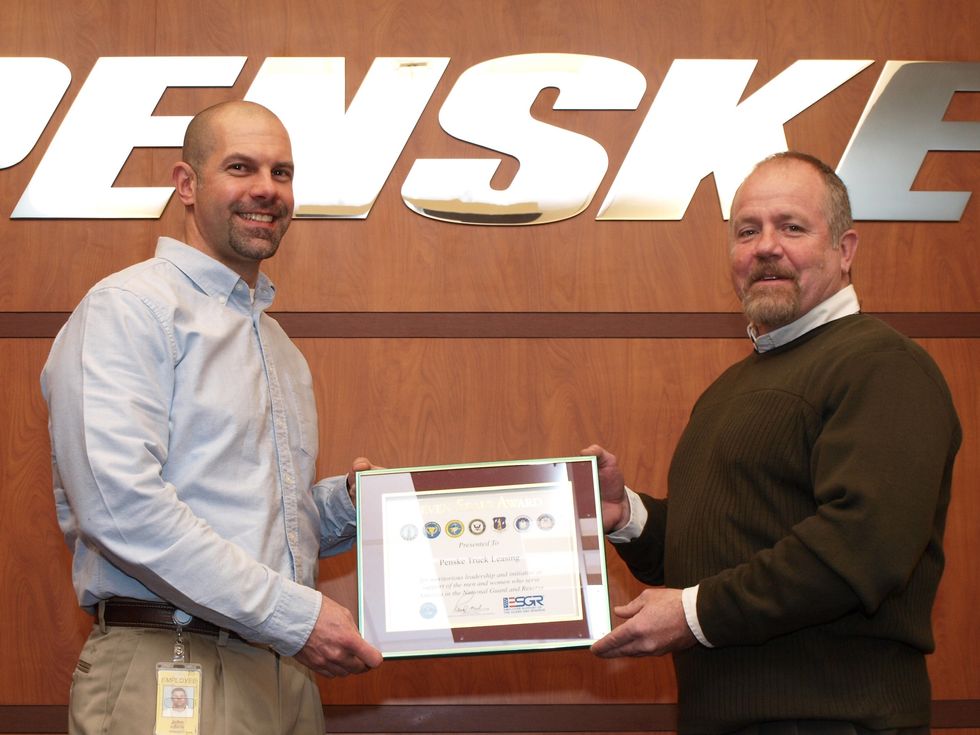 Penske Recognized for Support of Guard and Reserve
Penske Truck Leasing recently received the Seven Seals Award from the Department of Defense's Employer Support of the Guard and Reserve (ESGR) during a luncheon at the U.S. Army Heritage and Education Center, Carlisle, Pennsylvania.
---
The Seven Seals Award recognizes individuals or organizations that greatly support the men and women serving in the Guard and Reserve. Employees who are members of the Guard or Reserve nominate their employers for this annual award.
Penske was one of 95 Pennsylvania companies honored with the Seven Seals Award.
"We're honored to receive the Seven Seals Award from the Department of Defense," said Ron Schwartz, Penske's director of staffing services. "We take pride in supporting our Guard and Reserve associates and thank them for their service and dedication to the company. We also thank the management team for supporting these selfless associates."
Penske was also nominated for the prestigious Secretary of Defense Employer Support Freedom Award, which is presented annually by the Secretary of Defense to the top 15 U.S. employers. Like the Seven Seals Award, nominations for the Freedom Award must come from a Guard or Reserve member who is employed by the organization they are nominating.
Associates Nathan Hanners, a clerk from Grand Prairie, Texas, and John Adams, an IT engineering supervisor in Green Hills, Pennsylvania, were among 97 Pennsylvania National Guard and Reserve members who nominated their employers for the 2014 Support Freedom Award. Penske was one of only two companies that received more than one nomination.
For Hanners, Penske has shown tremendous support during his time away from work for training as an Army Reservist with the 370th Chemical Company in Fort Worth, Texas. "I've always been impressed with Penske for supporting me during my training and for their hiring of the military," said Hanners, who has been with Penske for almost three years. "I've had a great experience, and I've recommended Penske to others from my Reserve unit."
A 15-year Penske associate, Adams (pictured, left) appreciates Penske's continued support when he was activated in 2003 with the Air Force Reserve and 2008 with the Air National Guard. Adams has served 24 years in the military: nine years of active duty and 15 years in the Reserve. He is currently serving with the 193rd Special Operations Security Forces based in Middletown, Pennsylvania.
"My vice president Dennis Hague and manager Grayson Krauss (pictured, right) wholeheartedly supported me when I was on year-long deployments and continue to do so the weeks I am away each year for training," Adams said. "I also appreciate the support of my other team members, who pick up the slack while I'm gone and make it an easy transition going out and coming back."
According to Larry Klink, Employment Support Specialist with ESGR, Penske is "one of the leaders" among companies that support employees serving in the National Guard and Reserve.
"Penske meets the highest standards for the Seven Seals Award," Klink said. "The company recognizes, entrusts and supports these employees who are defending our nation. "
Klink commended Penske for its support of the ESGR and encouraged the company to continue its strong efforts, including its company policies on annual leave for Guard and Reserve associates.
Service members who want to nominate their employer for an award through the ESGR can visit the ESGR Employer Awards page for links to all the nomination forms.
By Kandace Wertz