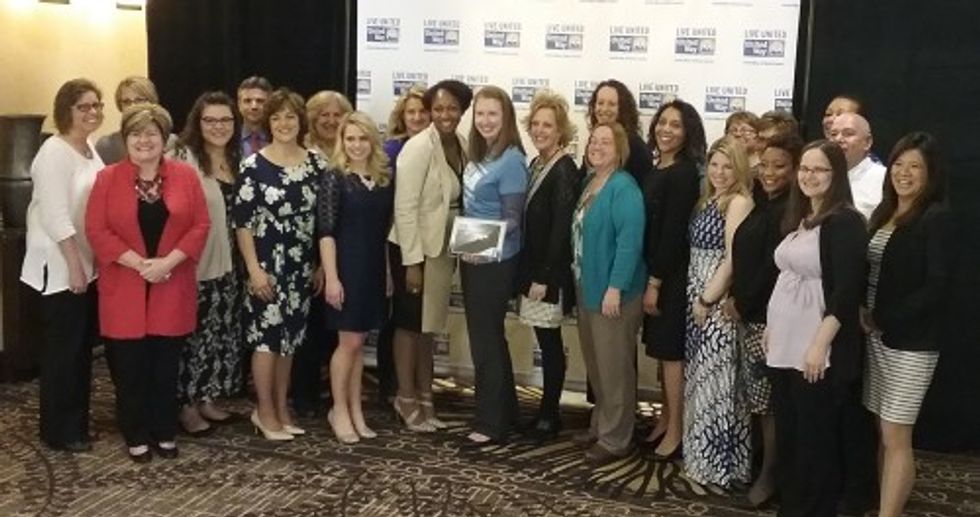 Penske Receives Eagle Award from United Way
Members of Penske's United Way at Work Committee accept the Eagle Award from the United Way of Berks County for the company's support of the organization's annual fundraising campaign.
---
The United Way of Berks County, Pa., presented Penske Truck Leasing with an Eagle Award for the company's support of the organization's annual fundraising campaign.
During the 2015 United Way fundraising campaign, Penske reached a unique milestone by becoming the first and only company in Berks County to raise more than $1 million, a $200,000 (or 22 percent) increase over the 2014 campaign. In 2015 Penske had 106 leadership givers, including 13 members of United Way's Tocqueville Society, the most of any company in Berks County.
"Penske being the first company to conduct a million-dollar United Way campaign is a testament to the generosity of our associates and the commitment of our leadership," said Mike Duff, Penske's senior vice president – government relations, who co-chaired the 2011 United Way campaign with his wife Diane. "We understand the importance of giving back to the communities where we do business and helping those who need assistance. Our support helps United Way fund programs and services that will touch over 100,000 Berks residents this year."
The company's United Way at Work Committee accepted the award from White and Duff, the United Way of Berks County's Board Chair, before more than 500 people at the organization's annual dinner at the DoubleTree by Hilton Hotel in Reading.
"It was an honor to recognize the outstanding accomplishments of the Penske team," said Tammy White, president, United Way of Berks County. "Penske is a respected community leader. United Way values the company's commitment to improve lives and strength community through volunteerism and generous financial support"
Regina Hampton, Penske's senior compensation analyst who served as co-coordinator of Penske's 2015 United Way campaign, added, "Penske believes in the United Way's efforts to support our community to ensure everyone is given the same opportunities."
Eagle Award recipients are selected based on areas such as: CEO endorsement of the workplace campaign; support of key programs, such as the Loaned Campaign Specialist and Loaned Campaign Accountant Programs; participation in the annual Campaign Planning Workshop; encouraging year-round communication and engagement activities within the workplace; and support of sponsorships and events.
In March, the charitable organization presented Penske with its Presidential Award, ranking first on its Top 10 list of supporting organizations during its annual drive.
By "Move Ahead" Staff