Penske Logistics Welcomes Third Elite Class of Safe Truck Drivers to its Wall of Fame
Eight more of Penske Logistics' safest professional truck drivers were celebrated at the company's headquarters in Reading, Pennsylvania, recently for achieving 20 consecutive years of preventable accident- and injury-free driving.
---
The honor is part of Penske Logistics' Premier Driver Recognition Program, established to recognize the company's elite professional truck drivers and celebrate their safety milestones. These drivers made up the program's 2019 Diamond Class – currently the highest level of safety recognition at the company.

Here are the 2019 honorees for 20 years of consecutive safe driving:
Athern Archer, Jr., Michigan
Melvin Bartsoff, Jr., Michigan
David Jones, Kansas
Harold Legge, Ontario, Canada
David Pearson, Ontario, Canada
Charles Van Winkle, Indiana
James Weiss, Indiana
Jerry Wood, Indiana


The Premier Driver Recognition Program is comprised of three Classes receiving annual recognition for consecutive safe driving without a preventable accident: Diamond (20 years), Platinum (15 years) and Gold (10 years). The Platinum and Gold Classes were honored earlier this year.

Since the program's inception in 2017, Diamond Class honorees receive invitations to attend a recognition ceremony to celebrate their safe driving accomplishments in Reading. Their families and supervisors are invited to join them.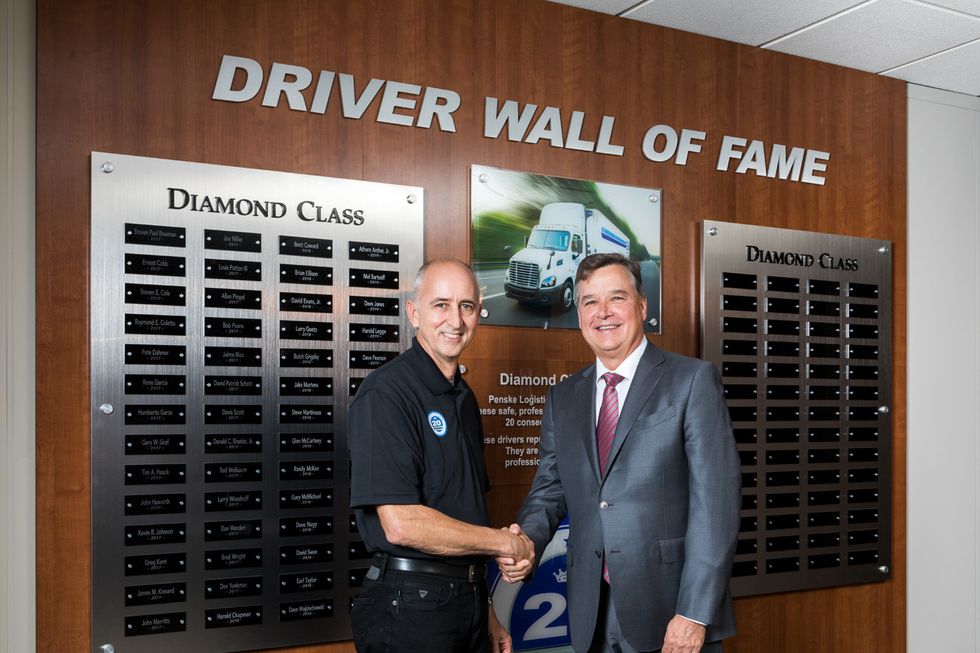 The two-day event includes a tour of Penske's 24/7 Roadside Assistance Center, a photo opportunity with Penske Logistics President Marc Althen and a chance for the drivers to see their names inscribed on the Driver Wall of Fame to tribute their extraordinary achievement.
This year's group pushes the total Diamond Class headcount to nearly 50 drivers. After seeing his name inscribed on the Wall of Fame, 2019 honoree David Jones, a driver for Penske for 21 years, says he's well aware of the elite company he is joining.
"It is a great honor for Penske to recognize me for the service I do," said Jones. "It means a lot to me, my boys and my wife. The training that goes into Penske's drivers, I am a product of that."
Like Jones, 20-year Penske Logistics driver Harold Legge knows very well the magnitude of this safe driving accomplishment.
"I appreciate the recognition," said Legge. "It's very easy to get tangled out there on the road. You need to be patient and conscious of the people around you."
Capping off the trip, the drivers and their families joined company leadership for dinner, followed by a recognition ceremony at the DoubleTree By Hilton Hotel Reading. To further celebrate the 2019 Diamond Class, drivers received personalized watches and custom-fitted blazers – which they wore that evening and for a group photo.
One after another, each honoree was called onto the stage to receive their award and pose for one last photo with Althen and Jason Herr, Penske Logistics' vice president of safety.
"Thank you for your dedication to Penske and your commitment to performing your job safely, each day," said Althen. "The job of a professional truck driver is not easy. Yet, you have risen to meet each challenge with grace and professionalism and in doing so, remained accident-free for 20 years. That is quite an accomplishment."
Pictured in the top image (left to right): Jerry Wood, David Pearson, Athern Archer, Jr., David Jones, Harold Legge, Charles Van Winkle and Melvin Bartsoff, Jr.
Not Pictured: James Weiss
Interested in a driving career with Penske? Visit gopenske.com/drivers or call 1-855-CDL-PENSKE for employment opportunities. The company offers competitive wages and a wide range of benefits. Penske is an Equal Opportunity Employer.
By Chris Abruzzo