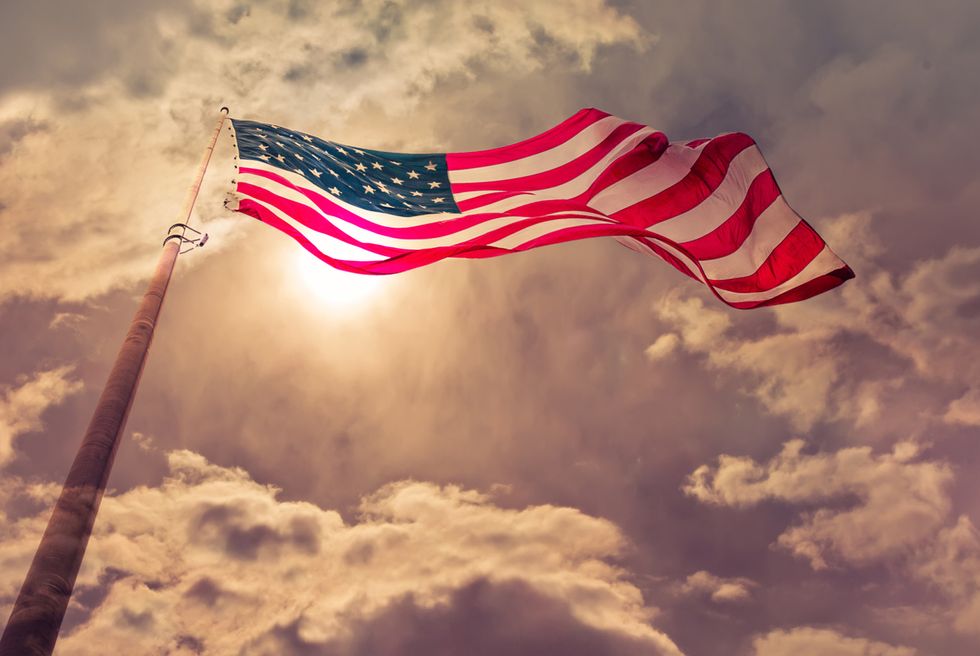 Penske Honors Veterans with Fourth Annual Veterans Day Recognition Event
Honor, respect and gratitude were all seen on the faces of those in attendance at Penske's annual Veterans Day Recognition Program in Reading, Pennsylvania, to honor the hundreds of associates who have served in the U.S. Armed Forces.
---
Members of the Penske workforce and senior leadership recognized more than 60 associates from our Reading, Pennsylvania, and Allentown, Pennsylvania, locations who served.
"The 63 associates from these locations are among the more than 1,700 veterans who work at Penske locations across the U.S.," said Penske's senior vice president of government relations, chief compliance officer and emcee for the event, Mike Duff.
"From the Vietnam War to the Global War on Terrorism, these veterans have served on the front lines to some of the most significant changes in world history," Duff said.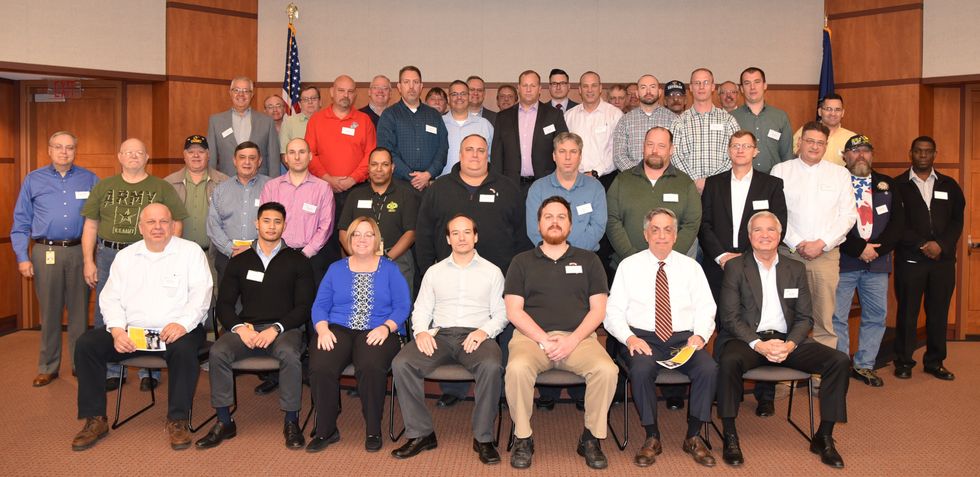 To kick off the program, the Alvernia University Chorus Ensemble, led by Dr. Deborah Greenawald, sang the National Anthem.
Afterward, several people took to the microphone, including Mark Gillen of the Berks Military History Museum, to share what Veterans Day means to them, as well as tell a few stories and messages that inspired the crowd.
"Sacrifice is the character of the veteran," said Gillen. "The patriot is a risk taker. Taking risks is not a bad thing. We have many men and women in this room who put their lives at risk. Many of our grandparents and ancestors took risks."
General Manager of the Northeast Area Corey New also addressed the crowd. He served over 26 years as a soldier in the Army and spent the majority of his career in transportation, warehousing and distribution, with duty in multiple logistics units in the U.S., Germany, Afghanistan and Iraq.
To begin his speech, New opened up with a short video and spoke highly of what great additions veterans make to the Penske workforce.
"I applaud the continued commitment of our Penske leadership to recruit invested and retained veterans to make our team the very best," said New. "I know our veterans will continue to make a difference and make Team Penske stronger now and into the future."
Veterans continue to be a big part of helping the company continue its efforts in moving customers and the world forward. Over the last three years, veterans represented 9 percent of all Penske new hires.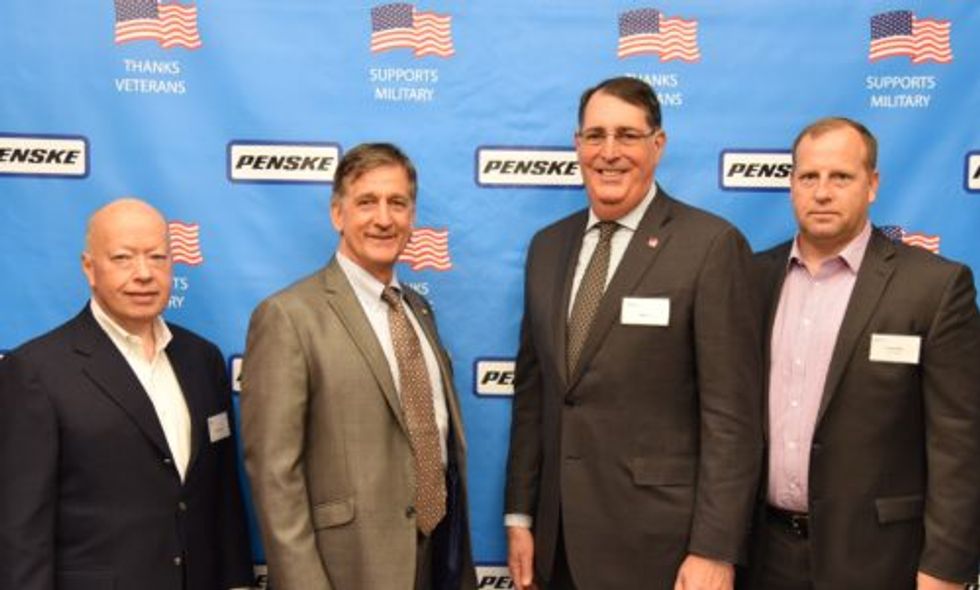 Appearing at Penske's Veterans Day event, from left: Brian Hard, president and CEO of Penske Truck Leasing; Mark Gillen, Berks Military History Museum; Mike Duff, senior vice president of government relations and chief compliance officer; and Corey New, general manager of the Northeast Area for Penske Logistics and 26-year veteran of the U.S. Army.
"We will continue our commitment and efforts to hiring veterans," said Brian Hard, president and CEO of Penske Truck Leasing. "We appreciate the values, work ethic and leadership skills they bring to our organization. Those qualities – along with composure under pressure, strong attention to detail and a big-picture view – make veterans such a great fit for roles with Penske."
As the event ended, the veterans stayed for a group photo and received a gift as a token of Penske's appreciation. Veterans and other associates were also able to observe some of the military memorabilia on display from the Berks Military History Museum. Some of the items included uniforms and tools that dated as far back as the Spanish American War.
"We thank you, veterans, for answering the call to serve our country and protect our freedom," said Duff. "With gratitude and honor, I say thank you for your sacrifice."
By Chris Abruzzo