Penske Honors Veterans at Annual Recognition Event
For U.S. Marine Corps Sergeant Christopher Kaag, Veterans Day is not only one of the most significant holidays of the year, but also a reminder that he owes his life to his service.
---
"Being in the military was the best way for me to grow up," said Kaag, during Penske's annual Veterans Day Recognition Program Nov. 11 at the company's headquarters in Reading, Pennsylvania. "The United States Marine Corps has given me the tools to overcome any challenge."
Kaag spoke to Penske veterans and associates about his experiences and thanked fellow veterans for their service. More than 50 veterans at Penske attended the event.
In 1998, Kaag was diagnosed with a rare degenerative nerve condition. Now, he spends his time using the training he received in the military to help promote an active lifestyle to the disabled community through his two Reading-based programs, Corps Fitness and the IM ABLE Foundation.
"Veterans Day means many different things to many different people," said Kaag, who credits the Marine Corps for helping him to improvise, adapt and overcome. "But it's important to remember that showing appreciation sometimes takes more than just words."
Penske employs more than 1,700 veterans at locations across the country, including 29 who have been on active military leave this year. Nearly 12 percent of Penske's new hires within the last three years have a military background.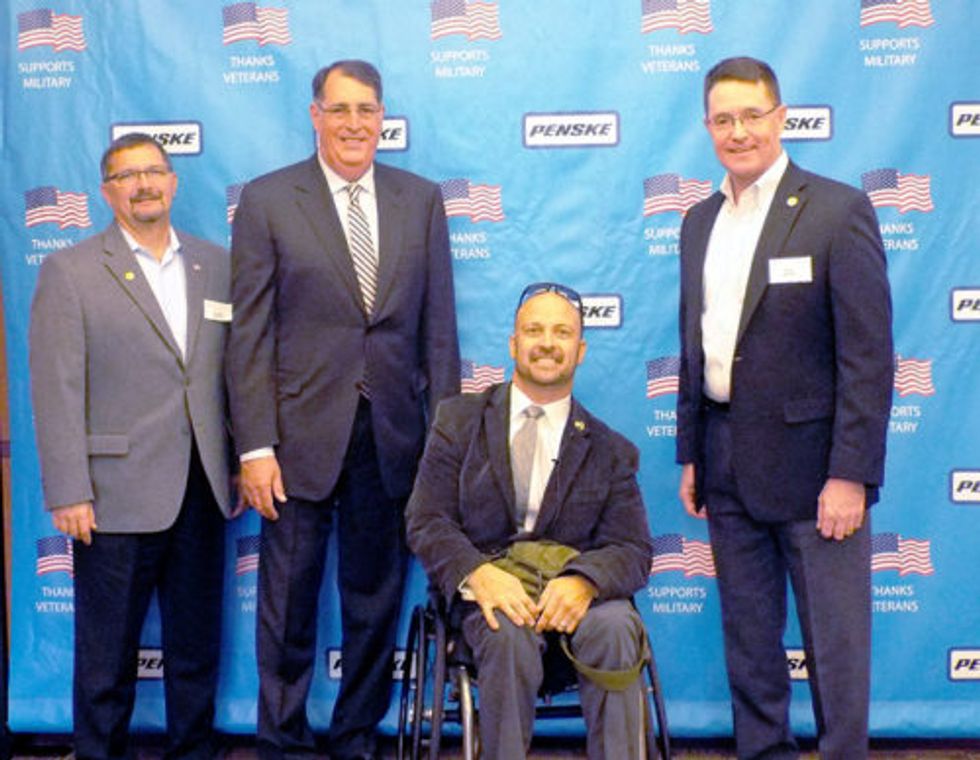 Pete Bayer, Penske's area vice president and a 29-year veteran of the U.S. Army, feels that values exhibited by veterans like Kaag make them invaluable resources for not only the nation, but our workforce.
"Veterans are young men and woman who have chosen to make a difference," said Bayer, during his speech to the veterans. "They know how to be part of something bigger than themselves."
Bayer highlighted many factors that empower veterans to be valuable contributors to the workforce, including their value of service.
"Veterans truly understand the value of service," said Bayer. "And to a veteran, service simply means to give more than you receive. I see that every day here at Penske."
Emcee Mike Duff, Penske's senior vice president of government relations and chief compliance officer, thanked all the veterans in attendance for giving so much to protect the safety of the United States.
"It's a truly humbling experience, and I can't thank you enough," said Duff.
Members of the Alvernia University Chorus Ensemble, led by Assistant Professor Jennie Michalik, sang the national anthem at the event.
By Tony Kozuch
Group photo: Veterans from Penske's corporate office in Reading, Pennsylvania, as well as from the Allentown and Reading district locations
Smaller group photo: Allen Moyer, marketing project manager and Air Force veteran; Mike Duff, senior vice president of government relations and chief compliance officer; Chris Kaag, Marine and founder of Corps Fitness and the IM ABLE Foundation; and Pete Bayer, area vice president and 29-year veteran of the U.S. Army; addressed veterans at the Nov. 11 event.