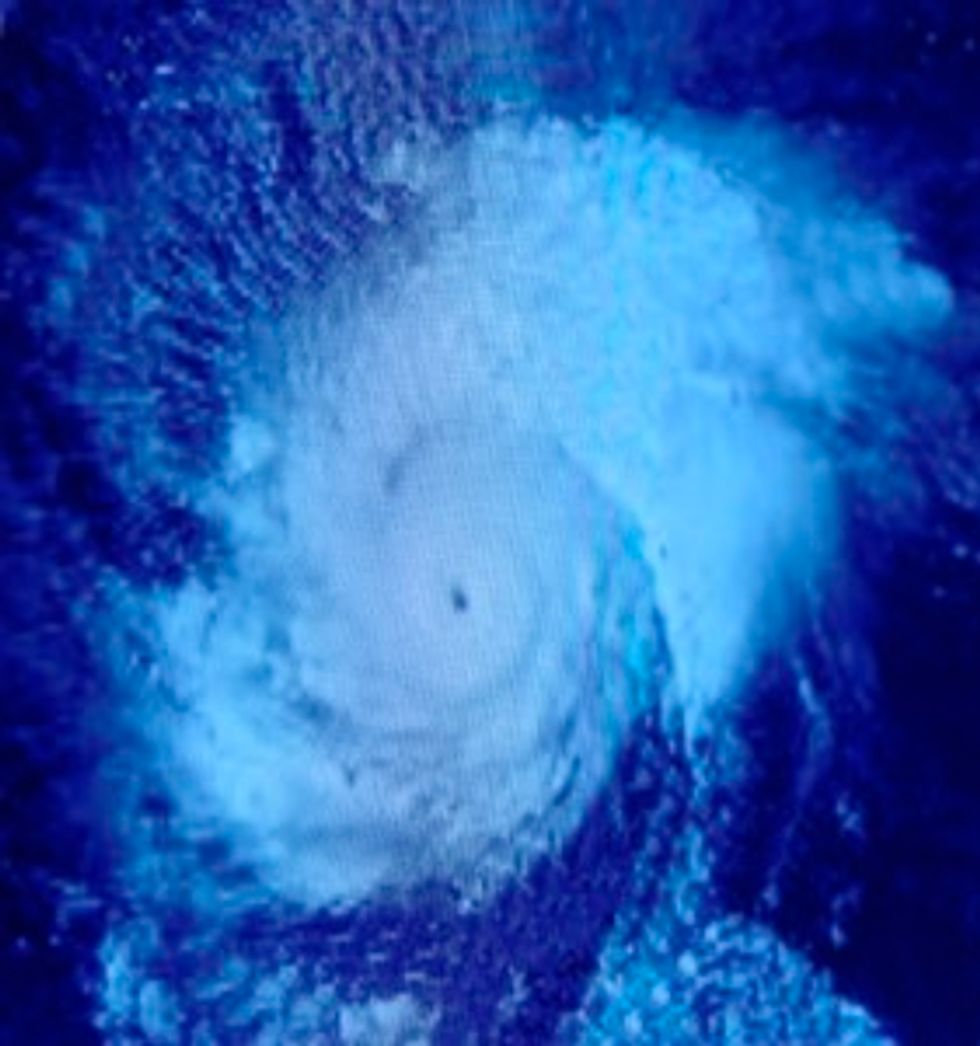 Hurricane Katrina's 10th Anniversary Rekindles Memories
Among the renaissance stories to be retold on the 10th anniversary of Hurricane Katrina are those of dozens of Penske associates who called an empty Baton Rouge, Louisiana, office building home.
---
Dubbed "Camp Penske," the structure's 4,000 square feet of office space and four truck bays were converted into make-shift living spaces for associates and their families who were among the more than 1 million people in the region displaced by the hurricane.
Some of those associates paused recently to recall the impact of the Aug. 29, 2005, monster storm and the extraordinary efforts of ordinary people, as well as Penske, to help each other recover in the days and months that followed.
"One thing I will not forget is how Penske came to the rescue with so much for our associates. No one lost a paycheck. No one lost a job," said Scott Mendes, assistant district manager in Harahan, Louisiana. "Penske stayed committed to their people, and it was really something that made me understand what kind of company I was working for."
********************************************************************************
Hurricane Katrina made landfall early on Aug. 29, 2005, between Grand Isle, Louisiana, and the mouth of the Mississippi River. A Category 3 storm with 127 mph winds, it was responsible for widespread flooding from Gulfport, Mississippi, to New Orleans, where floodwaters overran the levees there.
The hurricane was responsible – directly or indirectly – for 1,833 deaths, and with damage estimates set at $108 billion, it is the costliest hurricane and single most catastrophic natural disaster in U.S. history, according to the Federal Emergency Management Agency (FEMA).
More than 1 million people in the Gulf Region were displaced by the storm. Shelters, at their peak, housed about 273,000 people.
Storms – including hurricanes – were such a common occurrence in the Gulf Region that many districts followed storm protocols: buddy systems, evacuations and facility storm preparations.
In the days before the storm was set to make landfall, Mendes, who at that time was the district rental manager in Baton Rouge, said once the facility was secure, the plan was to hunker down at home and wait out the storm.
Commonplace anticipation soon turned to worry as the storm inched closer to landfall.
"It had reached a Category 5 in the Gulf, and we knew it had the potential to be really bad. But it had been decades since the greater New Orleans area had experienced a 'bad one,' so I don't think we had a clue as to how bad it could be," said Mendes.
Mendes chose to wait out the storm at home in Baton Rouge, located 70 miles west of New Orleans, but was not spared the brunt of gusting winds. He worried about broken windows at his home, but the real impact came with broken levees in New Orleans.
"Once there were breeches, the city went under water," Mendes said. "Everyone living here was affected in some way. Some were devastated and lost everything. Everyone's lives were different after that."
*************************************************************************************
In the days and hours leading up to the arrival of the hurricane and subsequent mandatory evacuation, Trisha Johnson said the decision came quickly to leave her home in Metairie, Louisiana, a suburb of New Orleans.
"Thoughts go to the understanding that you may come back to a flooded home, a home where the roof is gone or no home at all," said Johnson, a lease sales representative in Harahan, Louisiana. "You try to think of all the things that you better take with you, from insurance papers to treasured family photos and mementos."
Johnson and her family made it to Atlanta to stay with relatives and wait out the storm. As she gleaned bits and pieces of news about the storm and its impact, her mind began to race about the place she left behind.
"All you have is the television news. You wait to hear them mention your part of town and maybe get a glimpse of something close to your neighborhood," Johnson said. "Do I have a home? Do I have a job? Where is the rest of my family? Even after the water subsides, there are no stores for food and no schools for the children. The entire city is under martial law, and you can't get in even if you wanted to."
A week after the storm made landfall, Steven Burford, former branch rental manager in Jefferson, Louisiana, was able to come back to the city on an emergency entry pass.
"The city was destroyed, and we really did not know where to start," said Burford, now a lease sales representative in Jefferson. "There were very few businesses open, so the food supply was a real problem and even the few places that were open had lines for days."
Two weeks after leaving for Atlanta, Johnson received a call that the Baton Rouge and Jefferson locations survived the storm for the most part and she could come back. Her first thought was of her co-workers and their families. Her second was to prepare for the trip back home.
So she packed up her family for the trip west to an unused office building tucked away some 70 miles west of New Orleans.
It would later become known as "Camp Penske."
*************************************************************************************
On the day after the storm, associates in Baton Rouge began to compile a list of those affected by Katrina in the New Orleans area. It became clear many would need help with shelter.
"We began to discuss ideas on what we could do locally, and someone suggested using the empty facility" on Choctaw Road in Baton Rouge, said Steve Hicks, former district manager in Baton Rouge, in an article that appeared in the November 2005 edition of Baton Rouge Parents Magazine.
"We went to work on making this a home for our associates," said Hicks, who is now the district manager in Oklahoma City.
While other associates cleaned the facility, associate Chris King called on his church Sunday school class, who donated furniture, clothes, food, toys and other items for the displaced associates and their families.
As they arrived, the associates told harrowing tales of survival. One had been rescued from his roof, and several had waded through water, while others rode on the backs of trucks, buses, in helicopters and airplanes, according to a recounting in the magazine article.
Most arrived with just the clothes on their backs.
Eight offices were converted to bedrooms for families, and as others arrived, a large storage room was used to shelter more people. The building's locker room was converted to showers. Donations came in from customers, associates and others.
Many credited the efforts of Jim Norman, human resources manager in Fort Worth, Texas, who spent six weeks working to assist associates in any way he could.
Norman recalled one moment when he arrived at the shelter with a newly purchased washer and dryer.
"Usually we had supplies, food and other items they needed to survive. But on this day, when we opened the back of the truck, these burly technicians saw that we had purchased a washer and dryer, and they broke down and cried," Norman recounted.
As much as the lives were forever changed for the people he was trying to help, Norman said Katrina transformed him as well.
"I have cried and prayed and broke bread with people who were completely devastated, and every Friday I would jump on a plane and fly back to my house and the comfort of family," Norman said. "Leaving each week was very hard. I find that Katrina changed me. "
*************************************************************************************
Beyond Katrina's human toll was the hurricane's impact on business operations for companies in the region, including Penske.
"Not only did we have an entire region that lost a chunk of vehicles to move freight," Mendes said, "but you also had 60,000 people homeless, grasping at whatever belongings they could salvage to move to places unknown to them."
All available units went fast.
"We ran out of trucks immediately," Mendes said. "People who lost everything were literally in our rental offices everywhere across the state crying, pleading and begging for a truck. We would have customers waiting in the parking lot to take the vehicles as soon as they hit the yard."
In addition to vehicle shortages, there were other challenges, such as securing fuel drops, finding food and dealing with traffic headaches – the result of thousands of people returning to Baton Rouge all at once. It continued this way for about five weeks.
In the months following Katrina, personal and professional recovery took shape in many forms.
"Everyone participated in the recovery. If your home was not damaged, a family member's was," Mendes said. "I remember working at Penske and then going back home and chain-sawing trees out of houses. The city and area really came together. People helped each other every day."
One of the best things to come out of a devastating experience like Katrina is the depth of human kindness displayed by countless people to aid those who were left with nothing.
"It was all about the people, the families, and I can tell you that after that experience, I am proud to work for Penske," Norman said. "The hope we gave associates and the way we helped them is what it's all about at Penske."
By Bernie Mixon