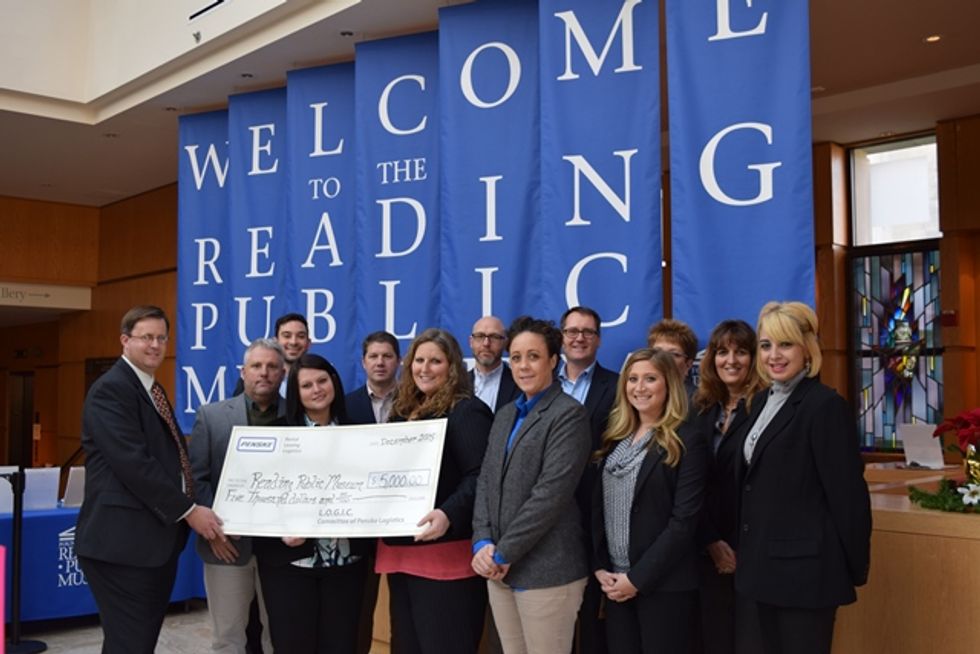 Associates Raise Money for Local Museum
John Smith, director and CEO of the Reading Public Museum (front row, from left), accepts the donation from Penske associates David Burnheimer, Leigh Anne Sobjak, Sharon Frantz-Howell, Jennifer Kalis, Nicole Cerminaro, (back row) Josh Maldonado-Mazzo, Brian Fidler, Walter Srebalus, Bill Scroggie, Lorraine Snyder, Roxann Jarsocrak and Astrid Torres
---
Cupcakes, chili and art were among the many items that translated into $5,000 for the Reading Public Museum in Reading, Pennsylvania, following a successful fundraising year for the Transportation Management team at Penske's corporate headquarters in Green Hills, Pennsylvania.
The Transportation Management team formed an outreach group in 2014 to strengthen their unity as a department and enhance their community involvement. Their name, LOGIC, encompasses what they are trying to accomplish: Logistics Outreach and Growth in Our Community.
Throughout 2015, the group hosted numerous fundraisers – from cupcake, pretzel and flower sales to a chili cook-off and art auction – to raise money for a local charity.
Members of the Penske team presented their donation Dec. 4 to John Smith, president and CEO, Reading Public Museum.
"We're delighted that Penske has chosen the museum as a worthy recipient of their year-long fundraising efforts," Smith said. "We appreciate their support. The monies that the associates raised will help us continue providing interactive arts and science exhibits to the community."
According to LOGIC president Sharon Frantz-Howell, the associates selected the museum after they learned the 100-year attraction costs $5,000 a day to operate.
"We have an incredibly dedicated core team of associates who have worked hard all year to encourage and motivate our department to reach this goal," said Frantz-Howell, a load planner. "It's been such a great journey this year, and I couldn't be prouder to work with such a great group of people. We are in the planning stages for 2016, and I can't wait to see what we accomplish in the months and years to come."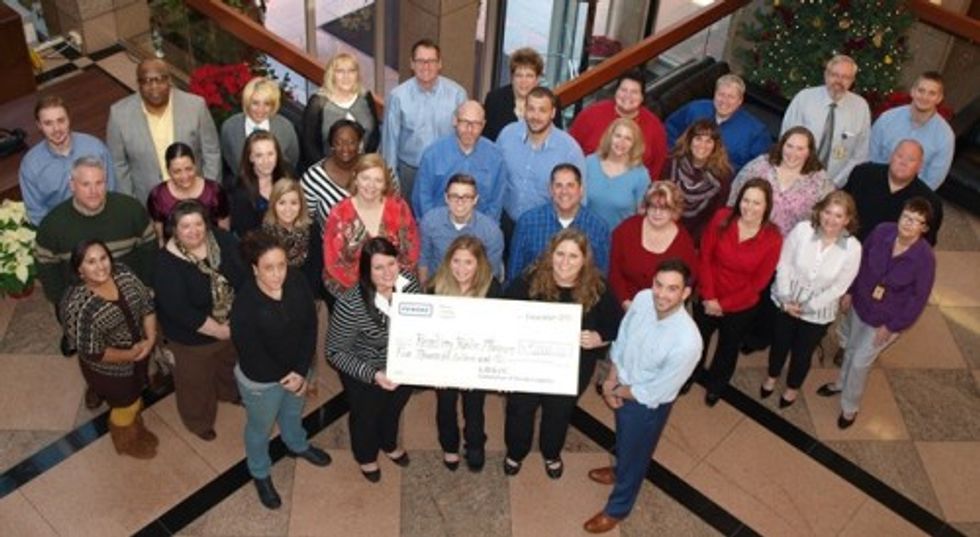 Associates in the Transportation Management Department at Penske
The management team at Penske fully supports and recognizes these associates for their passion to make a difference in their community.
"I'm very proud of our Transportation Management team for their philanthropic efforts to support a local cultural institution like the Reading Public Museum," said Marc Althen, president, Penske Logistics. "Generations of families have benefited and will continue to benefit from successful fundraising campaigns like this one."
Bill Scroggie, Penske's senior vice president of international operations, added, "I am extremely proud of the creativity, participation and generosity of all members of the Penske Transportation Management team. Our associates are the face of Penske to the community and their support creates a tighter bond between the company and the community. Their efforts show the pride everyone has for Reading and Berks County."
In 2014, LOGIC raised nearly $3,000 to benefit the Animal Rescue League of Berks County, Movember for Men's Health, Doberman Pinscher Rescue of PA, Tragedy Assistance Program for Survivors (TAPS) and Opportunity House.
By Kandace Wertz