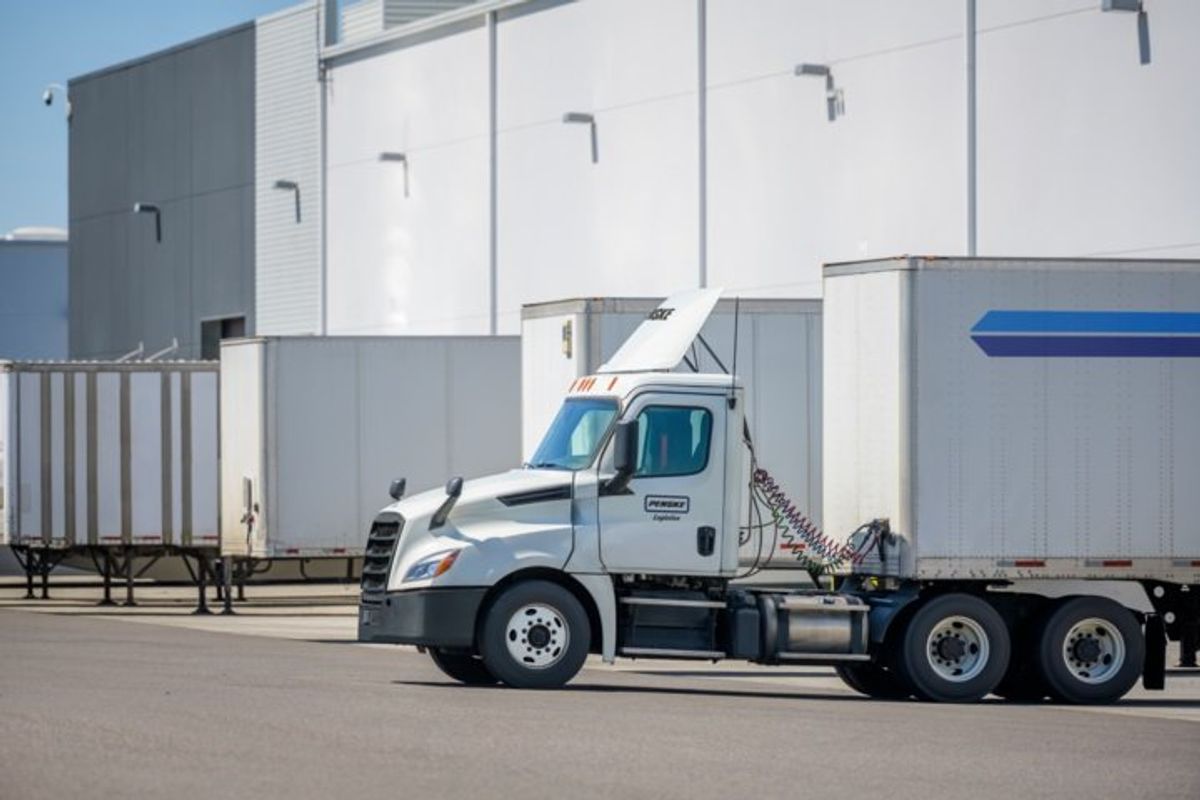 CSCMP State of Logistics Report Fall 2023 Update: Resilience and Relationships Take Center Stage for Shippers
Volatility in supply chains remains, but an overall softening of freight has created opportunities for shippers to realign and reshuffle allocations of business as they focus on resilience, cost management and strong relationships.
---
"The markets, in general, have experienced a strong shift in favor of shippers in terms of pricing and capacity availability," said Josh Brogan, a partner with the global consulting firm Kearney and co-author of the 34th Council of Supply Chain Management Professionals (CSCMP) Annual State of Logistics Report. "They are using this as a chance to reset and build strong relationships with the providers that took care of them during COVID."
The 34thAnnual State of Logistics Reportwas first presented by Penske Logistics on June 20. Brogan provided an update during the annual CSCMP EDGE conference on Oct. 3.
Several industry experts, including Andy Moses, senior vice president of sales and solutions for Penske Logistics; Rob Walpole, vice president, cargo for Delta Air Lines; Kevin Smith, CEO of Sustainable Supply Chain Consulting; Jennifer Kobus, vice president, transportation for Ulta Beauty; Greg Javor, senior vice president of global supply chain operations for Mattel Inc.; and Paul Bingham, director, economics and country risk, transportation consulting for IHS Markit, also shared their expertise during the session.
Supply and Demand
In 2022, supply and demand rebalanced across all modes of transit, which has continued throughout 2023.
"There were questions when the report was released in June if rates would go up the second half of the year. Right now, that doesn't appear to be the case," Brogan noted, adding that he expects capacity to remain loose in road freight through the end of the year. "Even in parcel, there has been some softening in terms of ability to get concessions from FedEx and UPS in the U.S."
Brogan said shippers aren't using the softening market to seek revenge but rather to diversify their operating model, balance dedicated, private and for-hire services, and reward good performance.
Even still, disruptions have remained, including the bankruptcy of less-than-truckload carrier Yellow Corp. and potential labor issues with parcel carrier UPS. Brogan said any blips have been uneven for shippers. "What you've experienced depends on where you are in the market," he said.
Looking ahead, Brogan foresees a 50-50 chance of capacity tightening throughout 2024. "I think it will be more about what the U.S. economy is going to be doing rather than what capacity is going to be like," he said.
There have been a lot of investments in capacity on the trucking side, but it is easy to remove trucking capacity from the market, according to Brogan. "In air, ocean and less-than-truckload, it is harder for them to flex volume up or down, so they're probably locked into over capacity until the business cycle recovers," he explained.
Shifting capacity has created reductions in ocean and air freight rates throughout 2023, which has provided more flexibility for shippers. "It has allowed traditional ocean shippers to move more volume away from air, which was used as a safety net in terms of getting product from overseas," Brogan said.
Currently, freight forwarders are providing better pricing and, in some cases, service within ocean freight. "That is counterintuitive. You typically went to a forwarder if you were a small shipper or needed more capacity. Even on the core lanes, forwarders are being more aggressive than carriers, which could be interesting to watch," Brogan said.
Overall Logistics Costs
Despite shifts in capacity, overall United States business logistics costs rose 19.6% to $2.3 trillion in 2022, representing 9.1% of the national GDP.
Transportation costs—driven by increases in all modes and nodes—reached $1.39 trillion, up from $1.3 trillion the year prior. Road freight, the most significant segment of U.S. logistics expenditure, increased to $896 billion from $844.5 billion in 2021.
Class 1 railroads in the U.S. saw operating income increase 8% and total revenue increase 14%. However, rising costs undermined operating ratios, and the sector suffered from service-related issues, ongoing congestion and high-profile derailments.
On the air cargo side, rates dropped 33% in 2022 as demand fell and shippers increased their use of ocean freight. Worldwide air cargo revenue is expected to reach $150 billion in 2023, a 25% drop from 2022 but still 50% higher than the pre-COVID revenue figures from 2019.
The major ocean liners saw combined global operating profits of $215 billion in 2022, but the trend has lost steam, and 2023 profits are projected at $43 billion, an 80% year-over-year decrease.
The parcel and last-mile networks also saw shifts, with parcel volumes dropping 2% in 2022. Revenue, however, rose as the major companies increased rates. Overall, the U.S. parcel market grew 4.7% year over year to $217 billion in 2022.
Low warehouse vacancy rates in 2022 pushed rents higher and drove investments in new construction, but some companies have hesitated to occupy space. Instead, they've focused on using space more efficiently and shedding excess inventory.
The Role of 3PLs
Third-party logistics providers have taken on increasingly significant roles as shippers have looked for added expertise to navigate the current market as well as the unusual circumstances arising from the pandemic.
"Increasingly, shippers are calling upon 3PLs for more specific needs, especially data management, visibility and analytics," according to the report.
3PLs are investing heavily in technology and providing solutions that shippers aren't able to craft on their own. The report found, for example, that 3PLs are nearly twice as likely to provide real-time data on items in transit compared to shippers.
Additionally, shippers are increasingly open to trusting 3PLs with the stewardship of entire supply chains, and freight under management by 4PLs is growing.
Brogan said he expects shippers and logistics providers to continue strengthening their relationships as they address stresses impacting logistics and prepare to meet future demand. "Resiliency is still top of mind for most shippers," he said. "I don't see that changing."
By "Move Ahead" Staff