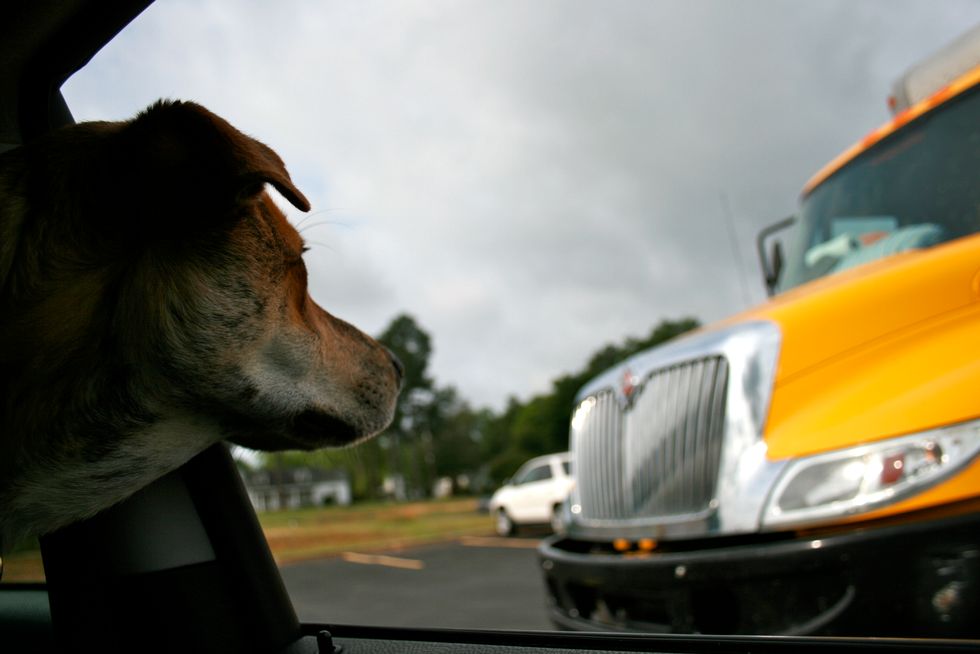 Starting a New Life: Heading West in the Yellow Penske Truck
It was time for Rachael and Nathan Johnson to make a change. After 17 years of marriage, they elected to leave behind their corporate jobs in the Tampa, Fla. area and place their worldly belongings in ayellow Penske truck, en route to a new life with their large rescue dogs, Peanut Butter Brickle and Digby Pancake.
---
"We love our lives, but we want something better," Rachael said.
That something better? Moving to Sonoma, Calif. and becoming cheese makers, with the formation of Queen Bee Cheese.
"If we don't go, we will always wonder and be full of regrets," Rachael explained. "After traveling extensively through Europe, we realized how much we loved food, wine and especially cheese. It is our hopes, and our goal to have a simpler way of life."
They began their trip on Tuesday and will spend the week trekking through Arkansas, Oklahoma and New Mexico, with the hope of reaching Arizona by Saturday. The Johnsons are chronicling their journey on 2TravelingDogs.com.
As luck would not have it, they drove through
Alabama and Mississippi with tornado bulletin warnings on every radio station, but thankfully they made it through safely. Each night, they've been resting at campgrounds along their route, which have proved great for the dogs.
Rachael offered an important moving with pets tip: "always remember that with dogs, you really need to stop at least every two hours. For your sanity, and theirs."
"Move Ahead" will check back in with Rachael, Nathan, Peanut Butter Brickle and Digby Pancake soon, as they settle into their new home in California. In the interim, please feel free to visit PenskeTruckRental.com to schedule your own one-way or local move.
By Alen Beljin
In exchange for sharing their journey with their pets, Penske provided the Johnsons with a discounted truck rental.