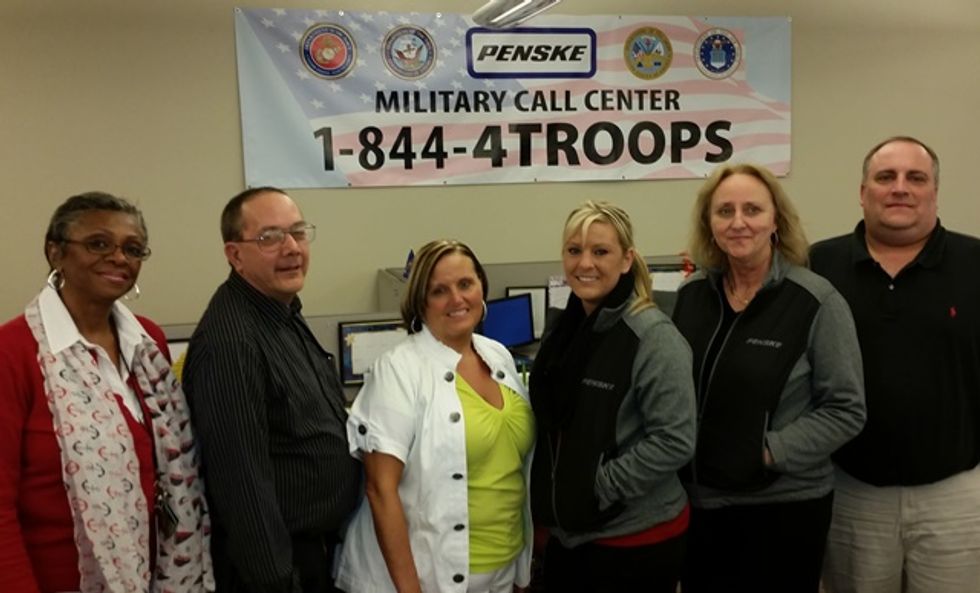 Penske's Military Call Center a Valuable Resource
For those in the military, moving often becomes a way of life. While packing up everything and shipping off to new locations can be stressful, employees ofPenske Truck Rental's specialized military call center are easing the anxiety of a do-it-yourself move. The Armed Services refers to these types of moves as a PCS (Permanent Change of Station).
---
Since the call center was established last April, the team has helped service members make over 3,800 moves. According to Rebecca Sheehan, the center supervisor, military personnel feel an immediate connection with military call center associates because of shared life experiences.
"Things like knowing the lingo and being able to communicate through shared experiences really makes our military customers trust Penske," said Sheehan. "They really build a connection on a personal and friendly level."
The center is staffed by an experienced group of Penske associates who each have a military connection. Whether they served or have family in the military, each member knows exactly what goes into making these moves successful.
"We work hard to find solutions to their problems because we know these problems first hand," said Joe Dezotell, a retired member of the U.S. Army. "We do everything we can to alleviate any stress for them."
This level of familiarity, along with great customer service, has made the military call center a valuable resource for military personnel.
"If I get a call from someone who is stationed where my son is or has been stationed, then I can relate to them," said Ellen Davis, a call center associate, whose son serves in the U.S. Army. "I make a connection with them and it puts them at ease."
Sheehan feels that this connection to the military makes them go the extra mile for customers. She says associates build rapport with people who are going through a stressful and taxing process.
"Every person on the team takes pride in helping a fellow service member and goes above and beyond to make sure they feel comfortable making the journey to their new location," Sheehan explained.
As the military call center enters its second year of operation, Sheehan thinks these personal connections will continue driving its success.
"The call center is staffed by a team of great people who take pride and pleasure in being able to help a fellow service member," she said. "They all have great customer service skills and help each military customer feel as if they were family."
If you are in the military and need assistance with a move, call Penske's military call center at 1-844-4TROOPS (1-844-487-6677). Click here for more information and discounts.
Pictured, left to right: Military Call Center associates Ellen Davis, Craig Robinson, Kathy Garrison, Laura Gwaltney, Susan Koskey and Joe Dezotell
By Tony Kozuch