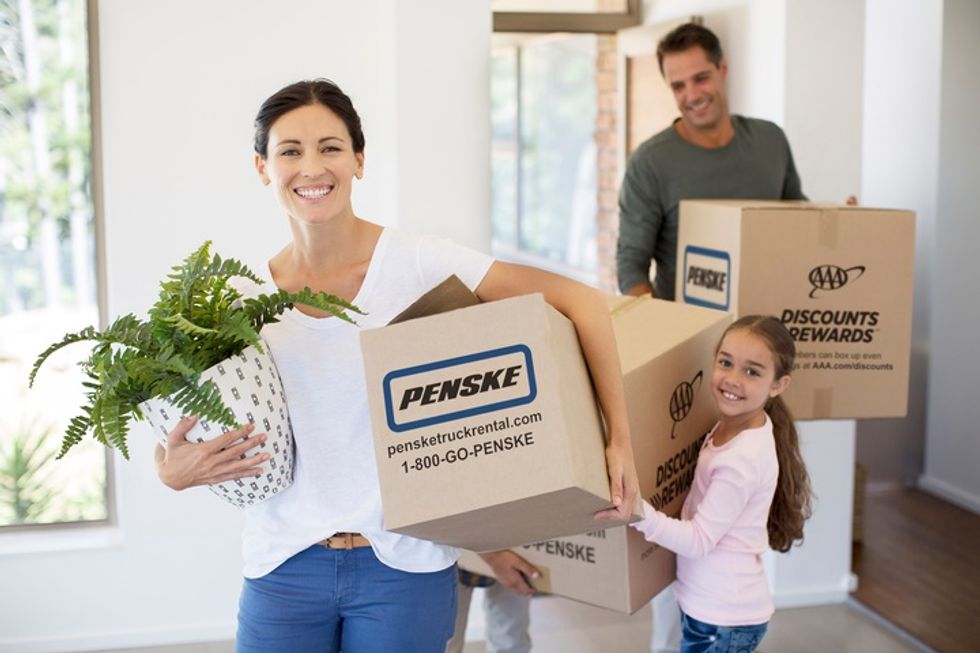 7 Tips to Make Your Moving Day a Success
You just accepted a brand new job in a whole new place, and now you have to move.
---
What do you do? Where do you start?
Fortunately, the experts at Penske Truck Rental have the best advice to help make your moving day a success.
Penske's moving experts can answer all your questions and offer lots of good moving advice. Our experts have compiled a list of tips that will help make your move as easy as possible.
Reserve your truck: Start early and get organized, so you can book your truck with plenty of notice. As soon as you know when you are moving, speak to a Penske Truck Rental representative, via chat or by phone, to reserve a truck and secure your rate. They can also help you determine what size truck you'll need – 12 ft. to 26 ft.
Pack the right way: One of the most important things to remember is how to properly pack your belongings into boxes. When done right, your items are less likely to break, shatter or crack. It's a good idea to fill any box space with newspaper or packing paper. This will allow for little wiggle room inside. That way, your things don't make contact with each other if it's a bumpy ride to your new home.
"Regardless of the object, you want to be careful moving your most delicate ones, including glass or electronics," explained Meghan Cocuzza, a central reservations sales supervisor at Penske. "They tend to be more fragile and can break more easily than other household products. If you have bulkier things, like a flat-screen television or desktop computer, make sure you protect them with plenty of packaging material."
Another cost-effective solution to protect your electronics is to cover them with furniture pads. You can rent these from Penske in packs of 12.
Load the truck: It's here you realize you have more stuff than you thought. Loading your boxes and furniture onto your Penske moving truck is a lot like playing Tetris. The key to getting the most out of the truck's space is to get the large objects – appliances and furniture – loaded first.
"Once you have the bulkier things on the truck first, you can place the smaller boxes around them," she said. "It's a more efficient way to use the space."
She also recommends utilizing Penske's online Truck Wizard for an infographic that explains where to place certain objects on the truck bed.
Safely use the equipment: If you're using the liftgate on your moving truck, keep these things in mind:
Adhere to all safety requirements and instructions when operating it.
Always maintain a safe operational area when using the liftgate.
Never operate the control switch while unfolding the platform.
Also, make sure the truck is running when operating the liftgate; otherwise, the battery will drain.
For instructions on how to safely operate this tool, click here.
Plan out your trip: When you're ready to embark on your trip, it's a good idea to familiarize yourself with your route ahead of time. You'll want to avoid any low underpass bridges, low tree limbs and canopies at fast food restaurants, banks and gas stations.
Consider purchasing one of Penske's coverage options in case you damage your moving truck while driving under a low structure.
Play it safe: Is your move longer than a day trip? Do you plan to spend a night in a hotel? If so, get a lock for the truck to prevent a break-in overnight. Take extra precaution by parking the rental truck in a well-lit area of the parking lot and backing the truck up against a wall.
Check, then check again: To make certain that you do not leave any of your belongings – cell phone, wallet/purse, jewelry, etc. – in the truck bed or cab when you've finished moving, do a thorough check before you return the vehicle. Who knows? The next person who rents that same truck rental may be doing a one-way move across the country.
Have questions about any of the tips above? Let Penske Truck Rental assist in making your move stress-free.
By "Move Ahead" Staff