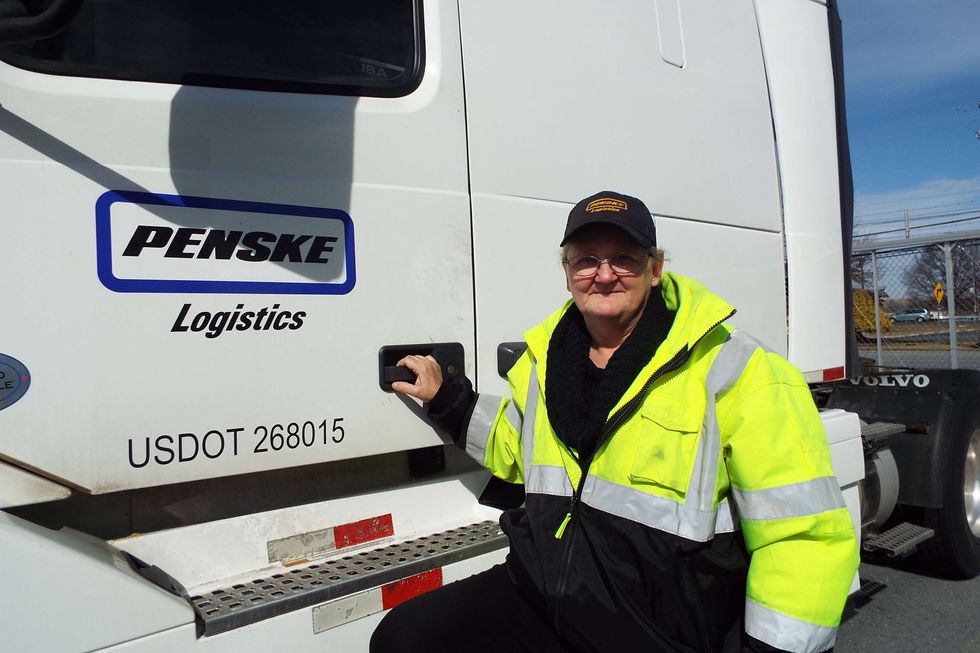 Third Generation Professional Truck Driver Finds Joy in Her Role
As a toddler, with her car seat strapped securely into the jump seat of her grandfather's rig, Cindy Hollan experienced her first taste of the open road on trips to her family's 50-acre farm in rural Pennsylvania.
---
Memories are all that's left now of the sprawling dairy farm, where Hollan spent so much of her childhood, and of the trips she took with her grandfather. She credits both as her inspiration to become a professional truck driver.
A third-generation truck driver – like her father and grandfather before her – Hollan spends the week driving through America's heartland, delivering products for some of the country's top brands.
As part of Women's History Month, Penske is celebrating the contribution of women professional truck drivers who help to move the world forward.
"My career is just what I wanted. I love the travel, the driving, the mechanics," said Hollan, who began her career as a professional truck driver in 1995 and has driven for Penske Logistics for nearly two years. "I love my job. I am so happy."
Unexpected Change Leads to Truck Driving Career
Hollan was working for a Pennsylvania company when it was bought out and she was laid off. Hollan, a self-proclaimed gearhead, decided to seek to retrain as a diesel mechanic, which offered a good salary.
"I am very much a motor-head," Hollan said. "It doesn't matter if it has 18 wheels, four wheels or two," Hollan said. "I had two daughters to support, and I could support them good on that kind of money."
Before she could start her training, Hollan had to obtain her commercial driver's license. "I got that done and the rest was history," she said. "I never went back for the diesel mechanics license."
For most of the next 20 years, Hollan would live her life on the open road as an over-the-road truck driver.
"Your life is in the truck. It's your home," she said. "It used to be I would spend two or three months in a truck before I would go home, but now with Penske, I get to come home every weekend."
Her Penske sleeper truck has all the creature comforts of home: a microwave, satellite radio, television and the best thing? "This is an automatic. This is the first time in my career I drove a truck with automatic and I love it. It's my home. I have set it up to accommodate me."
During her career, Hollan has been to every state except Alaska and Hawaii. "I have seen things and been places," she said.
Like the time she came face-to-face with a moose.
"I took a 53-foot trailer into a field in Vermont for a clothing show. I was sleeping in the driver's seat. When I woke up and I looked out the window, there was a moose looking at me; literally looking at me in Vermont in the middle of winter," Hollan said. "I thought 'Dude, you are bigger than me, so I'm going back to sleep. You won this battle.'"
Times were very different for women back then. There were fewer women in the professional truck driving ranks. Attitudes were also different. "You had to prove that you could do this job" to male truck drivers as well as some customers, Hollan said. "It's a lot different now for women drivers."
Life took a turn again for Hollan after she met and married her husband, James, also a professional truck driver. The couple would go on to drive as a team, creating some of her most cherished memories.
"I was already a driver and had my road experience when I met and married him," Hollan said. "That was the good part; I didn't have to wake him to help me when I had to back the truck up. I knew how to do it all."
That lasted a while until Hollan's husband was diagnosed with cancer.
In the years since he passed, Hollan had embraced life on the road. "I went through a year-and-a-half of chemotherapy with my husband. I knew it was coming and he knew it was coming," she said. "With my career choice, I knew I was going to be okay."
When she is not driving her truck, Hollan spends time with her two daughters, now grown with children of their own. In all, Hollan has five grandchildren – four grandsons and one granddaughter, who has inherited her grandmother's love for driving – albeit toy cars.
"My grandchildren are more important than anything," she said.
Another of her joys is working for Penske.
"As a Penske employee, I am happy as can be. I make better money now than I have made most of my career," she said. "I work with good people. I have received respect everywhere I go when I say I'm with Penske. In every shop, I am treated like a person."
For women considering a career as a professional truck driver, Hollan has a few words of advice.
"This is a career where you can be in charge of your life.
"I put everything into my career. Everything I do is around my job. The only thing that tops my job is my five grandchildren. They and those trucks are my life. I have done this a long time now, and I love those trucks. This has been the best career move of my life."
"My career is just what I wanted," Hollan said. "I love my job. I am so happy. I see myself finishing my career at Penske. I'll be here until I retire now."
Interested in a driving career with Penske? Visit gopenske.com/drivers for employment opportunities. The company offers competitive wages and a wide range ofbenefits. Penske is an Equal Opportunity Employer.
Editor's Note: In recognition of Women's History Month, each #TruckerTuesday in March, the "Move Ahead" blog will feature a female professional truck driver who is helping to move the world forward.
By Bernie Mixon