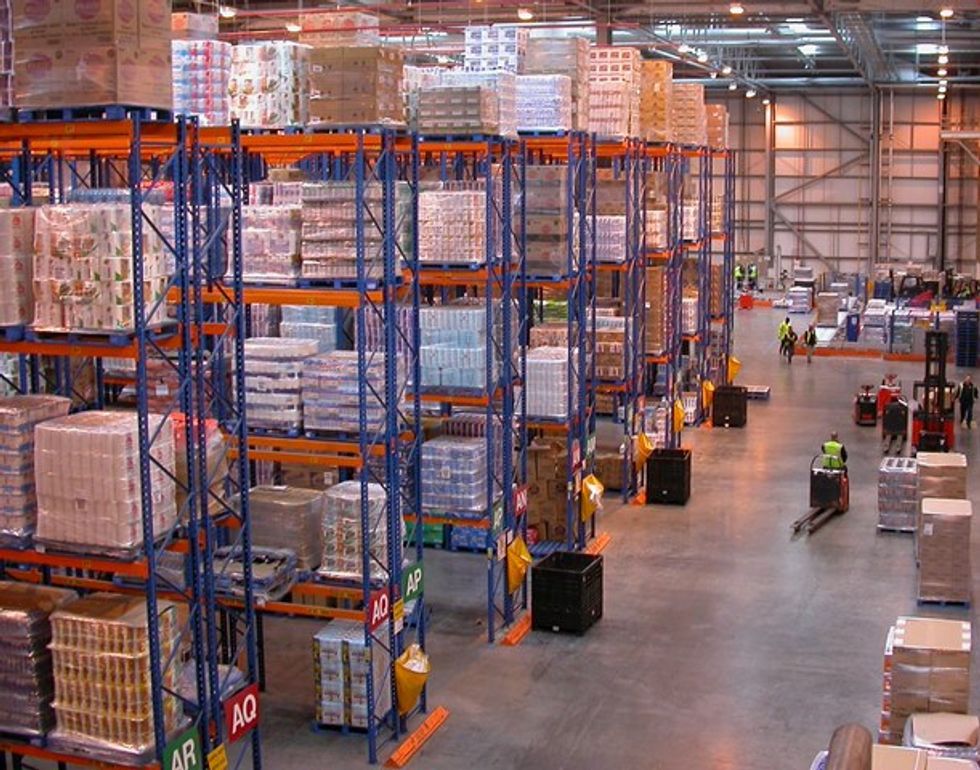 Selectors Call Penske Logistics Shelbyville the Right Choice
Penske Logistics Warehouse Order Selectors (from left): Todd Hall, Melvin Robertson and Aumoir Garnett.
---
The dream of a better life drove Aumoir Garnett to want more.
As a manager with a fast food restaurant, Garnett grew tired of living paycheck to paycheck and wanted more than just a job. He wanted a career with a company that offered good pay and benefits and could help him give his family a better life.
Garnett said he found that new way of life among the growing number of warehouse order selectors working at the Penske Logistics Shelbyville location, a cold storage warehouse providing logistics services to a leading grocery store chain.
"It is a good job, and it can change your life," said Garnett, who has worked as a selector for the past six years. "It changed my family's life. I'm not living paycheck to paycheck. I'm investing in my future."
Located just 15 minutes from Indianapolis, Shelbyville offers the serenity of rural living along with the convenience of a big city. Some of the features include live horse racing, a host of restaurants, strong parks and recreation department and a golf course.
Penske Logistics, a leading provider of distribution center management and warehousing solutions, has operated and managed the 600,000-square-foot refrigerated food distribution facility since 2013.
The job of a warehouse order selector – just known as selectors in the warehouse – is to assemble and select cases from pick slots for store orders in an accurate manner and assemble orders onto pallets using voice-activated computers and pallet jacks.
The physical demands of the job include the ability to work in a cold storage warehouse environment with minus 20 degree to 55 degree temperatures for long periods of time. Order selectors must have the ability to lift 60 to 95 pounds and work in spaces with 55 inches of headroom.
The work is challenging but rewarding at the same time.
"There are multiple benefits. The location provides competitive wages. We pride ourselves on good communication, a team environment and timely feedback to our associates," said Steve Chambers, general manager, Penske Logistics Shelbyville. "Our team is serious about safety and the safety of our employees. We over communicate safety topics on a daily basis and emphasize the importance of safe behavior."
Advancement opportunities are available for those seeking to grow with the company.
"Whether it is moving up within the warehouse classification and learning different jobs or moving into management, this site has demonstrated the ability to grow people for future opportunities," Chambers said.
Melvin Robertson, a selector and a trainer, said he likes the opportunities to advance.
"You have so many different doors open to you if you come in here and do a good job," said Robertson, who has worked at the warehouse for more than five years.
While moving into a career with advancement was the central motivator for Garnett, it is moving of a different kind that was an unexpected benefit of working at the warehouse.
"It's kind of like a workout," said Garnett of his duties. "It kind of keeps you in shape. It's an easy job but it is physical. It's fun for me. I like the workout. I am constantly moving."
Like Garnett, Robertson appreciates being on the go, so much so that he said he dropped 35 pounds in his first two months on the job. "I get paid good money and get a workout while I do it," he said.
Penske Logistics is looking for warehouse order selectors to become part of an excellent team servicing the nation's largest grocery store chain. It is a great opportunity for individuals who are safety conscious and have a pleasant, outgoing attitude and who want to excel in a warehouse environment. Penske Logistics offers excellent and competitive pay, benefits, paid time off, 401K, training, tuition reimbursement and unlimited career opportunities.
By Bernie Mixon