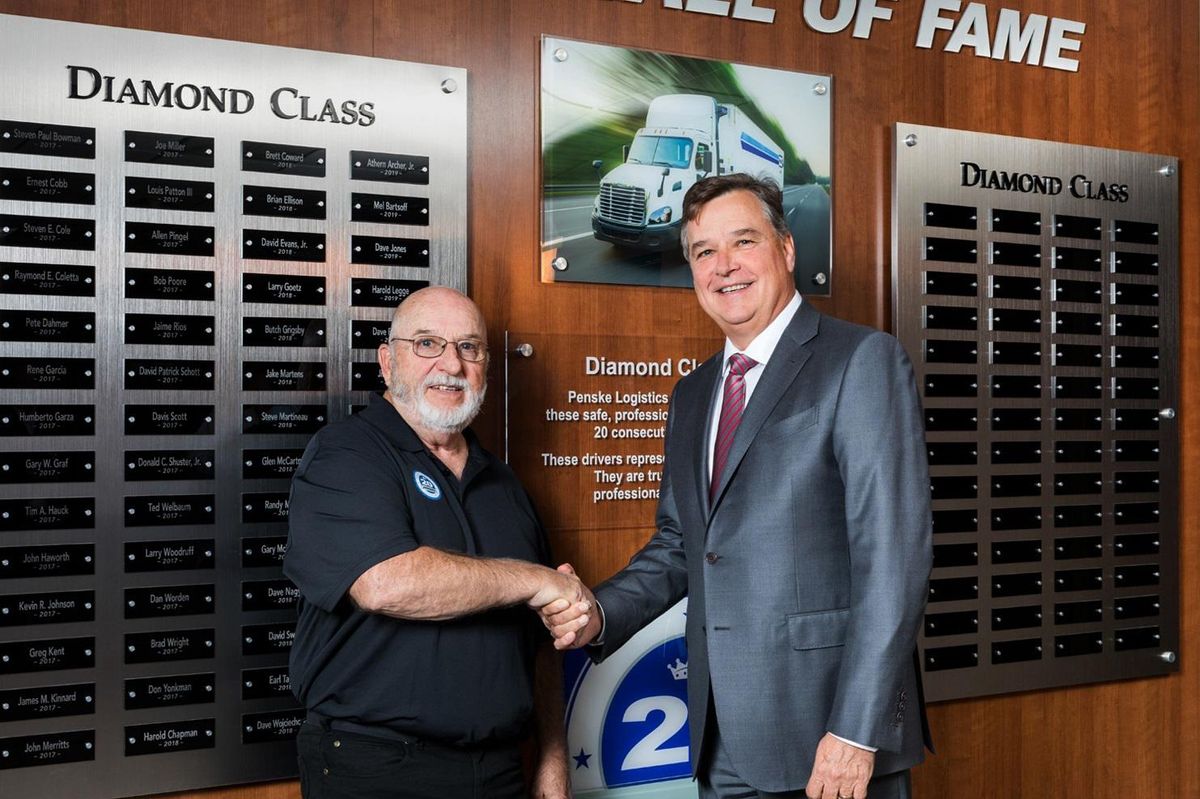 Penske Logistics Truck Driver Jerry Wood Named Truck Renting and Leasing Association (TRALA) Driver of the Year
In 2019 Penske Logistics truck driver Jerry Wood was just one of eight Penske associates to earn induction into the Driver Wall of Fame (reserved for company drivers who have reached the milestone of 20 years of consecutive safe driving). This week, he was named the 2020 Truck Renting and Leasing Association (TRALA) Driver of the Year.
---
"Jerry is emblematic of the kind of driver we want representing our industry," said Jake Jacoby, TRALA president and CEO. "An individual who gives back to his community, takes his profession seriously, and is committed to safety. It is a privilege to honor Jerry as our Driver of the Year."
TRALA member companies nominate their top drivers and just one is selected for this prestigious honor. TRALA's selection committee selects the top driver who operates their vehicle in a safe and responsible manner and whose contributions have enhanced the overall safety of commercial transportation. Wood is the final person to be named as TRALA DOY, as the award will be discontinued.
"The honors keep coming in for Jerry Wood – Driver Wall of Fame in 2019 and our first TRALA Driver of the Year in quite some time," stated Marc Althen, Penske Logistics president. "I would like to offer a hearty congratulations to Jerry for this distinction."
Wood did not attend the in-person awards ceremony at TRALA's conference in San Antonio and instead submitted a prerecorded video acceptance speech.
Wood stated: "I am totally excited and I was speechless when they told me. I'm proud to be selected. Glory to God."
He is a U.S. Army veteran and enrolled months after graduating from high school in 1963. As a non-denomination ordained minister, Wood currently performs weddings, funerals and baptisms.
A Penske employee for 22 years, Wood estimates that he has attained over 6 million accident-free miles across his driving career. An Evansville, Indiana, resident, Wood will celebrate 55 years as a truck driver this month.
Among his pearls of wisdom for being an excellent truck driver:
Watch out for the other person and watch everything developing on the road.
Slow down – you don't have to be the first person there.
What if factor: Wood explained that as you get older and more experienced, you will begin to anticipate more scenarios that can take place around you while driving.
Wood and his wife Kathy are generally up at 4 a.m. daily; he can begin his shifts as early as 5 a.m. When not at work, the Woods like to fish, quietly aid others in the community, and watch minor league ice hockey (prior to the pandemic).
At 75, Wood is retiring from full-time driving and will remain with the company on a part-time status. "I like getting up early and I work for a great company," he noted.
Photo caption: Penske Logistics truck driver Jerry Wood, left, is photographed in 2019 with Marc Althen, Penske Logistics president, as part of Woods' induction into the Penske Logistics Driver Wall of Fame. Wood is the recipient of the 2020 TRALA Driver of the Year Award.
By Alen Beljin