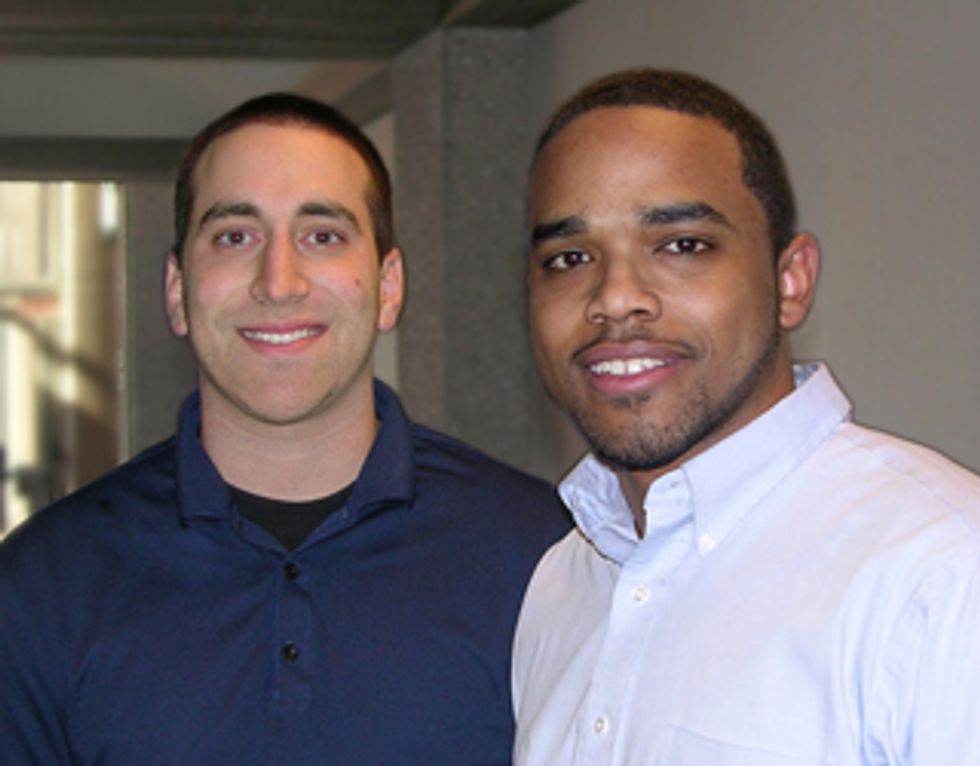 Penske's New Program Puts Logistics Careers in Motion
Recent college graduates David Robinson and Justin Lottie are applying their hard-earned academic skills and driving real-world results forPenske Logistics.
---
Robinson and Lottie are among the 16 to 18 participants in Penske Logistics' new Supply Chain Leadership Program (SCLP) – a challenging two-year entry-level rotational program within the fast-paced logistics environment.
"The program grooms participants for key Penske Logistics positions in the United States and abroad," said Jeff Stoicheff, Penske Logistics' senior vice president of human resources. "Associates with a proven record for driving results have countless opportunities for professional growth."
SCLP participants take on supervisory roles during one-year rotations in two of the following logistics areas: dedicated contract carriage, distribution center management and transportation management.
Robinson (pictured on left) entered the program in July 2011 as an operations supervisor for a factory distribution center (FDC) in Ottawa, Ohio, where he supervises the location's four full-time associates and two temporary associates. He manages all finished goods inventory, outbound shipments of finished goods from the FDC to customer regional distribution centers and retailers, customer issues and requests.
"The Ottawa location allows me to make all the decisions, to design and implement processes, and to work every day with the customer," said Robinson, who holds a bachelor's degree in business administration from Central Michigan University. "When you design a process, implement it and watch it have success, it is very rewarding and motivates me every day."
Lottie began his first rotation in July 2011 in transportation management in Somers, N.Y., where he is responsible for planning and managing fleet and carrier freight for a leading retailer. He plans nearly 1,500 weekly loads while providing excellent customer service in carrier management, route optimization, rate negotiation, freight payment and claims management.
"Each day is about building relationships, process improvements and handling daily responsibilities," Lottie said. "I like the value Penske places on fresh thinking and innovation."
While they work hundreds of miles apart, SCLP participants share a unique camaraderie with fellow program members. They attend group training sessions and rely on each other to find better ways to service customers.
"We all come from different areas with different skill sets, but we all have a common goal," said Lottie, who earned a bachelor's degree in logistics and international business from the University of Tennessee. "The bond we have as group is incredible and beneficial to us all."
Each SCLP participant is paired with a seasoned mentor to further develop their knowledge of logistics fundamentals. Mentors conduct site visits, share industry insights and offer advice to their mentees.
"My mentor has been instrumental in helping me grow as an overall associate for Penske," Robinson said. "My mentor keeps me up to date on company initiatives and explains to me what the business is all about."
As they approach the final quarter of their first rotation, Robinson and Lottie are pleased with the program. Like other SCLP participants, they hope to find managerial success at the end of their SCLP journey.
"With the tools and responsibilities I have been given, I firmly believe I will be able to make a difference and succeed," Lottie said. "You could not ask for more out of a career opportunity or a company."
Penske recruits SCLP candidates from career fairs and colleges and universities nationwide and accepts eight to 10 participants once a year.
Learn more about the SCLP program at an upcoming Penske career fair or visit GoPenske.com/careers.
Say hello to the next generation of supply chain leadership talent at Penske Logistics ow.ly/9Er9L #3PL

— Go Penske Careers (@GoPenskeCareers) March 14, 2012
By Kandace Wertz