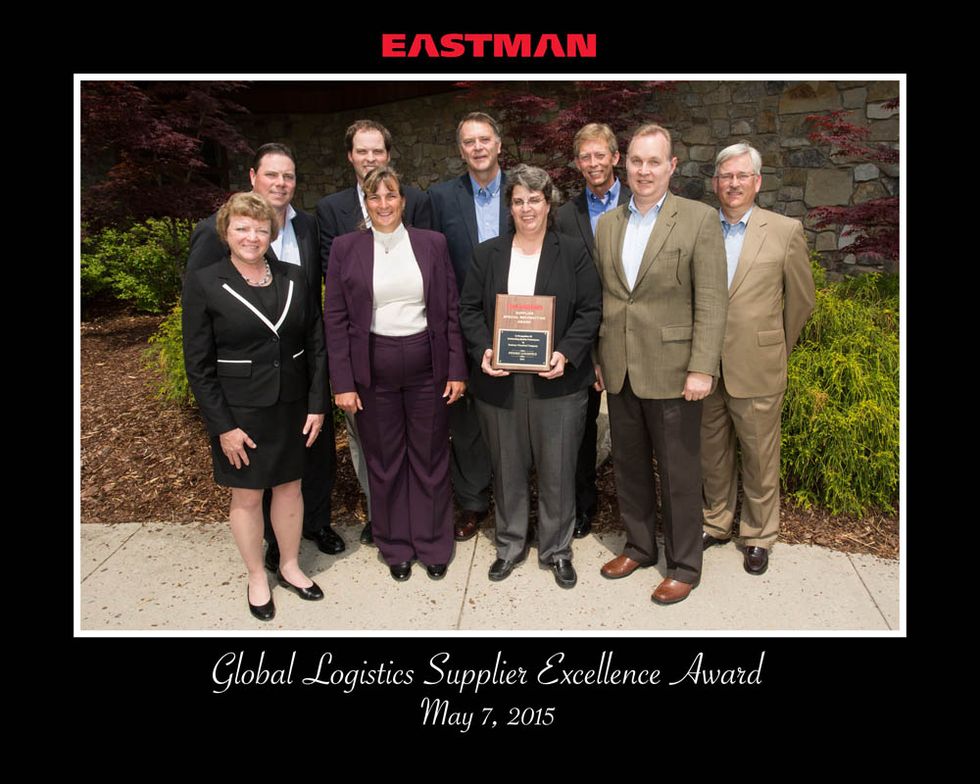 Penske Recognized for Supplier Excellence by Eastman Chemical
Penske Logistics has been honored by Eastman Chemical Company with a Special Recognition Award for assisting with domestic moves and supplying additional refrigerated capacity in a very tight market. The services that Penske provides to the company in Tennessee and South Carolina include dedicated contract carriage and inbound freight management from regional ports.
"It is quite the accomplishment to be formally recognized as one of Eastman Chemical's most valued suppliers," stated Jeff Jackson, Penske Logistics senior vice president of operations for the eastern region. "We enjoy having such a strong partnership with Eastman, it's truly an honor."
---
"Penske was instrumental in helping us keep reefer loads covered in critical times," said Julie Byers, Eastman procurement manager. "We appreciate their creativity."
Photo caption:
First row, from left: Debbie Davis-Waltermire, Eastman director of global logistics procurement; Julie Byers, Eastman procurement manager; Beth Liebman, Penske general manager; Jim Stetz, Penske strategic account executive.
Second row, from left: Jeff Jackson, Penske senior vice president – operations; Brad Kerr, Penske senior operations manager; Ed Palmer, Eastman rail and truck procurement director; Jim Fleming, Eastman EMEA supply chain director; Klaus Schnede, Eastman marine, air and facilities procurement manager.
By "Move Ahead" Staff