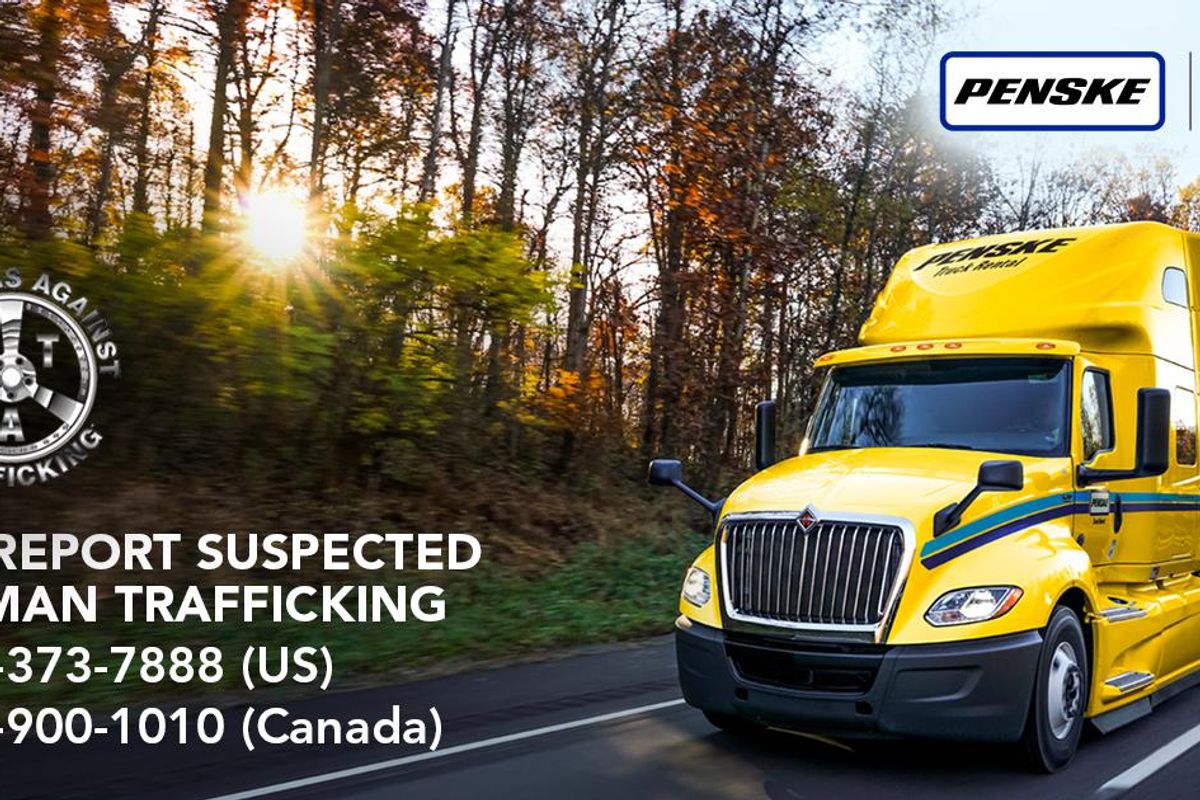 Penske Professional Truck Drivers Join Fight Against Human Trafficking
Some of society's most vulnerable, already facing the challenges of a hard life, are often exploited by human traffickers who force their victims into a cycle of physical and sexual abuse.
---
At the intersection of traffickers and the settings used to abuse victims – truck stops, business districts and city streets – are professional truck drivers, poised to offer hope to human trafficking victims.
Truckers Against Trafficking (TAT), a non-profit organization, partners with trucking companies like Penske Transportation Solutions to equip professional truck drivers with the tools to recognize human trafficking.
"Trucking Against Trafficking's mission is to educate, equip, empower and mobilize members of the trucking and now bus and energy industries to recognize the signs of human trafficking and to know how to respond to it," said TAT Deputy Director Kylla Lanier.
January has been designated as National Slavery and Human Trafficking Prevention Month to shine a spotlight on human trafficking in the U.S.
The Road to Advocacy
Growing up, Lanier would hear stories about the motel her grandparents owned in El Paso, Texas, and the professional truck drivers who would often visit. Lanier's mother recalled drivers as kindhearted people willing to lend a hand to those in need.
Those memories stuck with Lanier. When it came time to launch a non-profit to help fight human trafficking, an alliance with the trucking industry seemed like a great fit.
"We are trying to disrupt human trafficking networks by taking former bystanders and transforming them into active disrupters," Lanier said. "With that information and that training, they can recognize it for the crime that it is."
Human trafficking is defined as the exploitation of human beings through force, fraud or coercion for labor trafficking or sex trafficking.
The International Labor Organization estimates about 40 million people worldwide are enslaved by labor, sex and organ traffickers. Others are forced to serve as child soldiers. Estimates put the revenue generated by traffickers at $150 billion.
The U.S. is not out of reach of the human trafficking industry. The National Human Trafficking Hotline receives calls about labor and sex trafficking from all 50 states.
"Traffickers are seeking to exploit vulnerabilities. You think about runaways and the LGBQT2IA+ population. The foster care system is a massive pipeline into sex trafficking in this country," Lanier said. "You have people who may have addictions. You have people who may have food insecurity and are living in poverty. You have people who are coming from broken homes. People of color also have more vulnerabilities due to systemic injustices. Traffickers are looking at all these things as entry points to gain control."
Driving Human Trafficking Education
TAT partners with trucking schools, carriers and truck stops, as well as shippers, manufacturers and state and national trucking associations, to educate about sex trafficking and how the trucking industry can help fight it.
"Truck drivers are the eyes and ears of our nation's highways. They see things other people don't see, and they are trained to be vigilant," Lanier said. "They are already intersecting with victims at some of the locations where traffickers take them to exploit them – truck stops, rest areas, hotels and motels, loading docks and places of business."
Penske has committed to certifying its more than 5,500 truck drivers with TAT training. TAT provides companies with a training video as well as wallet cards that educate drivers on the signs of human trafficking and what a driver should do if they suspect it.
"When we have shown the video or companies have shown the video, it is like a light goes off," Lanier said. "It is that paradigm shift of seeing it in the actual light of what it actually is – an exploitive practice."
Testimonials from human trafficking survivors like Annika Huff, TAT's Training Specialist, also play an important role in the organization's education program.
"In my trafficking experience, there were a lot of people who knew I was in a life of prostitution, but they assumed I was there by choice," she said. "I wasn't there by choice, and people were not able to recognize that. It is important that people are able to see this crime for what it is - human trafficking."
Like many industries, TAT had to change the way it delivered education and resources in light of the coronavirus pandemic. Out of that pivot came the "Driving Freedom" podcast. In the first episode, Huff recounts her sex trafficking experience and survival.
"Hearing from survivors is something our listeners were interested in," Huff said.
Tips to Help Combat Human Trafficking
Lanier has some tips to help professional truck drivers identify and report suspected human trafficking.
"If you see evidence of sex trafficking – anyone under age selling commercial sex – that is automatically a trafficking victim," Lanier said.
If a passenger vehicle is parked near commercial vehicles and doesn't belong, pay attention as victims and their trafficker may be doing business from that location.
Other signs include bruising and branding tattoos visible on sex trafficking victims as well as sex buyer indicators, including flashing headlights on vehicles and CB chatter.
For truck drivers who come in contact with a suspected sex trafficking victim, Lanier encourages drivers to show compassion and ask suspected victims if they need help or for the driver to make a call on their behalf.
"If we can show compassion, it can make a difference in their lives," Lanier said.
If you suspect human trafficking, call the National Human Trafficking Hotline at 1-888-373-7888 (US), 1-833-900-1010 (Canada) or 911.
By Bernie Mixon