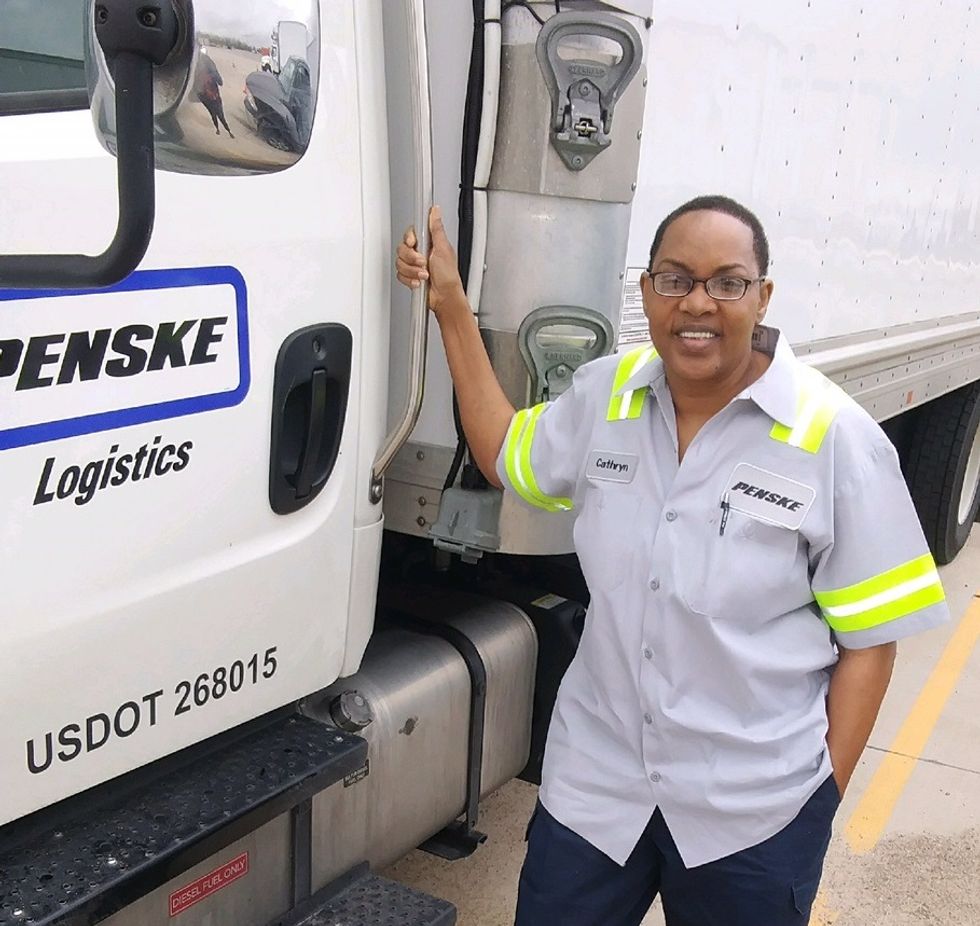 Penske Professional Truck Driver Charts Path to Rewarding Career
As a child, Cathryn "Cat" Cain would slip into the driver's seat of her father's commercial truck, grasp the steering wheel, and see the world as a professional truck driver.
---
Those early lessons led Cain, now a professional truck driver for Penske Logistics, to become one of four siblings to follow their father's example and become professional truck drivers.
"He let us shift the gears and help with whatever he was doing with the truck, so it came naturally," said Cain, a professional truck driver for 16 years who drives for Penske Logistics in Houston, Texas.
As part of Women's History Month, Penske is celebrating the contribution of women professional truck drivers who help to move the world forward.
For Cain, the road to becoming a professional truck driver had a pit stop. Cain first chose nursing as a profession but soon decided on another path.
She began driving in 1999, eventually driving a tanker truck around the U.S., which gave her the chance to see the country and explore new places.
"That's what I love about trucking; you are constantly traveling," Cain said. "You meet new friends, and to me, that's a beautiful thing."
During her time in the transportation industry, Cain has twice owned her own trucking company and even earned a diesel mechanic certificate in 2015 to take her professional experience to the next level.
Soon after, she began looking for a company that would mesh well with her new skill set.
"I looked at Penske and it covered so many things," Cain said. "And then I looked at the company's reviews online, and people were talking about how satisfied they were working for the company, so I decided to try Penske, and I haven't been disappointed."
Cain has been with Penske for a little more than a year, delivering produce to supermarket locations in the Houston area. She works the overnight shift, a time when there is less traffic, making her job that much more enjoyable.
Yet, Cain says safety does not take a holiday. She remains vigilant and adheres even more to the Smith System tools for safe driving. "It can literally keep you alive; not just you but others," Cain said. "It keeps you aware of your surroundings, and that's what is going to keep you safe.
"For me, I take it as a big responsibility when you are around something that big," Cain said. "You have to be careful, and you have to think about others at all times."
Derrick Gibson, a senior operations supervisor for Penske Logistics in Houston said he knew from the start that Cain would be an asset to the company.
"We were able to tell her commitment to do the job the correct and safe way and the pride that she took in her work from our first conversation with her," Gibson said. "We are very appreciative of all that she has done and continues to do to support our safety standards at Penske."
When Cain looks back over her career, she is drawn back to those early days with her father and the influence those experiences had on her choosing to become a professional truck driver, a decision that fills her with pride.
"Without transportation, the whole world stops," Cain said. "Trucking will always be around and will always be a part of people's lives."
Interested in a driving career with Penske? Visit gopenske.com/drivers for employment opportunities. The company offers competitive wages and a wide range ofbenefits. Penske is an Equal Opportunity Employer.
Editor's Note: In recognition of Women's History Month, each #TruckerTuesday in March, the "Move Ahead" blog will feature a female professional truck driver who is helping to move the world forward.
By Bernie Mixon