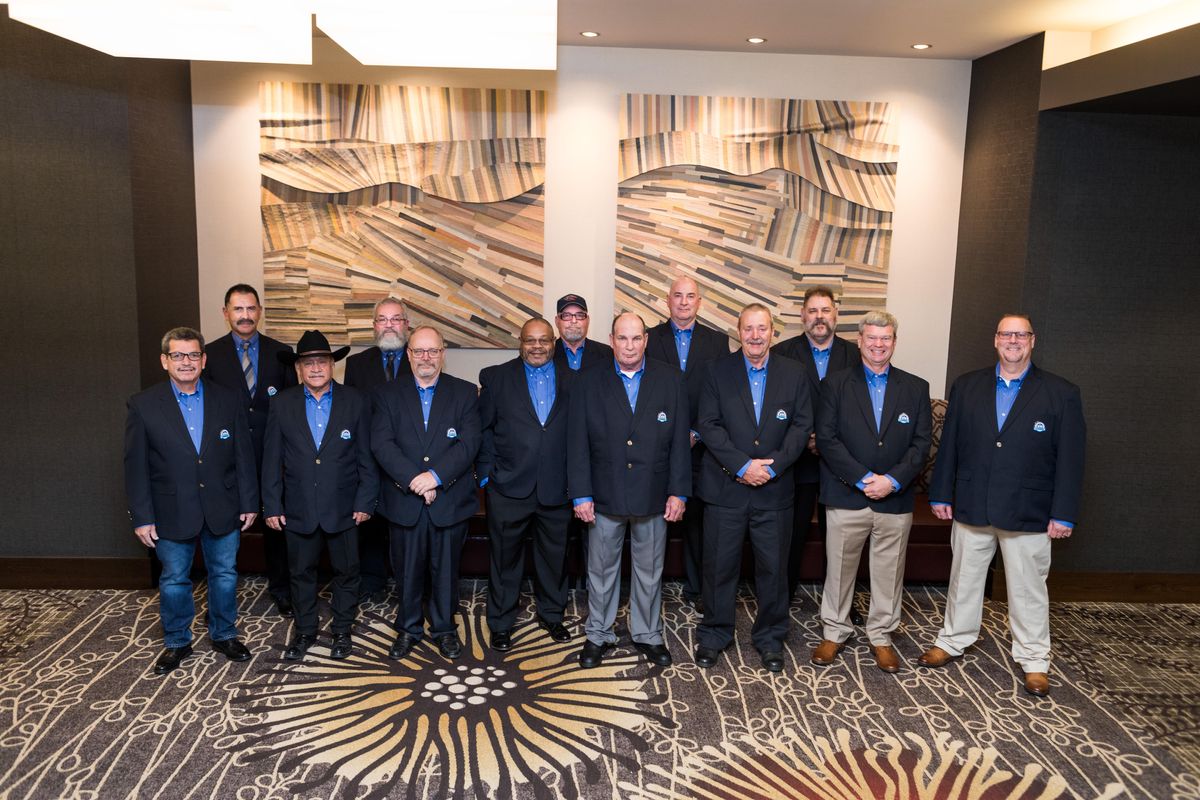 Penske Logistics Welcomes Safest Professional Truck Drivers to its Wall of Fame
Penske Logistics is proud to recognize and welcome 22 drivers into its 2020 and 2021 Diamond Classes, the highest level of safety recognition at the company. The inductees have achieved 20 consecutive years of preventable incident- and injury-free driving, an accomplishment that less than 1 percent of Penske drivers achieve.
---
To recognize the 2020 and 2021 Diamond Classes, the drivers – along with their families and supervisors – were recently invited to a recognition ceremony to celebrate their accomplishments at the Penske headquarters in Reading, Pennsylvania.

The two-day event included tours of Penske's 24/7 Roadside Assistance Center and Connected Fleet hub, and a photo opportunity with Penske Logistics President Marc Althen at the Driver Wall of Fame.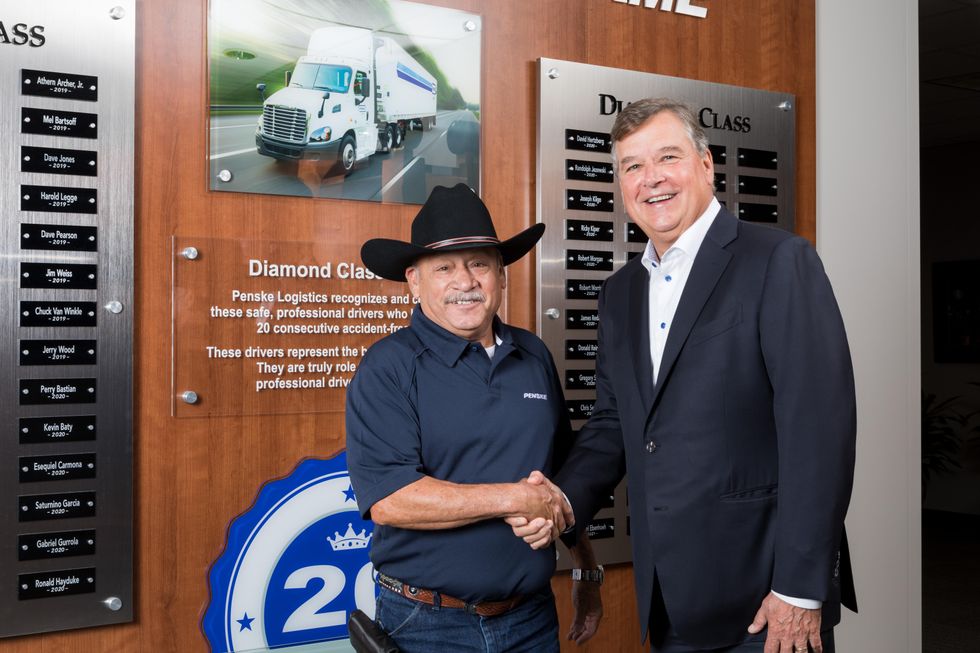 Penske Logistics Driver Wall of Fame inductee Zeke Carmona, a professional truck driver, on the left, poses with Marc Althen, Penske Logistics president, at the Diamond Class display at company headquarters.
The honor is part of Penske Logistics' Premier Driver Recognition Program, established to recognize the company's elite professional truck drivers and celebrate their safety milestones. In addition to the Diamond Class, the recognition program honors drivers with 15, 10 and five years of incident- and injury-free driving. Those drivers were also recognized this year for their accomplishments.
Members of the Diamond Class have their name inscribed on the Driver Wall Hall of Fame that is on display at the company's global headquarters in Reading, Pennsylvania.
The Penske Logistics 2020 Driver Wall of Fame inductees include:
Perry Bastian, Pennsylvania
Kevin Baty, Michigan
Esequiel Carmona, Texas
Saturnino Garcia, California
Gabriel Gurrola, Texas
Ronald Hayduke, Tennessee
David Hertzberg, Michigan
Randolph Jezewski, Michigan
Joseph Kilgo, Ohio
Ricky Kiper, Kansas
Robert Morgan, Maryland
Robert Morris, Ohio
James Reda, Michigan
Donald Reinert, Michigan
Gregory Sabo, Michigan
Chris Secord, Ontario
Roland Simpson, Michigan
Mark Willoughby, Michigan
The Penske Logistics 2021 Driver Wall of Fame inductees include:
Shawn Daly, Michigan
Michael Ebenhoeh, Michigan
Jeffrey Farley, Michigan
Richard Mulherin, Michigan
Penske Logistics typically celebrates and inducts one class a year. Leadership decided to recognize both the 2020 and 2021 Diamond Classes this year as the 2020 induction ceremony was canceled due to the COVID-19 pandemic.
Several drivers took the opportunity to take photos next to their name on the Driver Wall of Fame and send photos of the inscriptions of their coworker's names who have previously been inducted into the Diamond Class.
"I'm the last Hayduke, so it's really a special moment to see my name on the wall and know it's there forever," Ronald Hayduke said.
"It's great to be here with my fellow drivers who have also become some of my best friends," Greg Sabo said after posing for group photos with his coworkers from Michigan.
After a day at headquarters, the drivers and their families joined company leadership for dinner and a recognition ceremony at the DoubleTree by Hilton Hotel Reading. To further celebrate the Diamond Classes, drivers received personalized watches and custom-fitted blazers – which they wore that evening and for a group photo.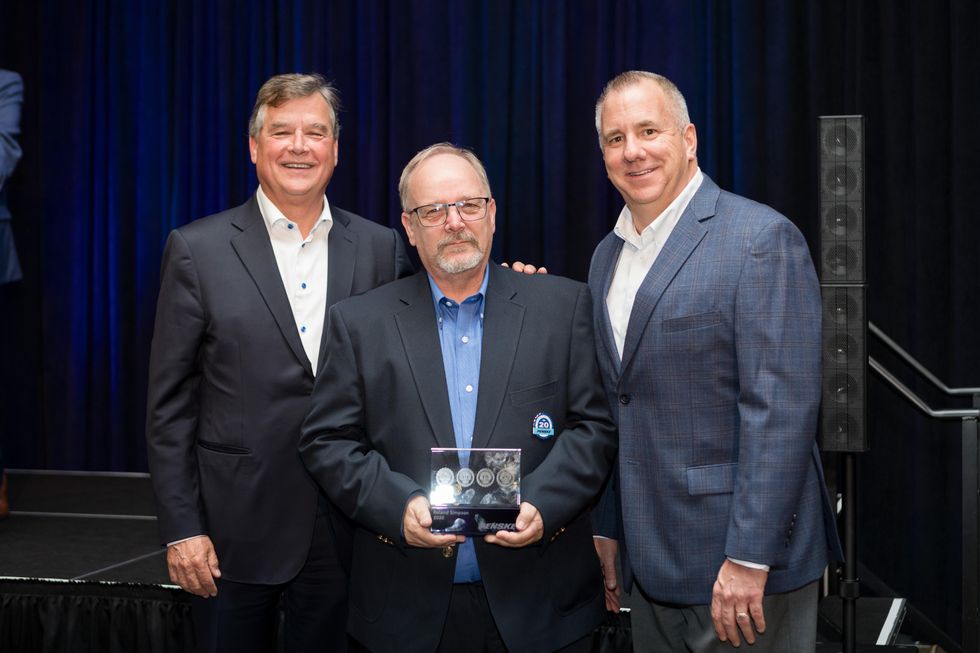 Penske Logistics Driver Wall of Fame inductee Roland Simpson (center), a professional truck driver, poses at the driver recognition ceremony. On the left is Marc Althen, Penske Logistics president, and on the right is Aaron Henderson, vice president.
"Penske is the best of the best, and I am proud to be a part of that. It's a great honor," Robert Morgan shared during photos.
During the recognition ceremony, each honoree was called onto the stage to receive their award and pose for a photo with Althen and vice president Aaron Henderson. Jeff Jackson, executive vice president of operations dedicated contract carriage for Penske Logistics, shared short narratives about each driver, and several credited the Smith System – a five-point principal system to encourage and increase safe driving – for keeping themselves and others on the road safe.
While 20 years of safe driving is an incredible feat that is worth celebrating, this year's event held even more meaning.
The Penske Logistics Driver Wall of Fame display is located at company headquarters in Reading, Pennsylvania.
"The role of professional truck drivers has never been more vital," Althen said during the evening's program. "As we have navigated the pandemic together, it has been dedicated professional truck drivers who've made it possible for much-needed medical supplies to reach hospitals and food to our tables."
The crowd, which included members of Penske leadership, drivers and their loved ones, and other Penske associates, took a moment to applaud the drivers for their tireless work over the past year and a half.
"Each driver in our Premier Driver Recognition Program has a deep dedication to safety and professionalism," said Jackson. "Penske Logistics is proud to celebrate our professional truck drivers for their hard work and dedication to one of the world's most demanding and important professions. We thank them for keeping our company moving and for serving our customers, especially in such unprecedented times."
By Hope Reginella
In the top image, members of the combined 2020 and 2021 Penske Logistics Driver Wall of Fame inductees posed for a photo. Front row from left: Saturnino Garcia, Zeke Carmona, Roland Simpson, Joe Kilgo, Ron Hayduke, Rick Kiper, Richard Mulherin and Shawn Daly. Second row: Gabe Gurrola, Randy Jezewski, Robert Morgan, Chris Secord, Mark Willoughby, Donald Reinert, Greg Sabo and Mike Ebenhoeh. Not pictured: Perry Bastian, Kevin Baty, Jeffrey Farley, David Hertzberg, Robert Morris and James Reda.