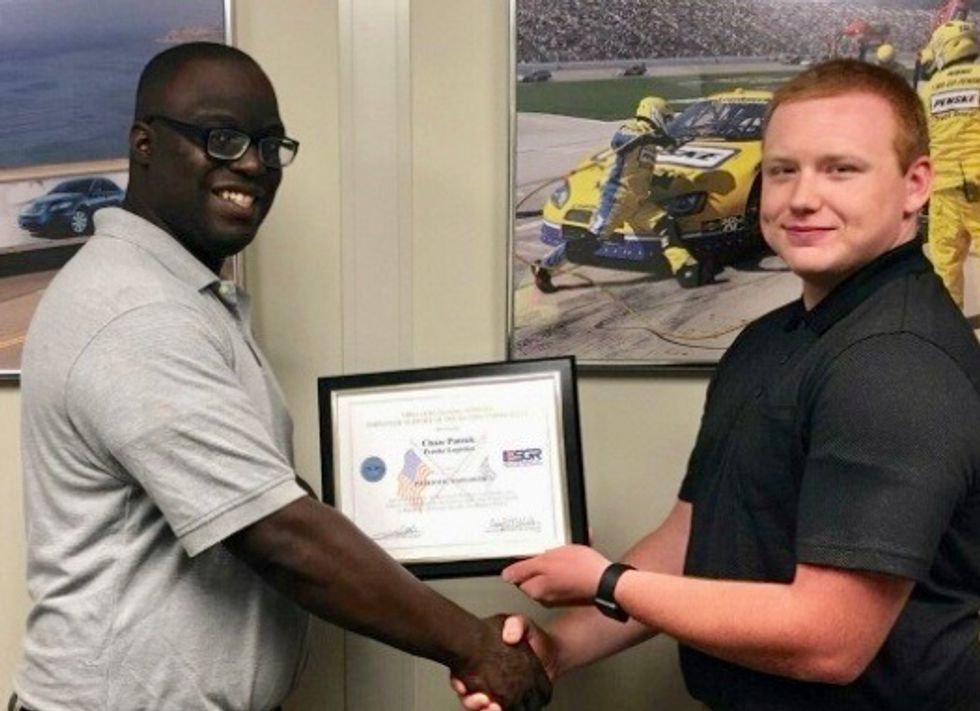 Penske Logistics Supervisor Presented with Patriot Award
The call to serve came early for Tyler Bell, who was eager to follow the footsteps of his grandfather and cousin into military service.
---
Now an Army Reservist based in Ft. Knox, Kentucky, Bell straddles the line between military and civilian life, as a warehouse worker for Penske Logistics in Princeton, Indiana.
Managing the logistics of Bell's two roles is easier thanks to Chaze Patrick, senior operations supervisor, himself a Marine Corps veteran, who recently won the Patriot Award.
"With him being former military, he was able to help me when I had leave or to attend drill," said Bell, who nominated Patrick for the award. "He is always there to help me."
The Patriot Award is presented by the U.S. Department of Defense's Employer Support of the Guard and Reserve (ESGR) to individual supervisors whose efforts to support reservists like Bell – through things such as flexible schedules and time off before and after deployment – are so meaningful and helpful.
"As veterans, we have a basic understanding of putting the team first and making sure they are covered," Patrick said. "The Patriot Award is quite an honor."
Both Penske Truck Leasing and Penske Logistics are committed to hiring veterans and have been named 2019 Military-Friendly Employers by Victory Media, the publisher of G.I. Jobs magazine. During the past three years, veterans have represented 9 percent of all new hires.
In addition, Penske partners and supports military-friendly organizations, including The Paralyzed Veterans of America's Mission: ABLE campaign, Support Military Spouses and World T.E.A.M. Sports.
For associates who need to be away for training or deployment, Penske takes great care to put them at ease long before they go out on military leave.
Recently, when Bell was briefly called to active duty, Patrick stepped in to put him in touch with human resources and to be among the first to welcome Bell back when he returned.
"People get called for various reasons whether it be national disasters or war," Patrick said. "It is nice to know you will have a home or place of stability to come back home to."
For his part, Bell said it is comforting to have a company like Penske that supports the military.
"It's great that they help us out with everything, whether it is advice or benefits," Bell said. "I think it is great to have a company that cares about the military."
Penske Truck Leasing and Penske Logistics offer a range of career opportunities, including truck fleet maintenance technicians, truck drivers, fleet maintenance supervisors, operations management roles, logistics and supply chain operations roles, and many others.
Visit www.GoPenske.com/careers/veterans for more information on career opportunities.
By Bernie Mixon