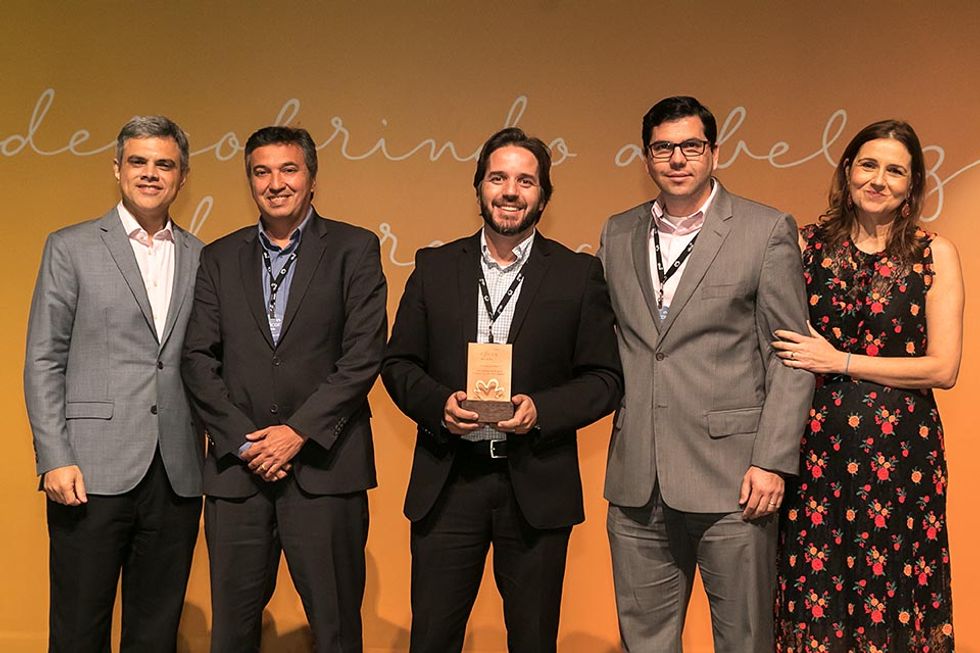 Penske Logistics South America Given Award by Customer Natura
Penske Logistics South America was honored by one of its customers with the 2016 QLICAR Award for being a top logistics provider. Natura, a market-leading beauty products manufacturer in Brazil, gave Penske the award at a recent ceremony.
---
Stated Fabricio Orrigo, Penske's sales director: "winning this award once more is extremely important. It is a recognition of our constant commitment to improving service delivery, reinforcing our performance and quality in serving our customers."
Natura gave this award to Penske in 2015. Natura highlights its suppliers that provide innovations and premier performance in their supply chain.
QLICAR is an acronym that translates to English as: quality; logistics; innovation; cost/contract; treatment; and relationship.
Appearing in this award photo from left: João Paulo Ferreira, president Natura; Márcio Vieira, director of operations at Penske; Fabrício Orrigo, Penske sales director; Alexandre Conde, general manager of operations, Penske; Josie Romero, vice president of operations and logistics for Natura.
By "Move Ahead" Staff
Penske Logistics Recebe Prêmio QLICAR da Natura
A Penske Logistics recebeu da Natura, indústria líder no mercado de cosméticos, fragrâncias e higiene pessoal, o prêmio QLICAR de Melhor Operador Logístico. A premiação levou em conta as soluções inovadoras, valorização do capital humano e o investimento no desenvolvimento contínuo dos colaboradores, além do compromisso com a qualidade e sustentabilidade na realização de suas atividades. O prêmio foi entregue pela Vice-Presidente de Operações e Logística da Natura, Josie Romero, e pelo Presidente da Natura, João Paulo Ferreira, ao diretor de vendas da Penske para a América do Sul, Fabrício Orrigo, durante evento realizado no dia 27 de abril, na sede da Natura, localizada em Cajamar, São Paulo.
O prêmio QLICAR, entregue anualmente, prestigia fornecedores de vários segmentos que se destacam na prestação de serviços para a Natura. São analisados criteriosamente quesitos como qualidade, logística, inovação, competitividade, ambiental, social e relacionamento.
Entre os fatores que contribuíram para a conquista do prêmio, destacamos ações voltadas para a qualidade da separação de pedidos por meio da Gestão de Consequência, atingindo o melhor número de NC (Notificação de Consultora) Brasil de Separação.
No pilar C, referente à competitividade e prazo de pagamento, destacamos uma evolução no custo, com dedicação total na revisão da tarifa para que o custo do item ficasse ainda mais competitivo e revisão da estrutura operacional, o que proporcionou maior produtividade para a operação. Outro fator de relevância foi o projeto dentro do pilar de soluções inovadoras, referente à conferência dos volumes na expedição, eliminando o risco de inversões e consequentes atrasos nas entregas dos produtos.
"Conquistar mais uma vez esse prêmio é extremamente importante. Trata-se de um reconhecimento do constante compromisso com o aprimoramento na prestação de serviços, reforçando nosso desempenho e a qualidade no atendimento aos nossos clientes", afirma Orrigo.