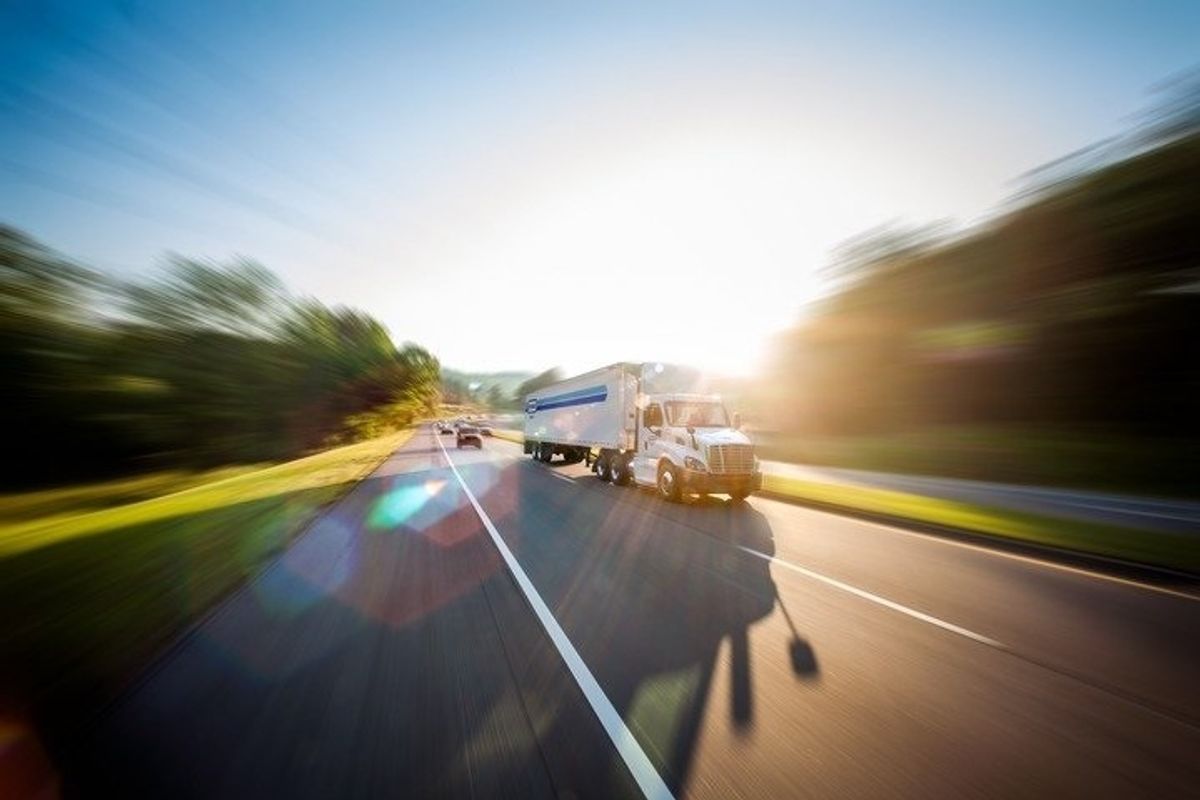 Penske Logistics Presents 2020 CSCMP State of Logistics Report: 3PLs Adjust to Market Fluctuations, Focus on Agility
After a solid 2019, the logistics industry was initially traumatized after the COVID-19 pandemic took hold across the globe. However, the logistics industry has demonstrated resilience, and it is already adapting to new market demands.
---
"Logistics leaders are normally unflappable, being accustomed to volatility, fluctuations and even crises," said Michael Zimmerman, a partner with the global strategic management consulting firm Kearney and lead author of the 31st Annual State of Logistics Report. "But as the pandemic violently wrenched supply chains across the world, these leaders were tested like never before. In our view, the experience will lead to a new emphasis on supply chain resilience, which is to say that logistics will build in more options and elasticity."
The 31st Annual State of Logistics Report was introduced by the Council of Supply Chain Management Professionals (CSCMP) and presented virtually by Penske Logistics on June 23.
"With the 'reopening' of American businesses, many supply chains have become off-balance," stated Marc Althen, president of Penske Logistics. "This is an important time to reevaluate your supply chain, from distribution points to modes of transportation, and the State of Logistics Reportprovides the level of insight necessary to make these types of critical decisions."
Althen and Zimmerman participated in a panel discussion following the report's release. They were joined by Jacqueline Bailey, North American regional lead for Cargill Transportation & Logistics, Craig Fuller, CEO and founder of Freightwaves, and Mark Wallace, executive vice president of sales and marketing for CSX Corp.
Overall Logistics Costs
During the report's release, Zimmerman said United States Business Logistics Costs increased 0.6% in 2019 to reach $1.63 trillion, or 7.6% of 2019's $21.43 trillion GDP. This was down from 7.9% the previous year. "However, 2018's fast GDP growth and capacity shortages had driven logistics costs to the second highest percentage of GDP since 2008—so 2019 felt like a return to normal," Zimmerman noted.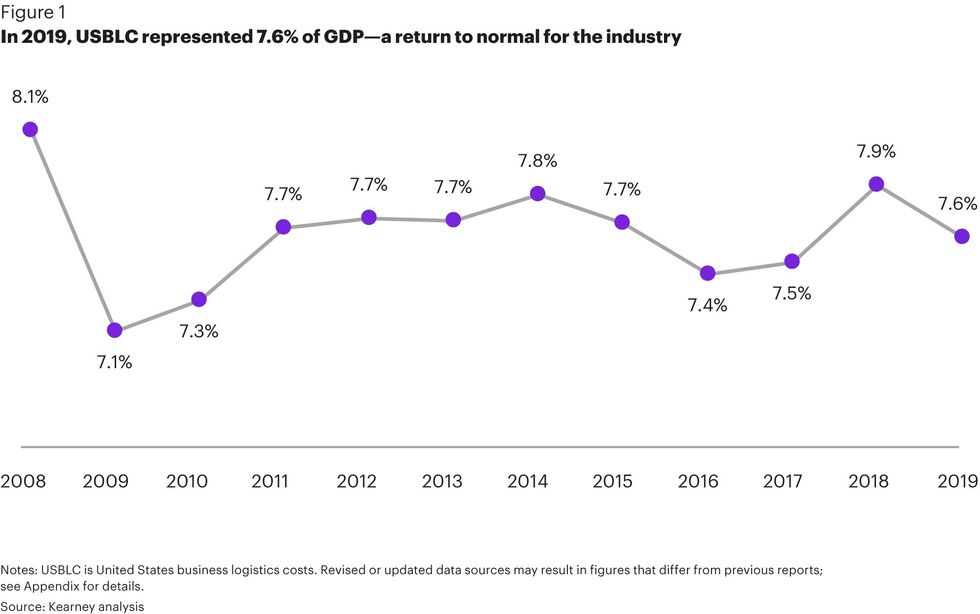 In 2019, transportation costs grew by 2.5%, which was less than one quarter of 2018's 10.4% growth, but still above its five-year compound annual growth rate. Within transportation, costs rose for motor, parcel, water, and pipeline, and fell for rail and air.

Where costs fell, it was generally due to volume declines in a slowing economy, plus some easing of prices as carriers tried to sell that now-excess capacity. Where costs rose, it was often momentum from 2018 carrying over into early 2019, according to the report.
Road freight, the biggest segment of U.S. logistics spend, was already slowing down in 2019 and the market balance tipped in favor of shippers (companies that provide goods and services). According to the report: "They regained buying power, negotiated lower rates and secured capacity. Carriers, meanwhile, saw reduced profits and ordered fewer new Class 8 trucks."
In 2019, inventory carrying costs fell by 4.6% while inventory storage costs grew 6.6%, as warehousing capacity remained tight.
The Role of COVID-19
COVID-19 caused massive disruptions within the supply chain earlier this year. Zimmerman said 3PLs served as an ally for those experiencing surges and a shock absorber for those that experienced crashing volumes. "I expect 3PLs will benefit from this in 2021 and 2022 as those industries, either advantaged or disadvantaged, find confirmation in 3PL performance as the reason they outsource to 3PLs," he said.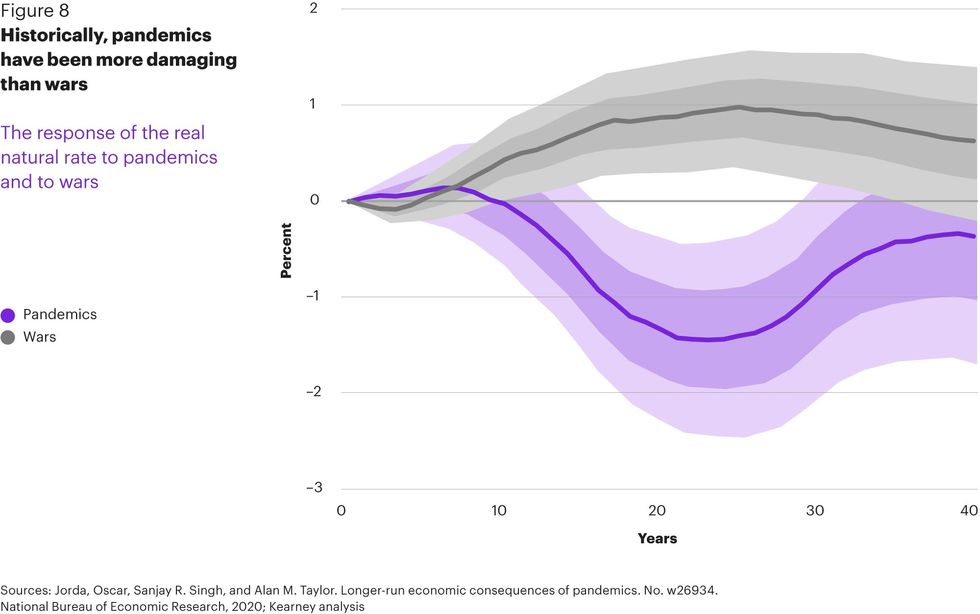 Heavy manufacturing, automotive, chemicals and hospitality all experienced long stoppages, and the 3PLs lost a lot of work but were not able to cut costs as fast, Zimmerman said. "That means they absorbed the blow for their customers to a greater extent than the shippers would have suffered had these activities been insourced," he explained. "Shippers should be thankful for that and retain/increase 3PL services as a result."

Consumer packaged goods, grocery retail and e-commerce saw booms in demand and 3PLs were able to shift or muster resources to make it happen and shippers are going to be recognizant of that as well, Zimmerman added.
Althen said Penske has achieved new levels of agility and resiliency amid the swift, pandemic-related shifts in the supply chain. "I'm very proud of our associates for their dedication and ability to quickly meet customer needs during this crisis," he stated. "Customer relationships have been highly collaborative. We will exit this crisis period stronger and more agile."
Increased Safety Stock
Before the COVID-19 pandemic struck, supply chains were lauded for their ultra-efficient, single-source and just-in-time capabilities. Now, the logistics field will need to construct entirely new levels of supply chain resilience, according to the report.
Zimmerman: "Shippers are now more interested in resilience than cost-minimizing optimization. This means having a bit more reserves and optionality in the supply chain, more sources of product and more inventory." He added that how this increased resilience will break down would depend by company.
Change in inventory policies around reserves—safety stock—will increase the demand for warehouse space. Many supply chains were designed to hold minimum inventory in pursuit of a just-in-time model.
"On the balance there is going to be this memory of the pain of lost sales and not having been able to respond in supply chains," explained Zimmerman. "Manufacturers will hold safety stock and retailers and CPGs will hold more inventory of goods. I venture to guess this will last 12-18 months."
Althen said Penske's food and beverage customer volumes are still above pre-COVID levels, which calls for additional trucking and warehousing capacity. Plus, health care accounts are picking back up with the return of elective surgeries. "Safety stock is needed to respond to shifting consumer demands, panic buying and increased e-commerce fulfillment," he said.
Forecasts from CBRE Research indicate that a 5% increase in business inventories would require an additional 700 million to 1 billion of occupied square feet, Zimmerman said.
Additionally, shippers' expectations are shifting, and Zimmerman said 3PLs' old model in which shippers had to commit to volumes, space and labor whether they used it or not will no longer suffice.
"Shippers are expecting 3PLs to come up with more flexible pricing and shipping models where they can flex up and down and not pay high premiums or high penalties for volumes that go over and under," Zimmerman said, adding that 3PLs that have good answers to this will win the business. "As big 3PLs are able to flex, it will become the standard in the marketplace."
The Role of Technology
Zimmerman said agility is about visibility and speed, which enables shippers and their providers to mobilize assets and make decisions. "That means technology, and 3PLs are investing in technology," he said, adding that 3PLs need to stay at the leading edge of technology investments. "You don't have to have the absolute latest technology or optimization software, but you have to be ahead of the game."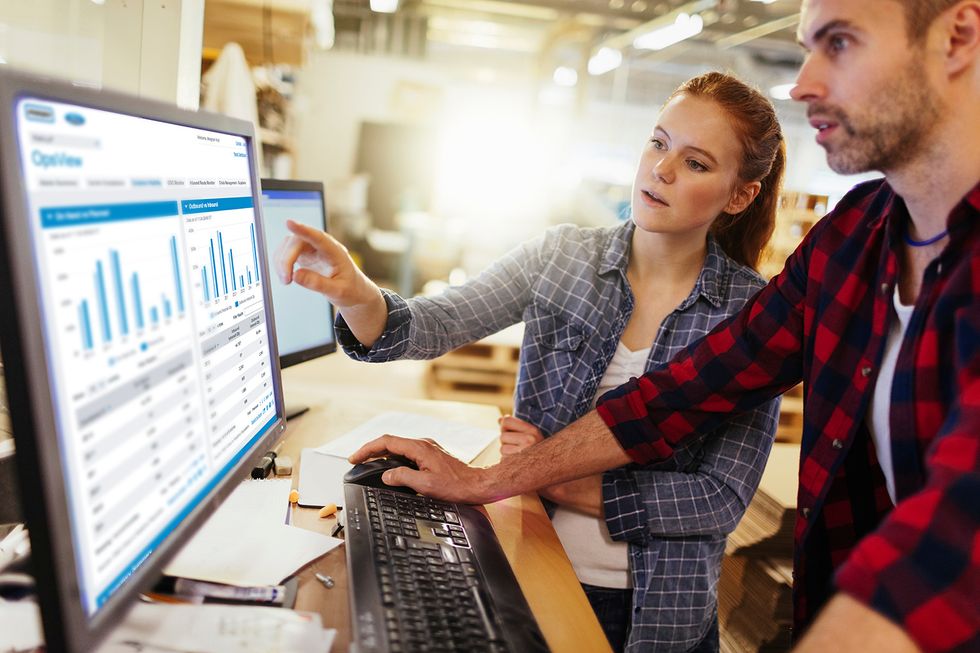 Althen said Penske continually incorporates relevant emerging technology in its ClearChain platform, tailoring freight and inventory status visibility for the internal and external stakeholders of customers.

Zimmerman expects 3PL investments to pay off. "I think the 3PL industry has historically been very scrappy and hard-working, trying to both invest in technology and get a good ROI while demands for performance keep increasing," he noted. "3PLs that manage this best with technology, guts and determination are the ones that are going to come out ahead and win more business."
By "Move Ahead" Staff