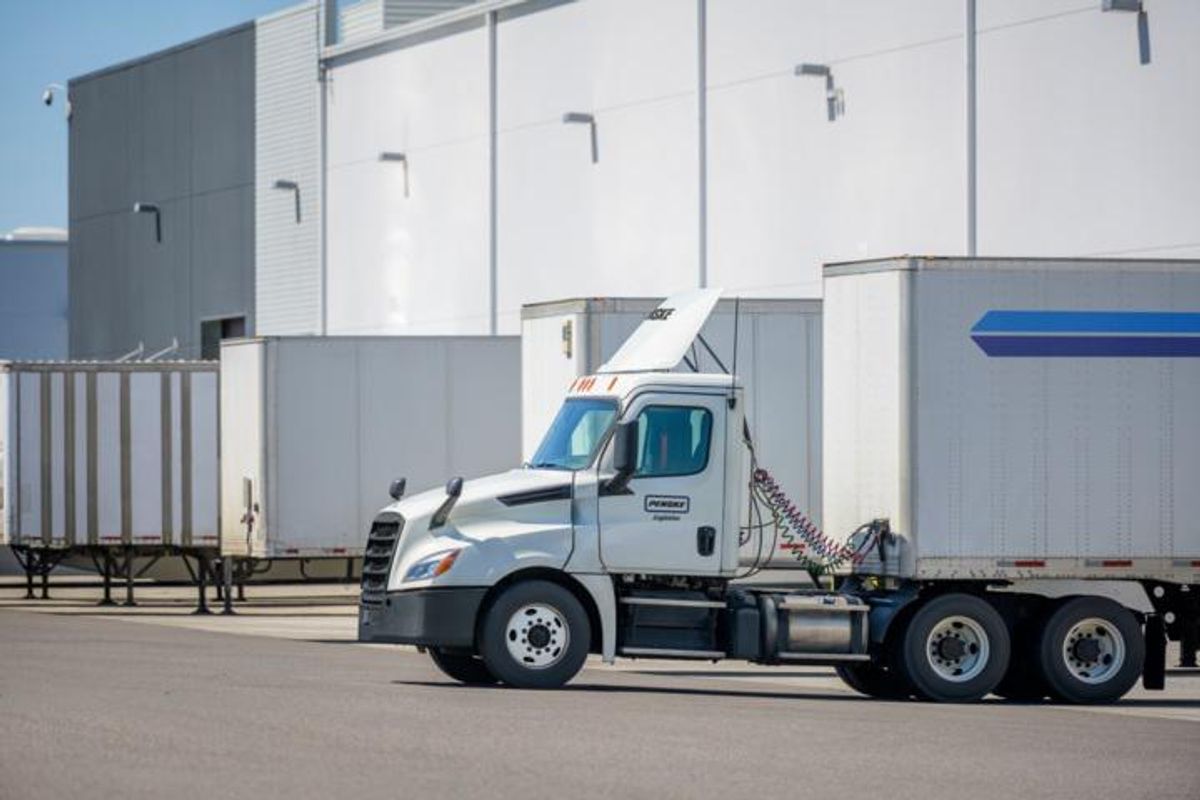 Penske Logistics Improves Safety with Technology and Training
Keeping associates safe is a top priority for Penske Logistics, and the company uses a mix of technology and training to prevent injuries and accidents among its 10,500 professional drivers and 6,300 warehouse associates.
---
Jason Herr, vice president of safety for Penske Logistics, said the company has created a culture of safety by focusing on three pillars: training, communication and continuous improvement.
"Culture is a collection of beliefs that are formed over time," he said, adding that Penske's commitment to safety starts at the top. "Our president, Marc Althen, provides leadership that holds up safety as a core value and the people leading our operations follow his lead."
Developing and Delivering Relevant Training
Training is key to protecting drivers and warehouse associates, and to be effective, training has to be kept fresh."Situations, regulations and work environments change," Herr said.
Penske starts with an engaging safety orientation on an employees' first day. "We immediately establish the associate's role and responsibility in safety on the first day and that sets the tone for their safety expectations going forward," Herr said. "We believe in having our associates go home safely after their day of work."
Associates also take part in ongoing refresher training on critical elements of the job, such as hours-of-service, incident prevention, wellness and fatigue avoidance. Those refresher trainings could take place annually or quarterly depending on the topic.
Penske Logistics has implemented a program from Worklete, which focuses on the principles of body movement to reduce injury rates whether someone is loading a truck, driving a truck or fueling a truck. "It helps workers train like an athlete," Herr said. "It has been really helpful in protecting our associates."
Implementing Frequent and Timely Communication
Communication related to safety performance and job expectations, when done correctly, can help build trust and increase associates' commitment to safety. Penske Logistics relies heavily on the principles in the book "Safety 24/7"by Gregory Anderson and Robert Lorber.
Penske has also rolled out a recognition program that recognizes the company's top professional drivers and safe warehouse associates. "That premier class program begins on day one. We send a welcome letter to a new associate's home telling them about the program and then follow up at three, six and nine months to recognize the associate's safe performance," Herr said.
Associates receive points annually that they can spend in a catalog. When associates reach five, ten, 15 and 20 years of safe performance, they receive significant safety milestone recognitions. "It reinforces what the right behaviors look like," Herr said.
Communication is particularly important when rolling out new safety technologies, Herr said. When those within Penske Logistics rolled out onboard cameras and collision mitigation systems, they expected apprehension and concern. "We talked with our associates about the benefits of the technologies," Herr said. "When you tell someone, 'I have something that can make you better, you're going to get their buy in.' Most people want to improve."
Emphasizing Continuous Improvement
As part of its safety program, Penske Logistics focuses on continuous improvement. "We leverage metrics to gauge performance against prior time periods and the industry," Herr said.
Penske has invested in several safety technologies. "We believe that our drivers are the most advanced technology on the truck, but we invest in safety features that give them more tools to drive improvements," he said.
Driver monitoring via telematics is table stakes today and collision mitigation systems and onboard cameras are must haves, Herr said.
"Collision mitigation is a safety system designed to prevent or reduce the severity of a collision," Herr said, adding that the systems have audible alerts and automatic braking. "This technology helps alert the driver to following distance. When needed, it will engage emergency braking to reduce the severity of or even prevent a collision."
Footage captured from onboard cameras can be used to coach drivers on improvement opportunities and have been shown to have a positive impact on safety. "At Penske, we have inward and outward facing SmartDrive cameras in our fleet," Herr said. "It is like having game film to review with drivers to help them improve their performance. We show them their driving behaviors, their quality attributes and their places to improve."
Safety technology yields a return greater than the investment, Herr said. "The cost of collision mitigation and onboard cameras is more than returned in lower turnover, reduced risk and decreased liability claims," he said.