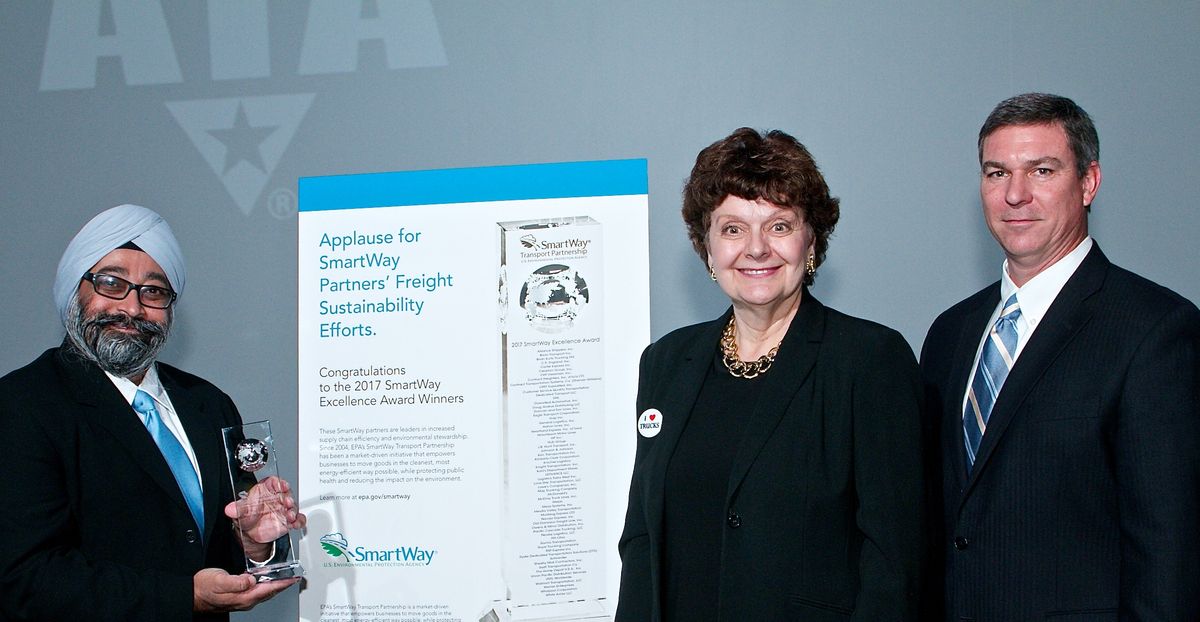 Penske Logistics Given Sustainability Award by U.S. EPA SmartWay Program
November 29, 2017
The United States Environmental Protection Agency's SmartWay program has named Penske Logistics a 2017 Excellence Award winner. Penske is among the program's top 1 to 2 percent of partners that display environmental best practices.
---
"Since 2004, the EPA and the business community have collaborated through the SmartWay Partnership to reduce the economic and environmental costs of goods movement, a vital sector of our national economy," said Christopher Grundler, Director of the EPA's Office of Transportation & Air Quality.
"Penske Logistics equips its more than 3,500 late model vehicles with the newest technology and continuously monitors performance," explained Senior Vice President of Fuels and Facility Services, Penske Truck Leasing, Drew Cullen. "These investments are certainly an enabler in being recognized by the EPA."
Penske Logistics is among the companies that have aided the SmartWay program, dating back to 2004, to avoid emitting in excess of 94 million metric tons of air pollutants and saving more than 197 million barrels of oil and $27.8 billion in fuel costs.

"Our company is honored to be recognized as an Excellence Award winner by the EPA SmartWay program," stated Penske Logistics President Marc Althen. "It serves as a continued validation of our efforts to be responsible environmental stewards in our daily operations."
Penske Truck Leasing is a transportation industry leader in the areas of spec'ing, operating and maintaining fleets of traditionally-fueled vehicles as well as alternative-fueled vehicles that includes natural gas, propane, electric and diesel-electric hybrids. There are over 550 vehicles in the company's alternative fuel fleet. In over 26 years, Penske has safely operated and maintained natural gas vehicles in excess of 80 million miles.
Penske Truck Leasing is an affiliate partner in the U.S. EPA SmartWay program and Penske Logistics is a partner in the trucking carrier and logistics categories. Penske Truck Leasing is also an affiliate partner in the Canada SmartWay Transport Partnership, which is administered by Natural Resources Canada.
Photo caption: Posing with the award is from left, Penske Truck Leasing Senior Manager of Fuel Services Virind Gujral; SmartWay Director Cheryl Bynum; and Senior Vice President of Fuels and Facility Services, Penske Truck Leasing, Drew Cullen.
By "Move Ahead" Staff