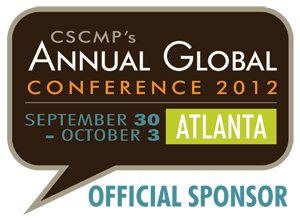 Penske Logistics Expands CSCMP Relationship
Penske Logistics has renewed and expanded its sponsorship commitments with the Council of Supply Chain Management Professionals (CSCMP) through 2014.
---
"We're pleased to continue working with CSCMP," said Penske Logistics president Marc Althen. "By participating in CSCMP's major events, regional roundtables, and investing in their research efforts, we're able to engage with other industry thought leaders about today's biggest supply chain and logistics challenges and also access some of the industry's top talent from a recruiting standpoint."
Rick Blasgen, CSCMP president and chief executive officer, stated: "We appreciate Penske's continued support as they renew and expand their sponsorship relationship with CSCMP. Supply chain executives welcome the opportunity to learn more about the services of world-class organizations like Penske, and we look forward to working with them to maximize their brand's exposure among the supply chain management decision makers who attend CSCMP conferences."
Penske will be a gold sponsor of its Europe conference to be held April 23-25, 2012 in Frankfurt, Germany. The event will feature global supply chain thought leaders who will discuss the processes that professionals should implement to enhance their supply chains to remain competitive. Sessions will focus on innovative approaches to supply chain management initiatives.
Penske will also be a global sponsor of CSCMP's annual 2012 global conference, September 30-October 3, in Atlanta. The event, which is expected to attract more than 3,000 supply chain management professionals, will be held at the Georgia World Congress Center. The largest of its kind for the supply chain management profession, the conference will host global practitioners, educators, and thought leaders in Atlanta for three-and-a-half days of professional education, industry research, best-practice presentations, and business networking.
For the third year, CSCMP's annual "State of Logistics Report®" will be presented by Penske. The report tracks and measures all costs associated with moving goods through the US supply chain, benchmarking key metrics in logistics such as transportation and inventory-carrying costs, freight volumes, and revenues. The research provides a big-picture view of the performance of the US supply chain process.
Penske's continued sponsorship of the report underscores the significant contribution that quality research makes in driving thought leadership and innovation in the logistics and supply chain industries.
By "Move Ahead" Staff