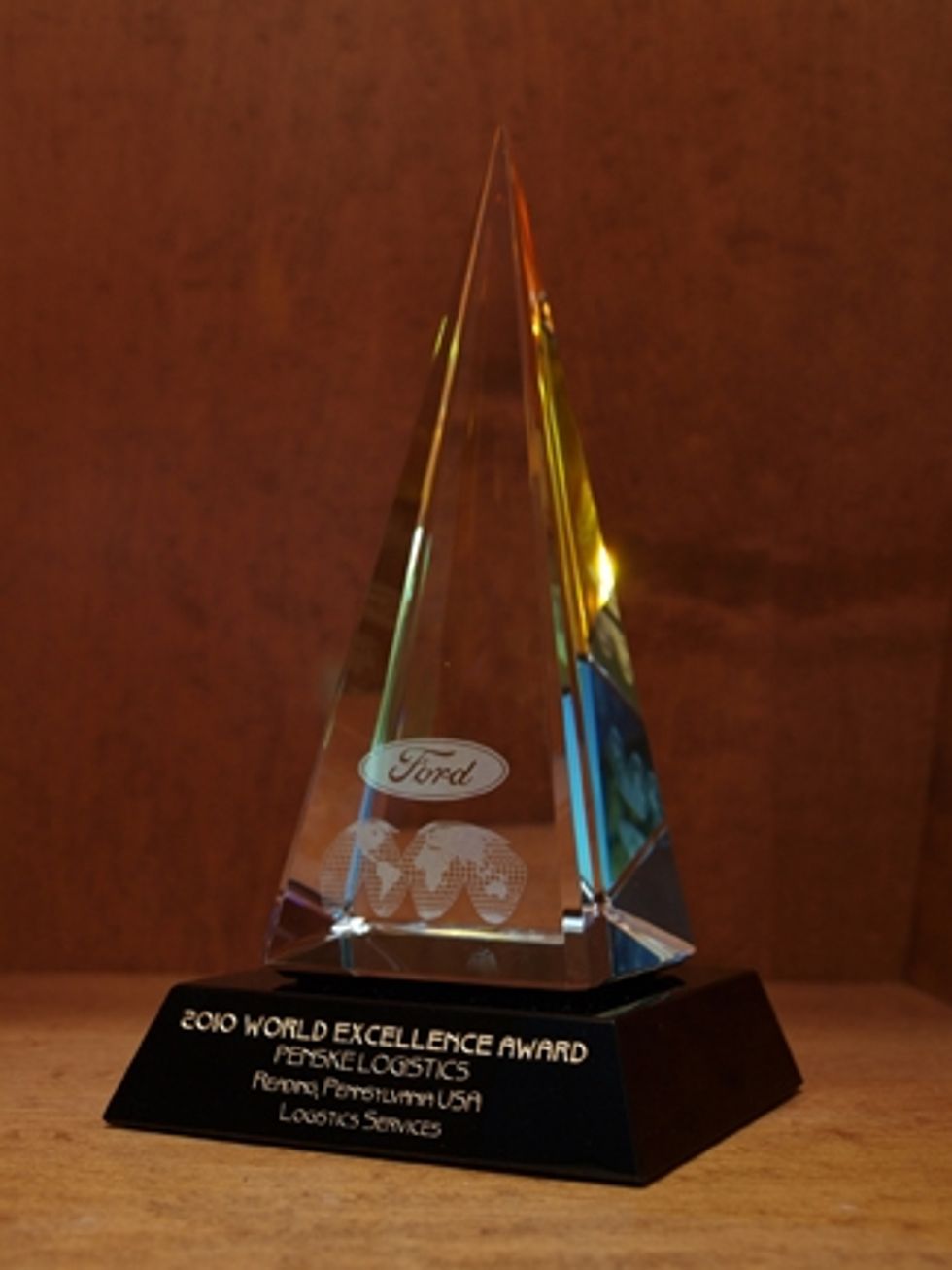 Penske Logistics Earns Ford Gold World Excellence Award
Penske Logistics has been awarded Ford Motor Company's Gold World Excellence Award. This is the third World Excellence Award Penske Logistics has earned from Ford and it is the second time the company has earned Gold.
---
"We're sincerely honored to receive this award but it would not have been possible without the close collaboration between the Ford and Penske teams," said Marc Althen, Penske Logistics president. "Thanks to all of our associates supporting the Ford business worldwide."
Forty-seven suppliers from 16 countries were recently recognized at Ford's 13th annual awards event. The Gold Awards are presented to suppliers demonstrating superior quality, delivery and cost performance. The Ford World Excellence Awards honor production and nonproduction suppliers that have aligned themselves with the values and operating practices of Ford while reaching the highest quality, technology, cost and delivery standards. The winning companies represent thousands of employees, who bring diverse cultures, values and ideas to Ford in the products and services they make.
"Our 2010 World Excellence Award winners have shown an unwavering commitment to excellence in technology, quality and cost efficiency," said Tony Brown, Ford's group vice president for global purchasing. "Congratulations, and thank you for helping Ford serve customers with the best vehicles in the world."
Penske Logistics provides a wide range of supply chain services to Ford Motor Company including serving as its North American lead logistics provider for its assembly, power train and stamping operations. In South America, Penske supports Ford by operating parts distribution centers and through the delivery of parts to Ford dealerships in Brazil. Penske provides sub-assembly and material handling services for Ford product lines in the U.K. and manages expedited transportation services for service parts across Europe. Penske Logistics is a strategic supplier to Ford and is a part of its Aligned Business Framework.
By Alen Beljin