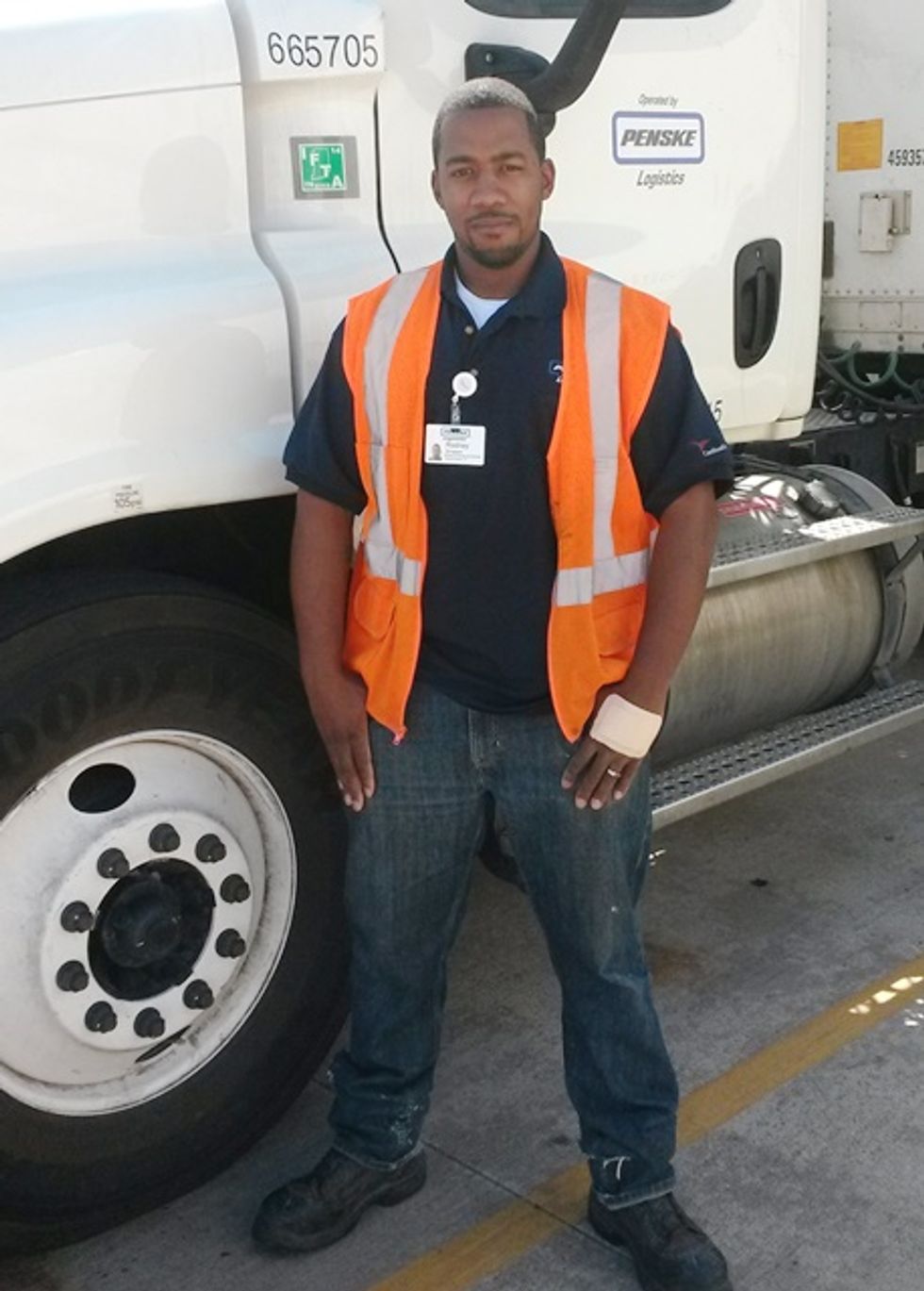 Penske Logistics Driver Saves Pair Trapped in Overturned Vehicle
Penske Logistics driver Rodney Simpson was returning from his last run on a recent Saturday morning – less than a half hour away from putting a period on what had been an uneventful day – when he noticed a car in front of him swerve from lane to lane and tumble down an embankment.
---
"I knew there was water down there. I said 'please don't go into the water' because I can't swim. The next thing I knew, they went into the water," said Simpson, who has been with the company for just two months and was returning to his Grand Prairie, Texas, location.
After calling both the district and 911, Simpson decided to help if he could. "I said 'I have to pull over' because I didn't know if kids were in the car," recalled Simpson, a father to a 10-year-old son.
Simpson scrambled down the dark hill to find the driver and passenger trapped upside down in their small SUV. A large tree branch was obstructing the vehicle so Simpson had to pull that back to get closer and try to help free them.
He went to the passenger door first. When it wouldn't open, he broke the window with his fist to free the passenger. He then made his way to the driver's side, wading through waist-deep water, to get the door open and remove the injured driver.
After making sure the passenger and driver were out of the vehicle safely, Simpson went back up the embankment to the roadway to flag down first-responders. In the end Simpson himself would need stitches in his hand.
While some have labeled him a hero, Simpson said he did what anyone would have done when witnessing someone in need.
"I just saw someone who needed help, so I helped them," Simpson said. "No matter what the situation, I always try my best."
Darian Goddard, operations manager for Penske Logistics in Grand Prairie, said he was proud of Simpson and his willingness to help.
"It says a lot about his personal character that he is someone who is willing to step up and get involved," Goddard said. "We are proud of his actions and it is those split-second decisions of selfless acts that make heroes."
Marc Althen, president of Penske Logistics, applauded Simpson's efforts.
"Safety is in the forefront for all of our associates and especially in our driver's minds," Althen said. "Rodney's efforts to assist the occupants of the overturned vehicle are in line with that mindset. We commend his initiative and his split-second decision-making to render assistance."
Click here to read local coverage of the story.
By Bernie Mixon