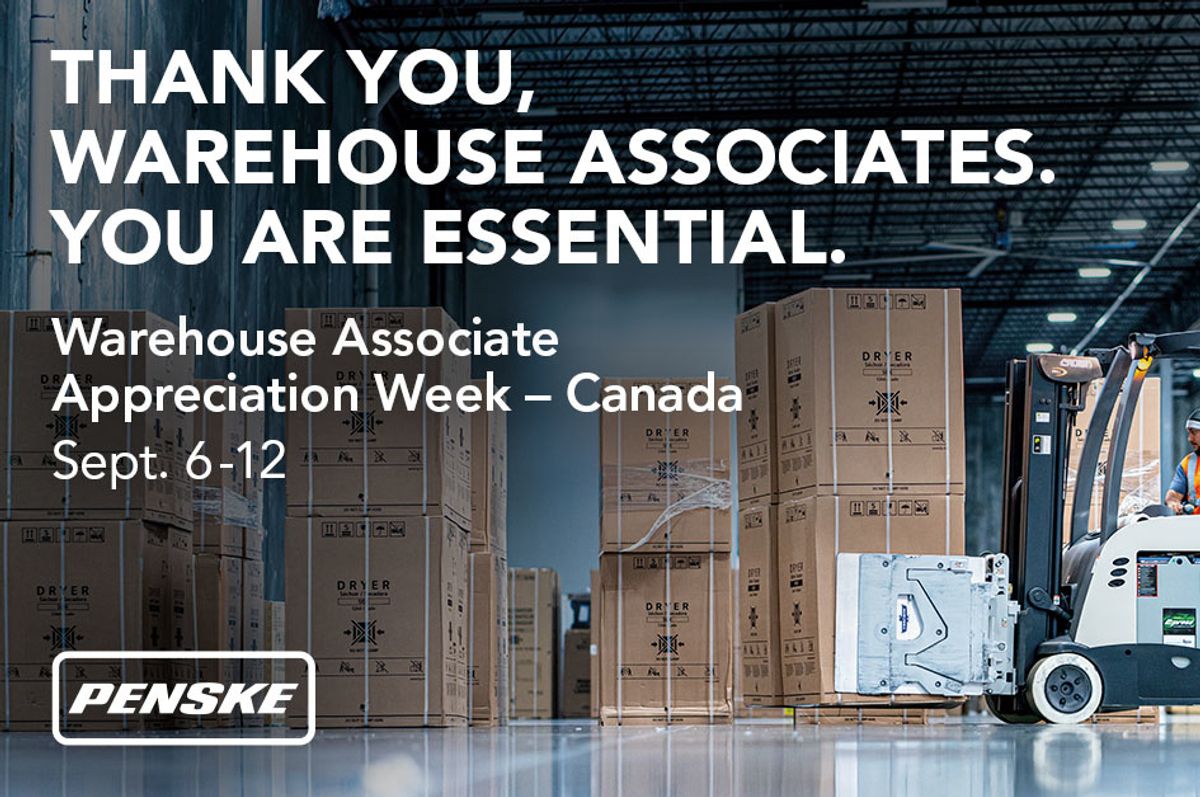 Penske Launches Warehouse Associate Appreciation Week
Increased consumer demand for food and other goods during the coronavirus pandemic has forced retailers to turn to warehouses – and warehouse associates – to help replenish store shelves.
---
Recognizing the essential role warehouse associates play, Penske Logistics has launched Warehouse Associate Appreciation Week in the U.S. and Canada to thank associates for the keeping the supply chain moving.
The company is thanking warehouse associates across Canada this week in celebrations that coincide with National Trucking Week, which is held annually to recognize Canadian professional truck drivers.
Next week, the warehouse associate appreciation event moves to the U.S. with recognition for warehouse associates and professional truck drivers during National Truck Driver Appreciation Week.
Both warehouse workers and truck drivers play an important role in keeping the supply chain moving, so the company felt it was fitting to thank both associates this year for their extraordinary effort during the pandemic.
"Our warehouse associates have showed great responsibility and pride in what they do, and they have been there to make sure we have the products we want to purchase," said Steve Beverly, Senior Vice President of Operations, Penske Logistics. "We owe them a great big 'thank you' for all of the hard work they do every day."
Penske manages about 30 million square feet of warehouse space globally and employs 7,500 associates in order selector, loader, replenishment operator and unloader roles.
The important role that warehouse associates play has never been more in the spotlight than during the pandemic, which has seen consumer demand outpace supply in areas such as food and home improvement.
Deemed essential workers. warehouse associates have been on the frontline since the start of the pandemic.
"They have come to work faithfully with a lot of pride, especially in the initial stages of the pandemic when we did not have a lot of information and when there was a lot more fear than there is today," Beverly said. "They were rock-solid, and they were there from the beginning."
On behalf of Penske Logistics, Beverly delivered this message to warehouse workers.
"You are essential. You keep our economy going, and the supply chain moving, and you are sincerely appreciated," he said.
By Bernie Mixon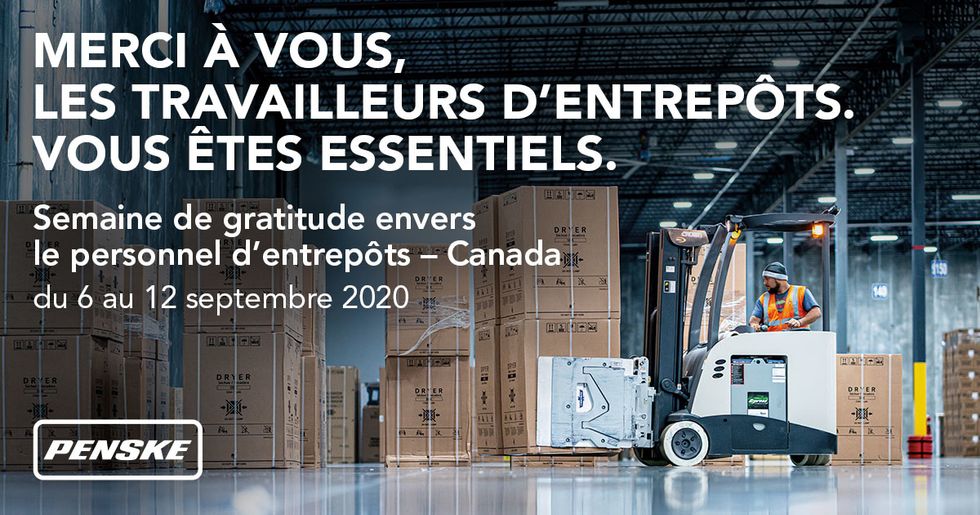 Penske lance la semaine d'appréciation des associés d'entrepôt
La demande accrue des consommateurs relative aux produits alimentaires et à d'autres marchandises pendant la pandémie du coronavirus a forcé les détaillants à se tourner vers les entrepôts et les associés d'entrepôt pour aider à réapprovisionner les étagères des magasins.
Reconnaissant le rôle essentiel que jouent les associés d'entrepôt, Penske Logistics a lancé la semaine d'appréciation des associés d'entrepôt aux États-Unis et au Canada pour remercier les associés de maintenir le fonctionnement de la chaîne d'approvisionnement.
Cette semaine, l'entreprise remercie les associés d'entrepôt à travers le Canada en organisant des célébrations qui coïncident avec la National Trucking Week (Semaine nationale du camionnage) qui a lieu chaque année pour reconnaître les camionneurs professionnels canadiens.
La semaine prochaine, l'événement d'appréciation des associés d'entrepôt se déplace aux États-Unis où les associés d'entrepôt et les camionneurs professionnels seront reconnus lors de la National Truck Driver Appreciation Week.
Les associés d'entrepôt et les camionneurs jouent un rôle important dans le maintien du fonctionnement de la chaîne d'approvisionnement, et l'entreprise a jugé approprié de les remercier cette année pour leur effort extraordinaire pendant la pandémie.
« Nos associés d'entrepôt ont fait preuve de grandes responsabilité et fierté dans leur travail. Ils se sont assurés que nous pouvons nous procurer les produits que nous recherchons », a déclaré Steve Beverly, vice-président principal de l'exploitation de Penske Logistics. « Nous tenons à les remercier vivement pour le travail acharné qu'ils accomplissent tous les jours. »
Penske gère environ 2 787 091 mètres carrés (30 millions de pieds carrés) d'espace d'entrepôt à l'échelle mondiale et emploie 7 500 associés dans des postes de sélectionneur, de chargeur, d'opérateur du réapprovisionnement et de déchargeur.
Le rôle important joué par les associés d'entrepôt n'a jamais reçu autant d'attention que pendant la pandémie, au moment où la demande des consommateurs a dépassé l'approvisionnement dans les secteurs alimentaires et d'amélioration du logement, entre autres.
Considérés comme étant des travailleurs essentiels, les associés d'entrepôt ont été en première ligne depuis le début de la pandémie.
« Fidèlement, ils se sont rendus au travail avec une grande fierté, particulièrement dans les premières phases de la pandémie lorsque nous n'avions pas beaucoup de renseignements et que la peur était beaucoup plus présente qu'aujourd'hui », a indiqué M. Beverly. « Leur détermination était inébranlable et ils ont été là dès le début. »
Au nom de Penske Logistics, M. Beverly a adressé le message suivant aux associés d'entrepôt.
« Vous êtes essentiels. Vous faites marcher notre économie et maintenez le fonctionnement de la chaîne d'approvisionnement; vous êtes sincèrement appréciés », a-t-il affirmé.
De Bernie Mixon