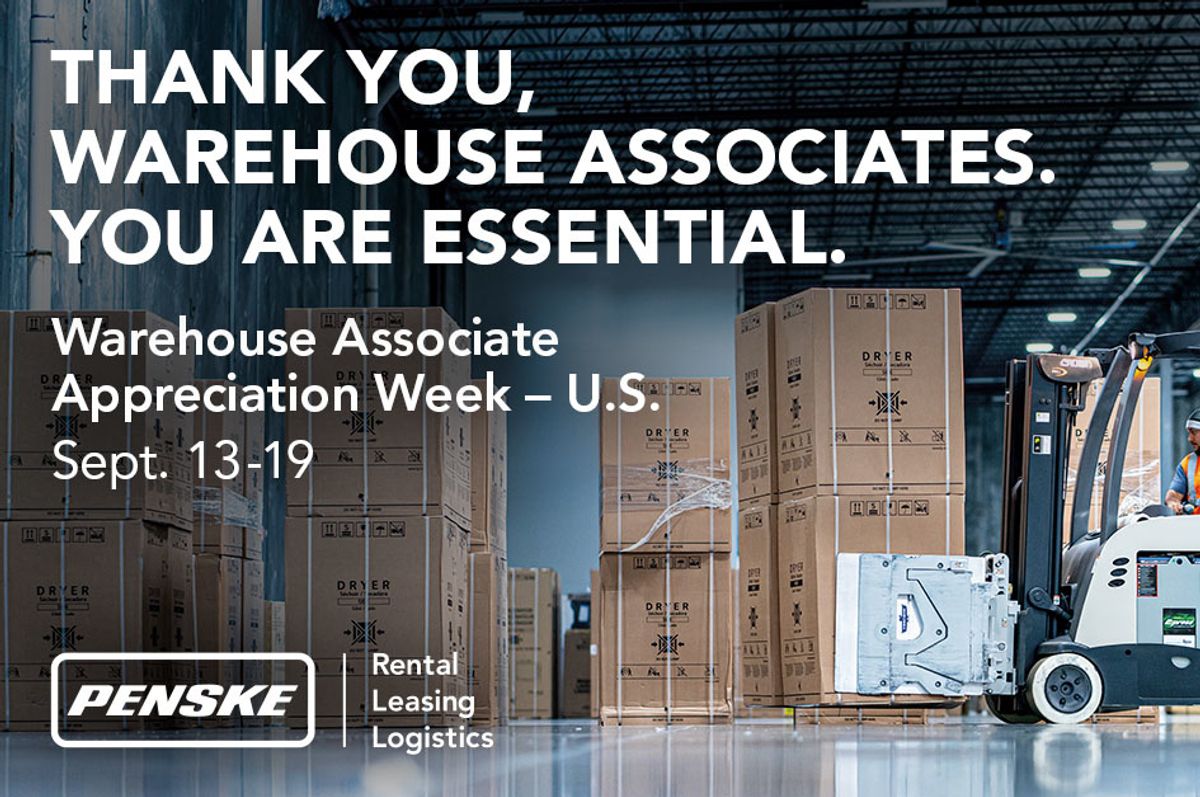 Penske Launches U.S. Warehouse Associate Appreciation Week
Increased consumer demand for food and other goods during the coronavirus pandemic has forced retailers to turn to warehouses – and warehouse associates – to help replenish store shelves.
---
Recognizing the essential role warehouse associates play, Penske Logistics has launched Warehouse Associate Appreciation Week to thank associates for the keeping the supply chain moving.
The company is thanking warehouse associates across the U.S. this week in celebrations that coincide with National Truck Driver Appreciation Week, which is held annually to recognize professional truck drivers.
Last week, the warehouse associate appreciation event was held in Canada to coincide with National Trucking Week.
Both warehouse workers and truck drivers play an important role in keeping the supply chain moving, so the company felt it was fitting to thank both associates this year for their extraordinary effort during the pandemic.
"Our warehouse associates have showed great responsibility and pride in what they do, and they have been there to make sure we have the products we want to purchase," said Steve Beverly, Senior Vice President of Operations, Penske Logistics. "We owe them a great big 'thank you' for all of the hard work they do every day."
Penske manages about 30 million square feet of warehouse space globally and employs 7,500 associates in order selector, loader, replenishment operator and unloader roles.
The important role that warehouse associates play has never been more in the spotlight than during the pandemic, which has seen consumer demand outpace supply in areas such as food and home improvement.
Deemed essential workers. warehouse associates have been on the frontline since the start of the pandemic.
"They have come to work faithfully with a lot of pride, especially in the initial stages of the pandemic when we did not have a lot of information and when there was a lot more fear than there is today," Beverly said. "They were rock-solid, and they were there from the beginning."
On behalf of Penske Logistics, Beverly delivered this message to warehouse workers.
"You are essential. You keep our economy going, and the supply chain moving, and you are sincerely appreciated," he said.
By Bernie Mixon