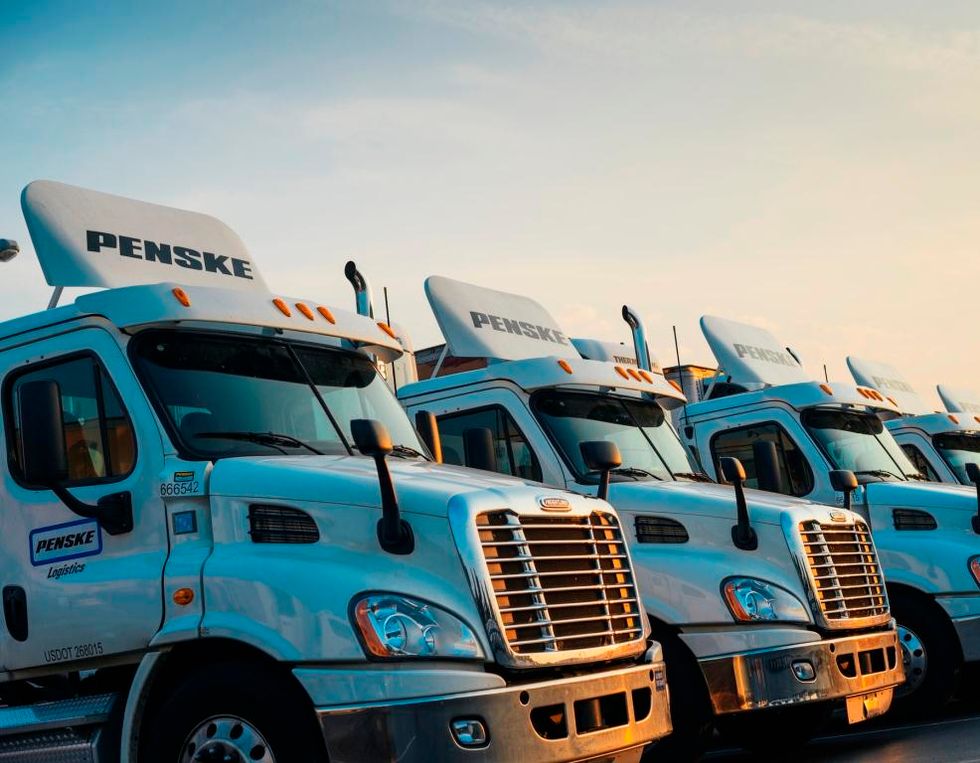 Logistics Outlook Strong for 2014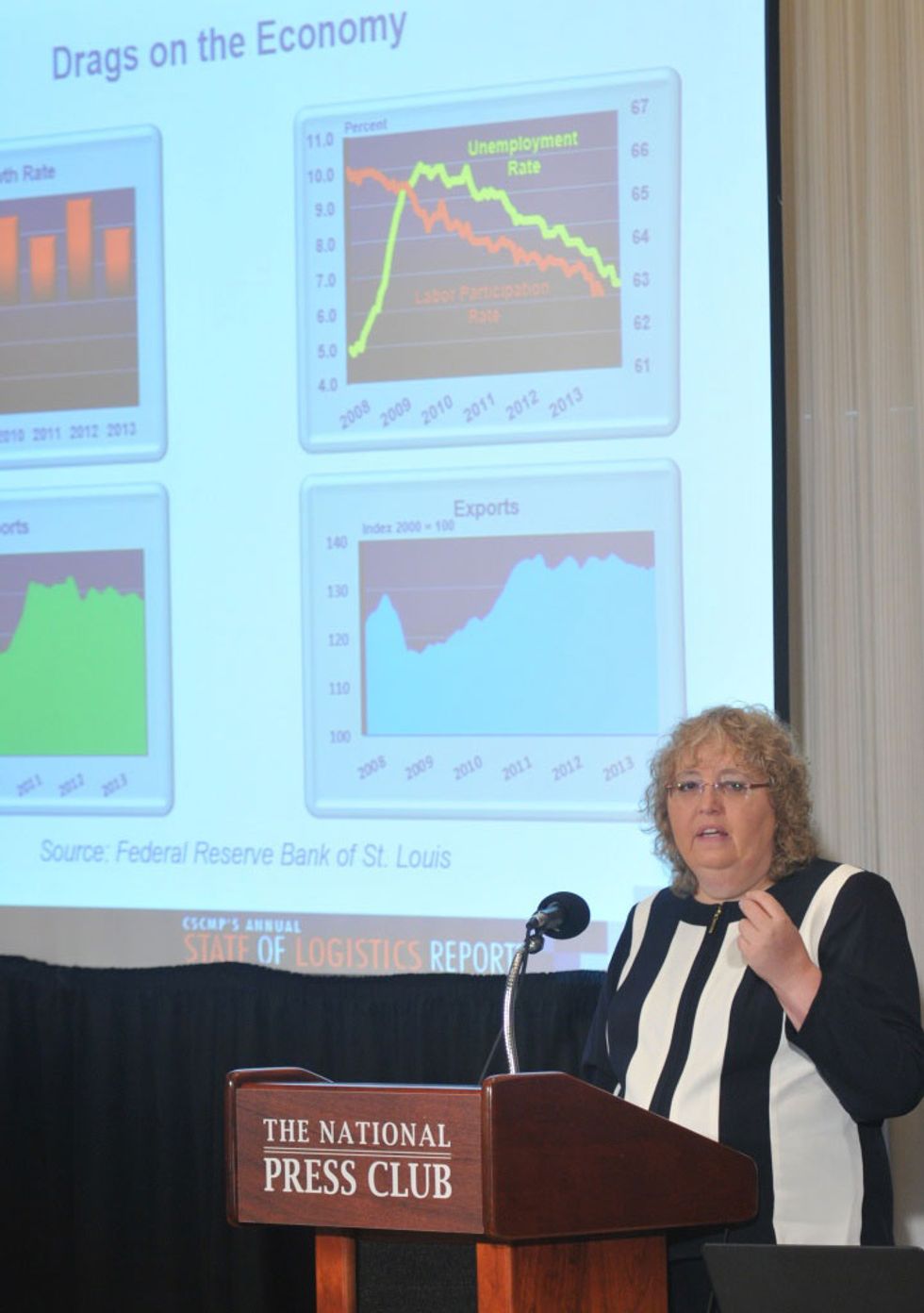 The logistics industry has continued on a path of slow growth over the last several years as it has worked through the Great Recession. While 2013 was more of the same, the data for 2014 indicate a more bullish outlook as the sector is showing its strongest freight performance since 2009.
"This will the best year we have experienced in the last eight years," said Rosalyn Wilson (in photo on right), author of the 25th Annual State of Logistics Report, which was introduced by the Council of Supply Chain Management Professionals (CSCMP) and Penske Logistics last month. "The first five months of 2014 have been the strongest since the end of the Great Recession."
---
While Wilson expects to see continued freight improvement, she said she anticipates a few stumbles along the way. She is also anticipating more capacity problems, higher rates and a worsening driver shortage, most of which also affected the industry in 2013.
Wilson said trucking capacity is becoming more severe as Federal Motor Carrier Safety Administration Hours of Service Rules (HOS) and other safety regulations take a bigger bite out of truck driver productivity.
The new HOS rules, which took effect on July 1, 2013, limit the maximum average workweek for truck to 70 hours, a decrease from 82 hours, among other changes.
"An adverse side effect of the new rules is the impact on drivers—an increasing number of drivers are walking away from the profession because of its increased burden, decreased earnings potential, and potential new drivers must factor this into their decision to enter the profession," Wilson said.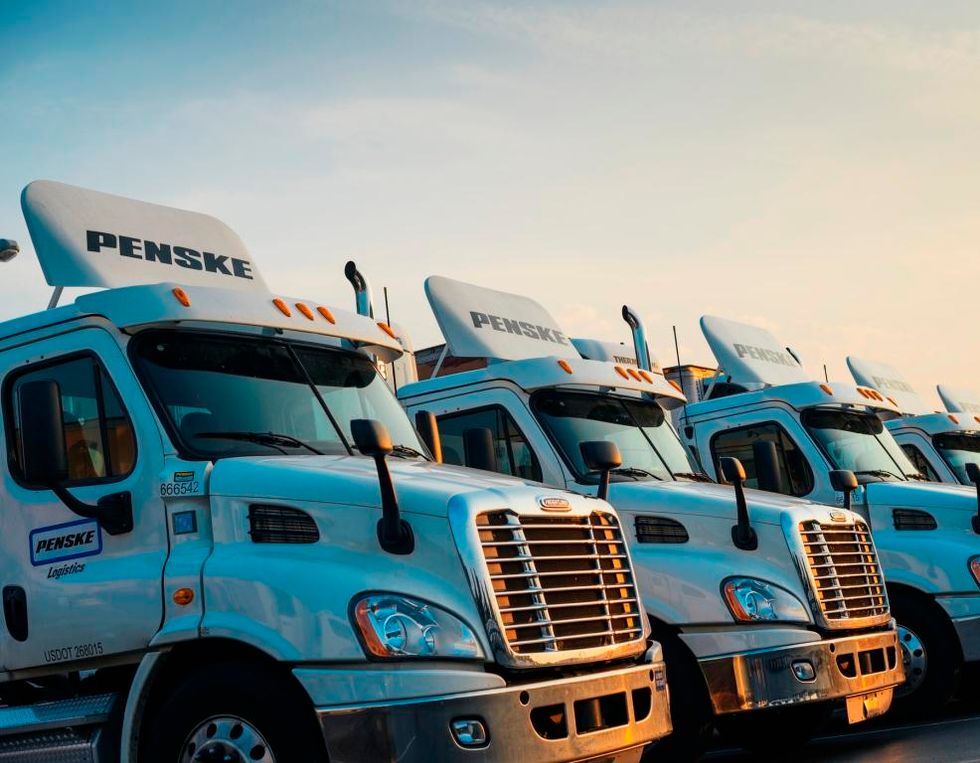 Truck Driver Shortage Fueling Growth and Challenges
"Recruiting and hiring safe, experienced truck drivers is a priority for us as demand for our dedicated carriage trucking solutions is up significantly," said Penske Logistics president Marc Althen.
That increased demand translates to increased business for the logistics industry, and Penske Logistics has seen its revenues for dedicate carriage services increase eight percent.
Penske Logistics currently employs approximately 3,000 truck drivers that haul loads for in the auto, food, grocery, beverage, health care and other sectors of the economy.
"We're starting to hear shippers talk about delivery issues, shipping delays, inventory outages, and they are using outsourced dedicated carriage to 3PLs like us as a solution to the problems they face in hiring drivers," Althen added.
Althen, along with industry executives from Bayer HealthCare, Limited Brands/Mast Global Services and Kansas City Southern, spoke in a panel discussion at the National Press Club in Washington, D.C., following the release of the report.
"Some truck fleets are also reluctant to add new vehicles due to the high vehicle ownership costs and weak driver pool, which is driving more companies to consider dedicated carriage as a supplement to their shipping options," Althen said.
To fulfill the demand for dedicated carriage Penske Logistics is undertaking efforts to recruit more truck drivers but it maintains a commitment to high safety standards for the drivers it does hire.
Truck drivers for Penske Logistics must have a commercial driver's license and a clean driving record. The company requires at least two years of experience for tractor-trailer jobs and at least one year for straight truck jobs. Drivers must also complete and pass DOT required screenings.
"We are investing significantly in our driver recruiting efforts, paying drivers more and ensuring our drivers enjoy a lot of home time," Althen said.
"Our driver retention rate is strong," he added. "We provide drivers with good benefits, ongoing training, as well as excellent trucks and over-the-road support. When drivers come to work for us they tend to stay and make it a long career and that is good for our customers."
Wilson said trucking's dedicated contract carriage segment has continued to see growth due, in part, to capacity concerns, rising 3.6 percent in 2013.
Wilson added that increased expenses and the prohibitive cost of adding new drivers reduced truckload capacity by 2.5 percent in 2013.

What's more, as costs continue to rise, particularly to attract and retain existing drivers, the industry is experiencing a rising number of trucking failures, further straining capacity.
"Avondale Partner's Donald Broughton, who has been tracking trucking company failures for over two decades, reports that as of the end of 2013, truck bankruptcies have increased for seven consecutive quarters and are at a three-year high," Wilson said.
Althen said he is seeing capacity constraints across customers' networks and he expects those continue throughout 2014. "Certain markets continue to struggle for capacity," he said, adding that Penske is seeing spikes in the expedited mode and is seeing imbalances of equipment on intermodal.
In 2013, truck tonnage increased 6.1 percent in 2013, which Wilson said is higher than revenue figures would seem to indicate.
"Although the industry remains at near 100 percent utilization, shippers still perceive that they have enough options to hold the line on rate increases," she said. "Rates have been relatively flat with the exception of spot rates when capacity is scarce."
Trucking posted a 1.6 percent rise in revenue in 2013, one of the weakest revenue years in several years. However, the carrier revenue picture is not a true picture of the underlying activity in the industry as a whole, Wilson said. She noted that she expects to see rates increase in 2014.
Overall, 2013 was a complicated year from a purely economic point of view, Wilson said in the report. Freight forwarder revenue rose 4.2 percent.
"Revenues for the 3PL sector rose 3.2 percent in 2013, much lower than the 5.9 percent growth a year ago, according to Armstrong and Associates," Wilson said.
Transportation costs increased modestly, growing 2 percent. Warehousing costs were also on the rise, increasing 5.6 percent in 2013, and U.S. business logistics costs rose 2.3 percent to $1.39 trillion in 2013.
The State of Logistics Report has tracked and measured all costs associated with moving goods through the U.S. supply chain dating back to 1988.
By "Move Ahead" Staff