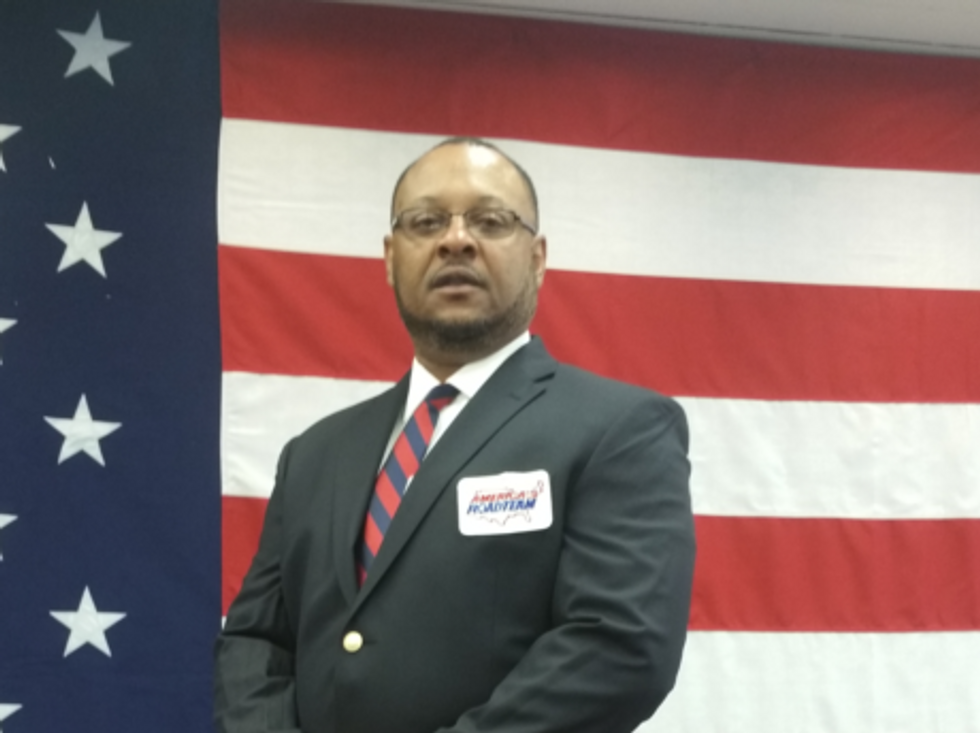 Driver Embraces Trucking Safety Ambassador Role
Everything seems big when you grow up the youngest of seven children, but nothing more so for Earl Taylor than his older brother's tall royal blue Kenworth tractor, with its tandem axles and twin stacks.
---
Taylor would be mesmerized as his older brother - an over-the-road driver - would share tales of his adventures driving his sleeper unit over the open road.
Now it is Taylor, a professional driver for Penske Logistics, who has tales of his own to tell, including traveling to the White House to advocate on behalf of the trucking industry as part of the American Trucking Associations (ATA) 2017-2018 America's Road Team.
"I really didn't consider being a trucker at the time. One day the opportunity presented itself, and I decided why not," said Taylor, now in his 20th year driving trucks for Penske Logistics in Orlando, Florida. "I remembered my brother having a good life with trucking as a career, so I gave it a shot."
Grabbing Hold of a Great Career
While he always loved automobiles, Taylor was introduced to oversized vehicles during his time in the Army as a tactical operations specialist, where he would be required to drive five-ton military vehicles.
After his time in the Army, Taylor worked for a package delivery company, where he received his first taste of truck driving, before joining Penske Logistics as a part-time driver.
"I had never driven farther than 15 to 20 miles in one trip. I wanted to do more with my life and career," Taylor said. "Penske gave me an opportunity to come on full-time, so I took advantage of that, and I felt like it was the greatest move of my life."
Penske offered Taylor so many more opportunities that he could not find with another company. He respected the Penske brand and the company's position as a leader in the transportation industry.
"I became a Smith System trainer. I was also able to further my skills at customer service, being a delivery person and interacting with the general public," Taylor said. "Penske allowed me to be myself on a daily basis, which made me feel like I was part of something special."
Beyond that, his job as a professional driver allowed him the flexibility to spend time with his two sons, who were active in sports growing up, including some coached by Taylor.
"Penske allowed me to have some flexibility by enabling me to work at night and have the day to be a part of practice and coach the games for my kids," said Taylor, who coached youth football and high school track and field.
By far, his biggest professional opportunity was on the horizon.
From Professional Driver to Road Team Captain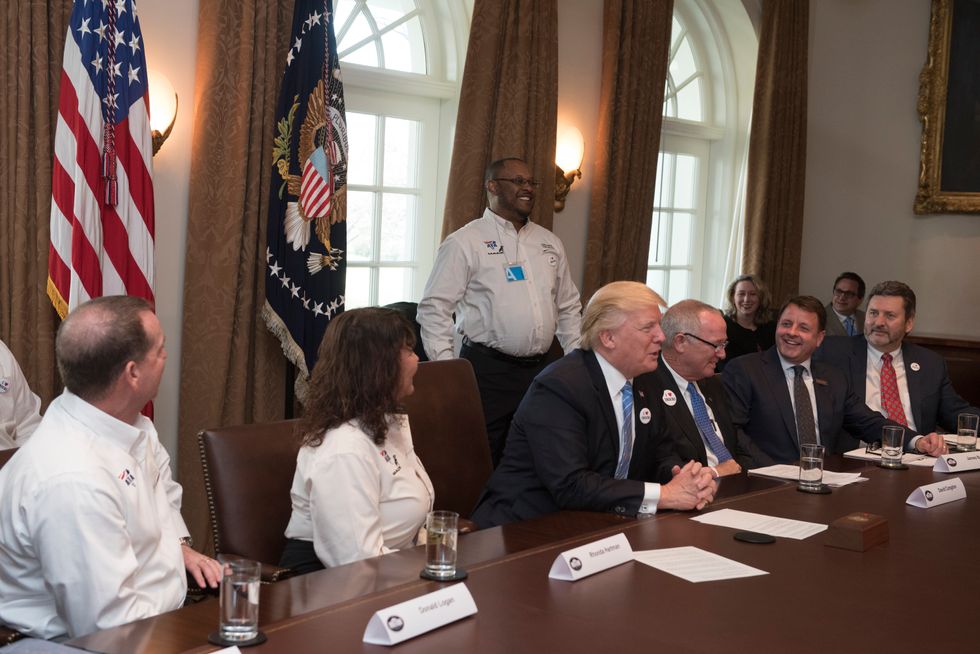 Penske Logistics truck driver Earl Taylor (standing) speaks during a visit to the White House as President Donald Trump (seated center) listens.
One day when he was in the break room, he saw a posting about the ATA's America's Road Team and the selection of a new class of America's Road Team Captains.
"I always wanted to do more with my career, so I took this opportunity to get involved. I put my best into it and hoped for the best," said Taylor, who was attempting to become only the second Penske professional driver to be named a Road Team Captain.
Neil Kirk, the first Penske professional driver to be named a Road Team Captain, served as a mentor to Taylor.
"His influence was instrumental in building confidence in me and helping me believe that I really did have a chance to make this happen," Taylor said, adding that they worked on mock media training and in mock panel sessions. "I really appreciate his efforts."
Once Taylor became a finalist, the pair communicated over the phone and by text message as the time approached for the final selections to be made.
"I made up my mind that I could accept it either way because anyone who was chosen of the 33 finalists would be worthy, because they were a great bunch of people," Taylor said. "When I heard my name called, it was surreal."
Taylor can now count himself among an elite group of truckers whose role is to promote the trucking industry as well as bring to light issues that impact everyone who shares the road.
One of the early highlights of his tenure came in March when Taylor traveled to the White House with other Road Team Captains and the ATA to meet President Donald Trump and Vice President Mike Pence and speak on behalf of the trucking industry (pictured above).
"The president was real open to hearing us and was very concerned about our issues in the trucking industry," Taylor said. "The president and vice president spoke to each and every one of us and asked us questions. They both wanted our opinions."
The Road Ahead
After his time as Road Team Captain comes to an end in 2018, Taylor intends to continue to spread his safety message in the community – paying particular attention to young drivers and distracted drivers.
Taylor's colleagues have applauded his efforts on behalf of the industry and Penske.
"I've been very impressed with the way Earl has responded to the challenge of being a Road Team Captain," said Paul Penatzer, Senior Operations Manager – PL, Orlando, Florida. "He has gained the respect of his peers and his supervisors due to his level of engagement, his tenacity and the way he has accepted the responsibilities of his new role. I believe he's becoming a great ambassador to our industry and to Penske."
The road that brought him to his current role has had its own share of detours for sure, but Taylor wouldn't have it any way.
"I am just beside myself, because I never thought I would make it to this point," Taylor said. "Things I tried out didn't work and things that worked out pointed me in this direction. Life has been preparing me for this all the while."
Interested in a driving career with Penske? Visit gopenske.com/driversfor employment opportunities. The company offers competitive wages and a wide range ofbenefits. Penske is an Equal Opportunity Employer.
By Bernie Mixon