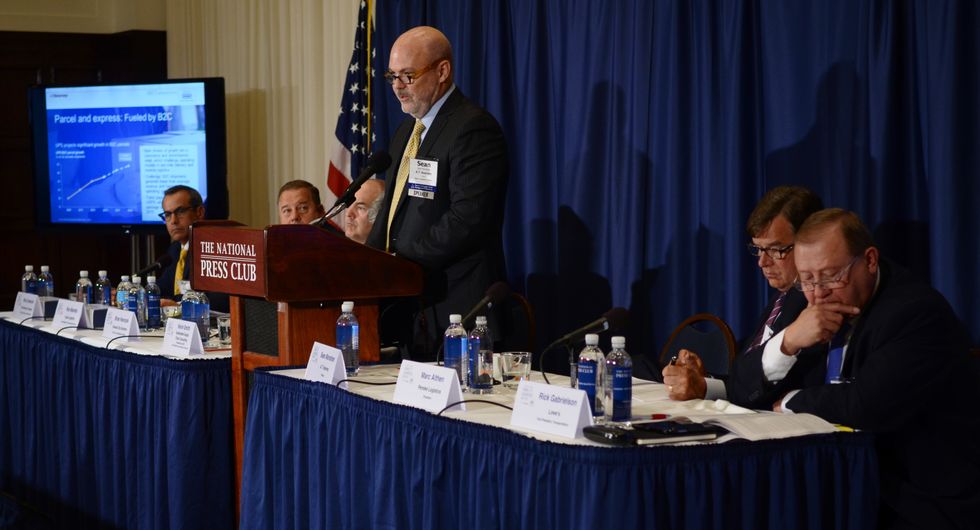 CSCMP State of Logistics Report Returns in June, Presented by Penske Logistics
For the ninth consecutive year the Council of Supply Chain Management Professional's (CSCMP) State of Logistics Report will be presented by Penske Logistics. The publication, which is expertly authored by A.T. Kearney, will be unveiled on June 20 at the National Press Club in Washington, D.C.
---
Here is the 2017 State of Logistics Report panel:
Sean Monahan will once again reprise his role as lead author and panelist. Monahan is a partner at A.T. Kearney and heads the firm's operation and performance transformation practice in their Americas region.
Monahan noted: "We have assembled a team of A.T. Kearney experts in supply chain, distribution, and logistics to develop the State of Logistics Report. Building on the success of last year's report, we expanded our industry outreach and have developed a report that provides CSCMP members with industry trends, insights and implications that will guide their thinking about the supply chain of the future.
"It is clear that the industry is dealing with both uncertainty and excitement about the future," he stated. "Partnerships and technology are finally starting to deliver value."
The panelists will be guided by Kevin Smith's return as moderator. Smith is chair and CEO of Sustainable Supply Chain Consulting.
Rick Blasgen, president and chief executive officer of CSCMP, stated: "This benchmark report contains the real numbers and industry insights supply chain management professionals count on year after year to prepare for critical business demands.
"In addition to these statistics, this year's report also features a forward-looking view from over 25 companies interviewed by our researcher, A.T. Kearney, providing our members with the perspectives they need to guide them in 2017 and beyond," Blasgen continued. "We are grateful for the continued support of Penske Logistics in helping us issue our 28th annual report."
The report will include: a narrative detailing the economic environment impacting logistics; insight from interviews with industry leaders; an in-depth spotlight on relevant trends and expected changes in 2017 and beyond; an assessment of the penetration of technological innovations; and a strategic point of view on the global state of the industry.
The report will also be highlighted for a larger supply chain audience this fall at CSCMP's EDGE conference in Atlanta. To learn more about last year's report, click here.
By "Move Ahead" Staff