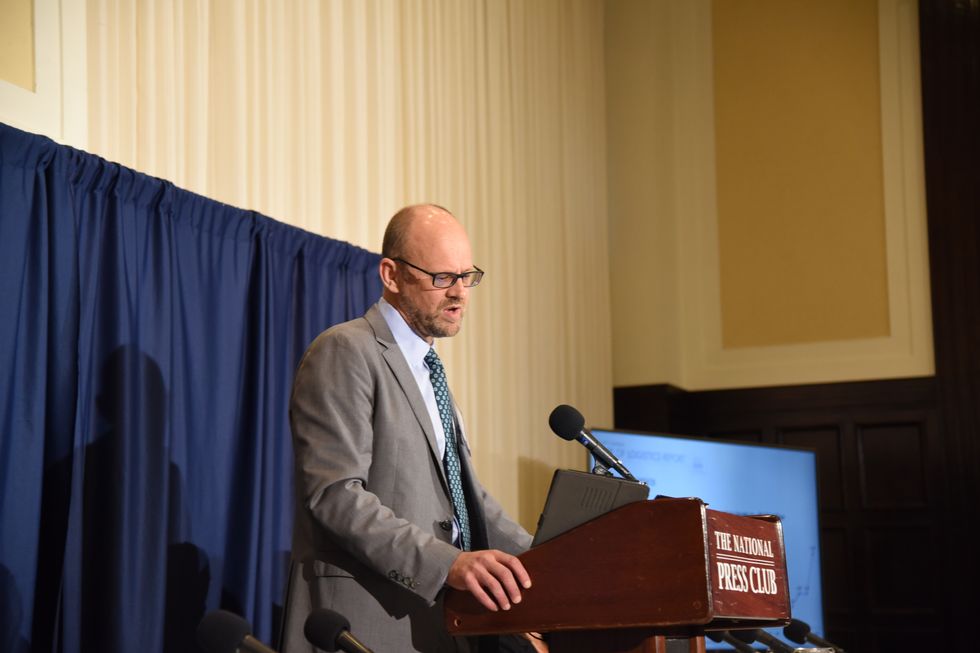 CSCMP State of Logistics Report: High Shipper Expectations, Consumer Demand Drive 3PL Growth
Customers' demand for convenience, complex shipping operations and the need for shippers to manage their transportation spend have increased the number of shippers seeking out third-party logistics providers' expertise, and the 3PL industry is expected to grow.
---
"Shippers increasingly need 3PLs to help solve their challenges of talent acquisition, visibility, capacity assurance and cost productivity," said Michael Zimmerman (pictured above), a partner with the global strategic management consulting firm A.T. Kearney and lead author of the 30th Annual State of Logistics Report. "We foresee that demand for 3PLs will about double the pace of GDP growth at 5.2% between 2018 and 2022."
The 30th Annual State of Logistics Report was introduced by the Council of Supply Chain Management Professionals (CSCMP) and presented by Penske Logistics on June 18.
Zimmerman, along with Marc Althen, president of Penske Logistics, Steve Bobb, executive vice president/chief marketing officer for BNSF Railway, Ken Braunbach, vice president U.S. transportation for Walmart, Jill Donoghue, vice president of supply chain for Bumble Bee Seafoods, and Derek Leathers, president and CEO of Werner Enterprises, took part in a panel discussion at the National Press Club in Washington, D.C., following the report's release.
Zimmerman said 2018 was among the most challenging of years for shippers with tight capacity leading to significant and in some cases multiple rate increases.
United States Business Logistics Costs rose 11.4% to reach $1.64 trillion in 2018, or 8% of 2018's $20.5 trillion GDP. Growing demand led to a strong job market and rising wages, which carriers and warehouses passed on to shippers as higher prices.
The State of Logistics report found rising costs across all segments of the industry, including transportation and inventory-carrying costs. Inventory led the way with a 13.2% overall cost increase on a 4.6% rise in year-over-year inventories as trade tension buildups met declining demand.
The CSCMP State of Logistics Report was released on June 18, 2019, at the National Press Club.
Transportation costs saw a 10.4% increase, but certain modes saw big jumps, according to the report. Zimmerman noted that freight rates were up across the board in the most inflationary year for logistics costs in the last decade. The increase in motor carriers was most pronounced in private fleets with a 13.1% increase, but the full truckload spike was high as well at 7.6% over 2018, Zimmerman said.
Cost pressures and last-mile challenges are creating increased demand for logistics solutions and elevating some providers to a more strategic role, the report found. "As the report relates, the 3PLs that bring the most dependability, innovation and productivity to their shippers will be the ones in the winner's circle," Zimmerman said.
Zimmerman added that emerging technological solutions and 3PLs' ability to nurture trusted relationships with customers will play a vital role in the future of the industry. He said 3PLs can help shippers meet the challenges they're facing, which vary by sector.
Consumer goods are increasingly moving to faster deliveries, which means forward inventory deployment and agility in omni-channel, including the handling of returns. For the industrial market, the demands of regulation and raw material supply add costs and volatility to their supply chains, and they increasingly rely on 3PLs to help them solve the problems, Zimmerman said.
The final mile remains a challenge, and Zimmerman said parcel and last-mile services are struggling with costly challenges. More residential deliveries are resulting in routes that are getting longer and less efficient. The variability in volumes, such as those seen during the Thanksgiving to Christmas window, create a surge that providers have to manage. In addition, volume profiles are changing as e-commerce expands to large and irregular shaped items, such as mattresses and patio furniture, that require special handling.
At the same time, customer expectations are increasing as customers come to demand same-day, two-hour or even one-hour delivery. The report said same-day delivery is now approximately a $1 billion industry and it is the fastest-growing service type for e-commerce deliveries.
Rising demand and higher expectations from shippers increase the pressure on 3PLs to solve shippers' challenges. "3PLs usually have more resources and experience in logistics than do shippers," Zimmerman said.
Penske's Althen said the pace of change within the supply chain is continuing to increase, and shippers and carriers need to think about how they will collaborate and work together to adapt to rapidly changing conditions. "Third-party logistics providers are in the ideal position to provide the innovation, flexibility and efficiencies shippers need going forward," he said.
By "Move Ahead" Staff