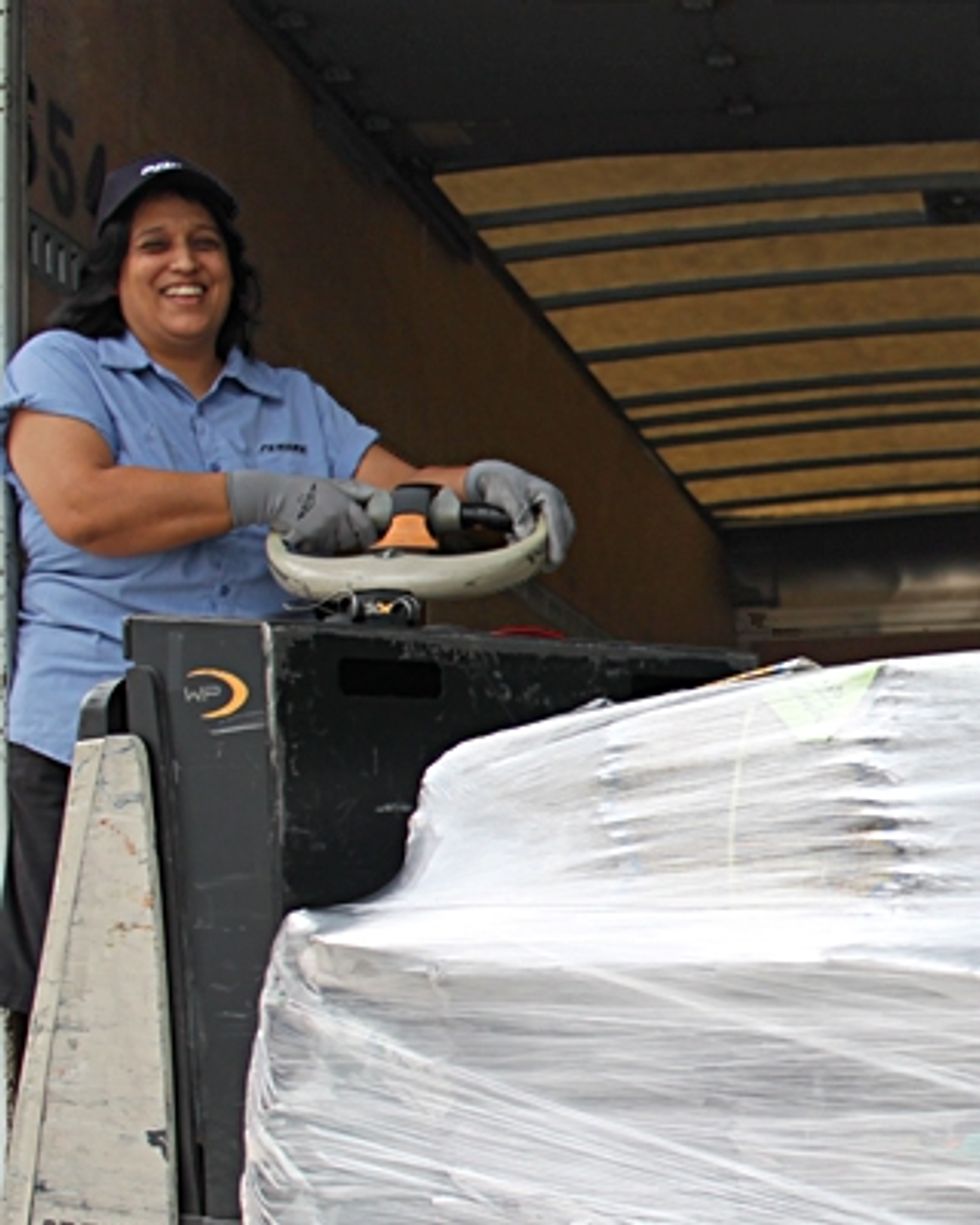 Behind the Wheel with Nancy McCullough & Mary-Margaret Shimada
Nancy McCullough enjoys seeing America from behind the wheel of her Penske Logistics 18-wheeler. Her travels as a truck driver have taken her to 46 of 48 U.S. continental states.
Raised on her family's chicken farm, McCullough (photo right) gained a true love of travel and its spirit of adventure when as a child she accompanied her father on egg deliveries throughout Florida.
---
Today, she is among 2,800 Penske Logistics truck drivers, who provide dedicated contract carriage delivery services for a wide array of market leading companies across North America.
As a Penske truck driver, McCullough currently transports beverage cups for a leading cup manufacturer to distribution centers across the South. These cups are used by retail stores and restaurants to serve coffee and other beverages.
With an atypical schedule that takes her on the road overnight for two or three weekdays at a time, McCullough's regional itinerary will take her to places like New Orleans, Miami and Little Rock, Ark.
"I like the longer runs," she stated. "I like to get out on the open road." McCullough does not have a preference between highway and back-road travel, gaining delight from also seeing the country's farmlands.
McCullough has been with Penske for five years and has seen many sides of the industry, having spent 11 years an independent owner-operator in Jacksonville, Fla., and having driven for smaller local carriers. She has logged over 27 years as a driver and has been accident-free for 20 years.
"It's easier to be a company driver and I like it more," McCullough explained while waiting for her International tractor to be unloaded while in Miami, her longest recent trip.
To this day, McCullough stated some people are still surprised at what she does for a living. McCullough tells a story of visiting a tax preparer's office each year. The tax preparer enjoys asking their colleagues to correctly assess what McCullough's occupation is. "They never can guess what I do."
Local Routes and Flexibility are Music to Mary-Margaret's Ears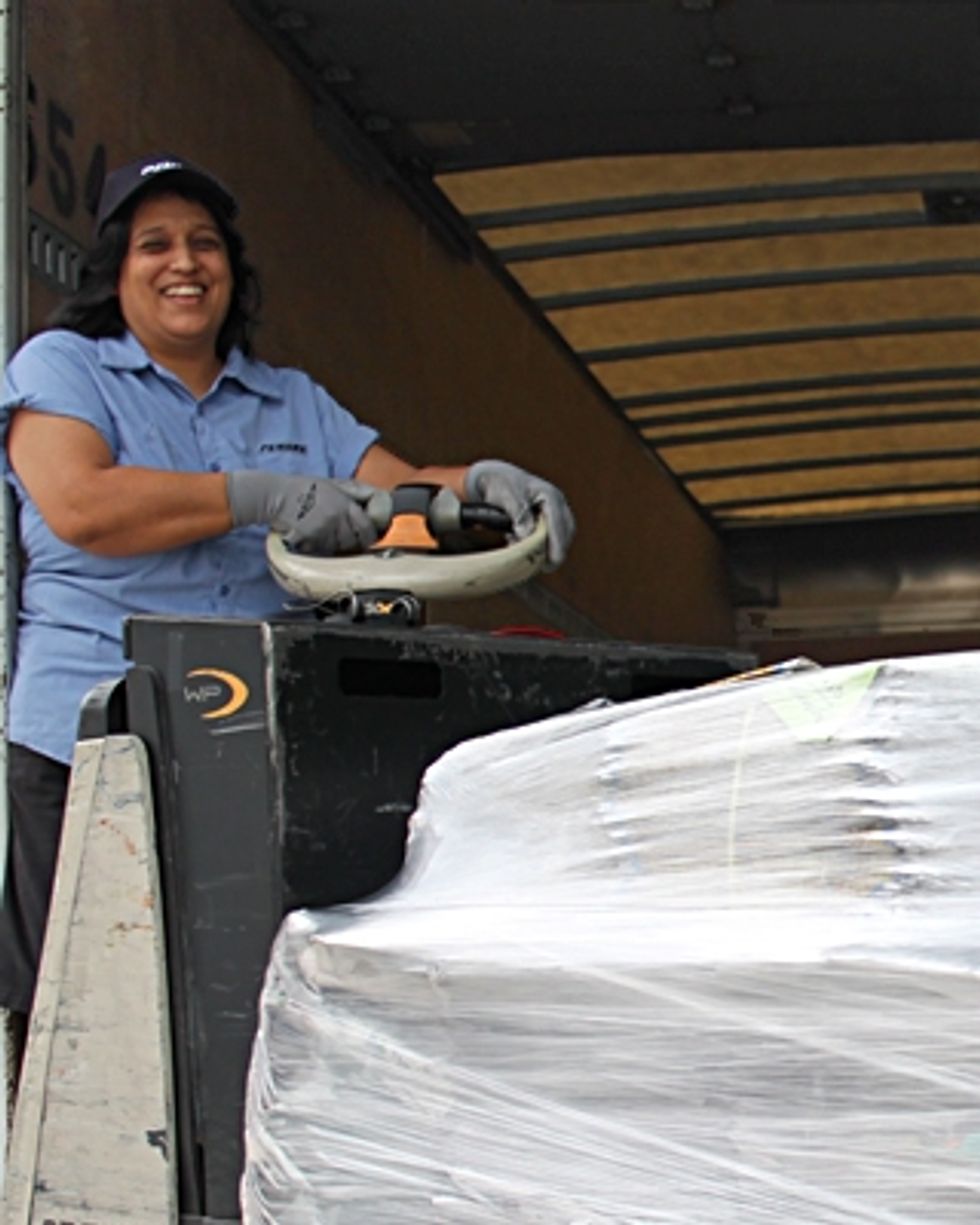 Mary-Margaret Shimada (photo right) really enjoys working the overnight shift as a Penske Logistics truck driver. She delivers daily and national newspaper materials throughout central Florida in a Hino 26-foot box truck. She is home daily and her driving schedule is considered local.
A former music teacher, Shimada sings a wide range of music while making her rounds, likes seeing "the moon and the stars" and just enjoys the fact that there are "less cars on the road" at 3 a.m. while aptly pointing out that "it's not as hot."
Shimada has professionally driven nearly every type of small- or medium-duty truck that you could imagine. She has piloted school buses, concrete ready-mix trucks and worked as a shuttle van driver at the Orlando airport.
She is a part of her location's safety team and aided in the development of an operations delivery manual, outlining the nuances of her route and how to most efficiently serve this customer.
"I love being outside," said Shimada, a self-admitted people person. She enjoys visiting the different sites that comprise her route. "I'm a people person and I love being outside and visiting the different substations."
Shimada is "so happy with Penske." She explained: "It is a great company to work for, and it's the best one I have ever worked for. They listen to you."
Penske is currently hiring local and short route CDL truck drivers across the U.S. – please click here to complete a driver profile with Penske or to be notified of future opportunities. The company offers competitive wages and a wide range of benefits. Penske is an Equal Opportunity Employer.
By Alen Beljin