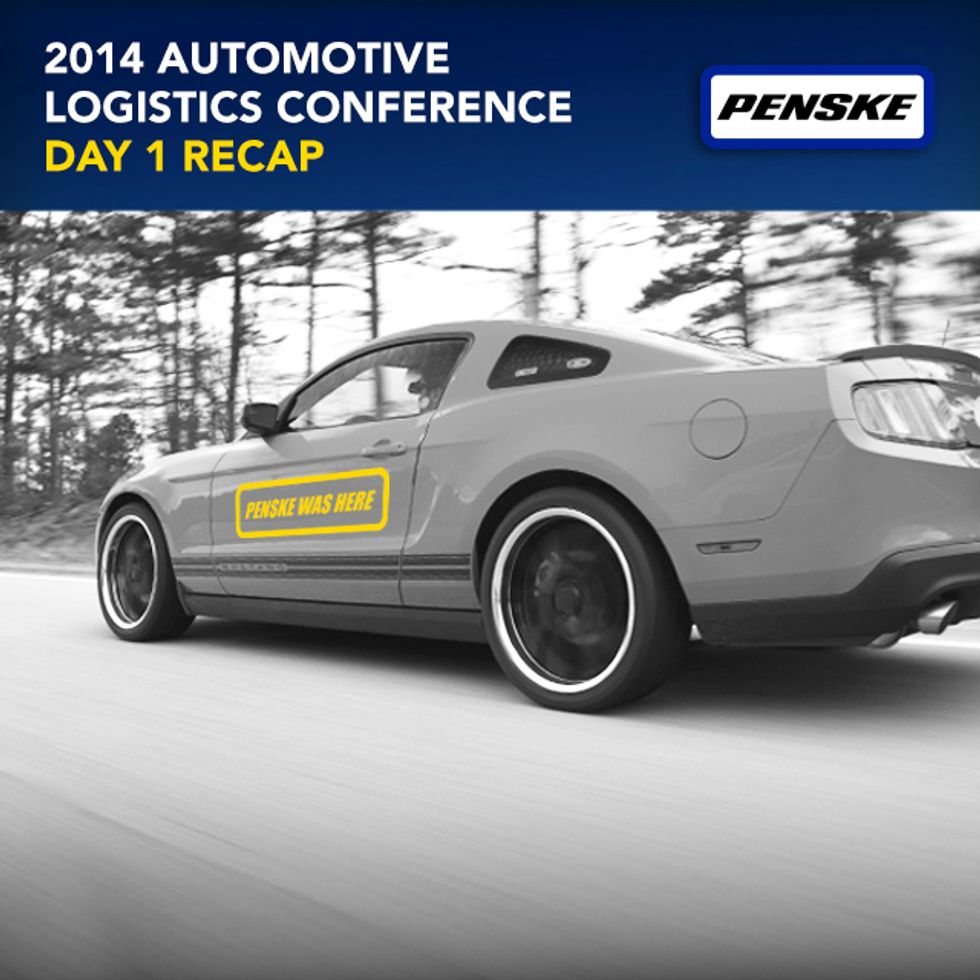 Automotive Logistics Global Conference Chock Full of Insights
The first full day of the 2014Automotive Logistics Global Conference in Detroit brought together car makers, their suppliers and third-party logistics providers to discuss a host of impactful issues. Informative panels filled with experts highlighted the importance of the supply chain, the necessity of Just-in-Time production practices and the ability of 3PLs like Penske Logistics to work with a car manufacturer's myriad roster of suppliers to bring completed vehicles to the consumer.
---
The Great Recession provided the automotive industry with a lot of lemons and the industry responded with the proverbial lemonade. OEMs, 3PLs and suppliers figured out how to do more with less, and a renewed emphasis on collaboration and innovation was created.
During one panel, a car maker and a pair of third-party logistics companies talked about:
• How 3PL, supplier and OEM relationships need to be long-term in nature to succeed
• A 3PL wisely summated that a contract with a shipper is not simply the inking of a multi-million dollar pact – it has to be a partnership with the right shipper
• Collaboration and innovation helped the car maker reduce their costs, which proved important to offsetting rising costs associated with fuel, new trucks and higher wages
• Communication and honesty are vital to OEM-3PL relationships
• The car maker didn't want history to repeat itself, so they became more customer-focused, more flexible to market and spearheaded a reinvention of their supply chain
Another session educated the assembled audience on the challenges of a global supply chain. It is not simply the case of companies creating supply chains to sell their goods and services in China; it also entails the formation of strong Asian supply chains that stretch into places like Germany and Russia. Panelists talked about the need for JIT production constructed across longer and longer supply chains.
The conference kicked off with a discussion of just how vital the automotive industry is in Detroit and in the state of Michigan.
A conference organizer spoke of the need to host this annual conference in downtown Detroit, in part to stay physically connected to perhaps the world's most important auto hub and to aid in the city's turnaround.
A senior Michigan auto economic development official presented interesting facts about its most important industry:
• 75 percent of the auto industry's research and development spend comes within a one hour drive of Detroit
• Michigan is within 500 miles of about half of the U.S. and Canadian auto market; it has 12 assembly plants and 35 auto and component plants
Penske Logistics has major operations in Michigan to support its automotive customers.
Tomorrow is the final day of the conference. There will be multiple sessions on the major impact that Mexico has on the automotive supply chain, with the trend of near-shoring operations closer to the United States and Canada. Penske senior executive Jeff Bullard, a former GM executive, will lend his thoughts on a session dealing with the challenges of supplying Mexican automotive plants.
Click here to read the second day conference summary.
By Alen Beljin