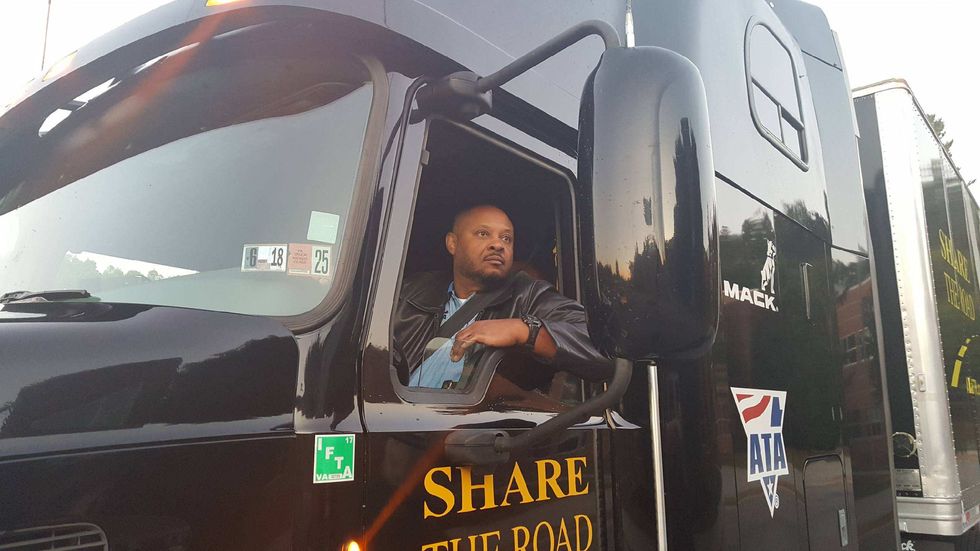 America's Road Team Captains Help Young Drivers Safely Share the Road
Professional truck drivers know safe driving habits are important when traveling on roadways filled with congestion and other distractions, often situations that can be a challenge for new drivers.
---
Through Share the Road, a highway safety program developed by the American Trucking Associations (ATA), professional truck drivers teach teen drivers how to exercise good judgment when driving on roadways shared with commercial vehicles like tractor-trailers.
Members of the ATA's America's Road Team – including Earl Taylor, an America's Road Team Captain and professional truck driver for Penske Logistics – draw on their experience and exemplary safety records to serve as program ambassadors and pass along tips to young drivers.
"If we teach teens at an early age, before they develop bad habits, they can be more effective drivers," said Drew Mitrisin, manager of industry affairs for the ATA. "Even if kids take one or two things away from a Share the Road demonstration, we still think it will be valuable and potentially life-saving."
Taylor recently visited with students at two high schools in Virginia, offering them a chance to climb into the cab of the official Share the Road tractor-trailer, explore the sleeper compartment and experience a commercial unit from a professional truck driver's vantage point.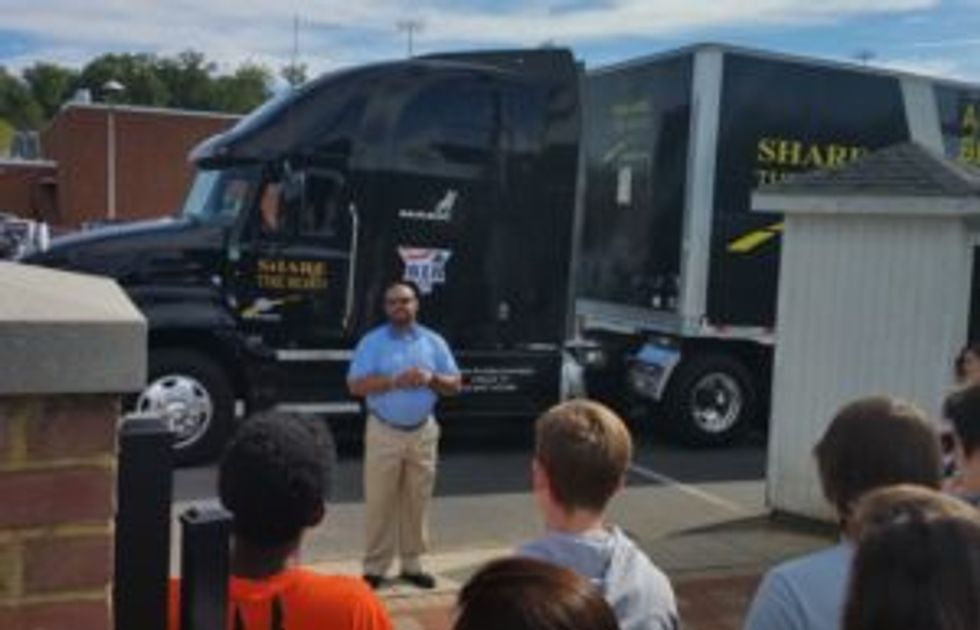 "We all want to be safe on the road, and the only way is for teens to understand what we are doing," Taylor said. "We are professional drivers; we have a pretty good understanding of what to expect out on the road, but new drivers don't have as much experience or exposure to commercial vehicles."
Driving Home Highway Safety
The Share the Road program began in 1986 to teach the public how to coexist safely with large trucks on roadways, working with many highway safety partners, including state trucking associations and the Federal Motor Carrier Safety Administration.
"Once you understand the limitations of a truck, you will be able to better predict what a truck driver will do and how you can drive responsibly next to a truck driver," said Mitrisin.
In addition to schools, Share the Road events are held during the year at state capitols, motorcycle and RV events, auto shows and truck driving championships. An official Share the Road tractor-trailer serves as a literal touchpoint of the presentation.
Some Share the Road program tips include:
When following behind a truck, remain 20 to 25 car lengths behind it.
Leave enough space if you need to stop suddenly for an accident ahead of you or to avoid debris in the roadway.
When passing a truck, and before moving back into its lane, make sure you can see the truck's headlights in your rearview mirror before you move back over.
"One of the big messages is to understand when you're in a blind spot and try to get out of it quickly but safely. There is a blind spot in the front, and trucks take a long time to stop, so you want to make sure you give him plenty of cushion when you are cutting back into the truck driver's lane," Mitrisin said.
By having professional truck drivers leading the presentation, it gives teens an authentic voice and a glimpse of the important roles professional truck drivers play.
"This is really a good chance for our professional truck drivers like Earl, who have tons of accident-free miles, to talk to kids first hand and explain the fact that truck drivers are professionals and they do everything they can to get families home safely," said Mitrisin.
Safe driving is not only a key component to Penske Logistics' success, and the success of our customers, but it also ensures the safety of the company's 4,650 professional truck drivers, including Taylor.
A big part of Penske's safety initiative is encouraging drivers to participate in the Smith System training course. Smith System is a leading provider of collision avoidance driving training.
"Our professional truck drivers put a premium on safe driving to keep themselves safe as well as other motorists," said Jason Herr, vice president of safety for Penske Logistics. "Safe driving is central to the professional, efficient and on-time performance we provide for our customers each and every day."
On a Safety Mission
During his time in Virginia, Taylor spoke with 10th-grade students in the driver education programs at two high schools.
"They are excited about driving. They want to get their license. They want that freedom – to be able to go when you want, to come back when you want and not have to depend on someone to pick you up," he said. "Freedom is a luxury."
During Taylor's presentation, the students' curiosity grew once they could climb inside the tractor. "They became interested in the emission control systems and the electronic logs. They wanted to know about the volume of the trailer," Taylor said.
For Taylor, the event allowed him to indulge one of his passions – promoting safety and impacting the lives of children.
"When you see a kid who understands the safety part because of the information you have personally given, there is no greater feeling than that."
Interested in a driving career with Penske? Visit gopenske.com/drivers for employment opportunities. The company offers competitive wages and a wide range ofbenefits. Penske is an Equal Opportunity Employer.
By Bernie Mixon