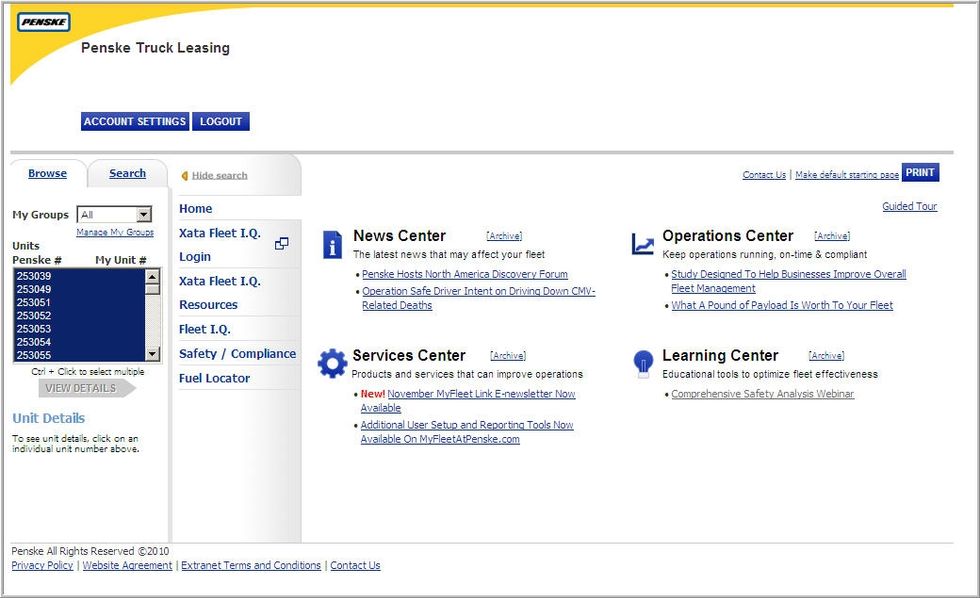 Tools to Manage Your Fleet Easier
Did you know that Penske Truck Leasing offers a customer website designed to help commercial truck fleet managers run their businesses more efficiently and effectively?
---
MyFleetAtPenske.com is a secure, private website available to U.S. full-service lease and contract maintenance customers. The site provides information on the customer's fleet profile and valuable fleet management tools like safety information, fuel locations, maintenance and 24/7 roadside assistance - all with the click of a mouse.
As a Penske customer, you can benefit from using MyFleetAtPenske.com. Features include:
A fast and easy-to-use Web navigation
24/7 access to fleet information
The ability to save time through instant access to fleet information and reports
A dedicated customer service call and support center
The capability to identify road break downs and track them
Discounts on safety and driver compliance services from industry-leading vendors like JJ Keller and Smith System
Updates on the latest Penske and industry news
Information on key fleet issues via webinars
With MyFleetAtPenske.com, you can gain faster access to account information in a Web-based format. For more information or to register for MyFleetAtPenske.com, contact your local Penske representative. Click here to watch a preview video.
If you're already using MyFleetAtPenske.com, tell us about it. Comment on this blog about your MyFleet experience.
By Kathleen Walter