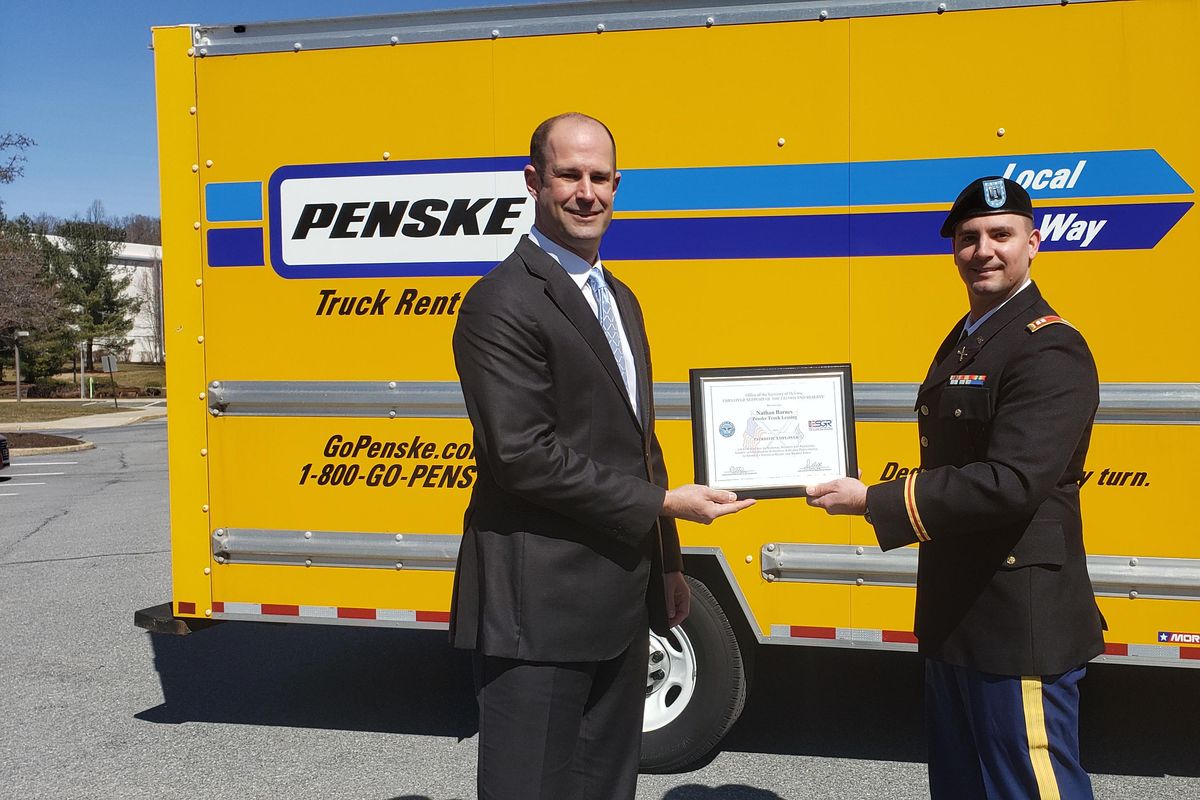 Penske Director Nathan Barnes Recognized by U.S. Military with ESGR Patriot Award
When serving in the military, flexibility in the workplace can make a big difference. Michael Kegerise, Enterprise Facilities Services Engineer – PTS, knows this all too well, as he juggles his responsibilities at work, at home and serving as a captain in the Pennsylvania Army National Guard.
---
Kegerise is a senior instructor at the 166th Regiment Training Institute in Fort Indiantown, Pennsylvania, where candidates from several states learn, train and compete to become commissioned officers.
He says his responsibilities to the National Guard can shift with short notice. His supervisor, Nathan Barnes, Director – Corporate and Enterprise Facility Services, PTS, supported his duties from the start.
For this reason, Kegerise nominated Barnes for the Employer Support of the Guard and Reserve (ESGR) Patriot Award, which is presented by the U.S. Department of Defense.
"I nominated Nathan Barnes for the Patriot Award not based on a deployment of mine, but more so on the continual understanding of my duty responsibilities and flexibility when it comes to last- minute training schedule changes," Kegerise said.
In a statement to ESGR, Kegerise praised Barnes for his leadership and for cultivating his and other associates' growth at Penske, as well as his support for those serving in the military.
"Nathan Barnes goes above and beyond to encourage me to grow in my professional and military career. He makes a point to build a military member network within our company and promote my skills to help others in needs for work and/or veterans' outreach. His continuous effort to ensure mine and others success before his own."
Barnes, a former officer in the Army Reserves, has firsthand experience in balancing his military service with a civilian life and is grateful to be part of a company with such a high regard for the men and women in uniform.
"I am honored to receive this award and proud to be part of the Penske organization that supports our citizen soldiers," Barnes said. "Members of the National Guard and Reserve are first and foremost volunteers; they sacrifice their time with family and friends to be ready when called upon."
The Patriot Award is given to supervisors who support associates in the National Guard and Reserve with time off before and after deployments, and flexibility when it comes to work schedules and responsibilities – something Barnes believes can go a long way toward success.
"I understand the commitment required of these women and men," Barnes said. "We can improve their chances of success, both professionally and in the Armed Forces, by providing the necessary support and guidance to help them become better leaders."
ESGR is a Department of Defense Program aimed at promoting supportive work environments for service members in the National Guard and Reserve. This is accomplished though outreach, recognition and educational opportunities that increase awareness of applicable laws.
By "Move Ahead" Staff