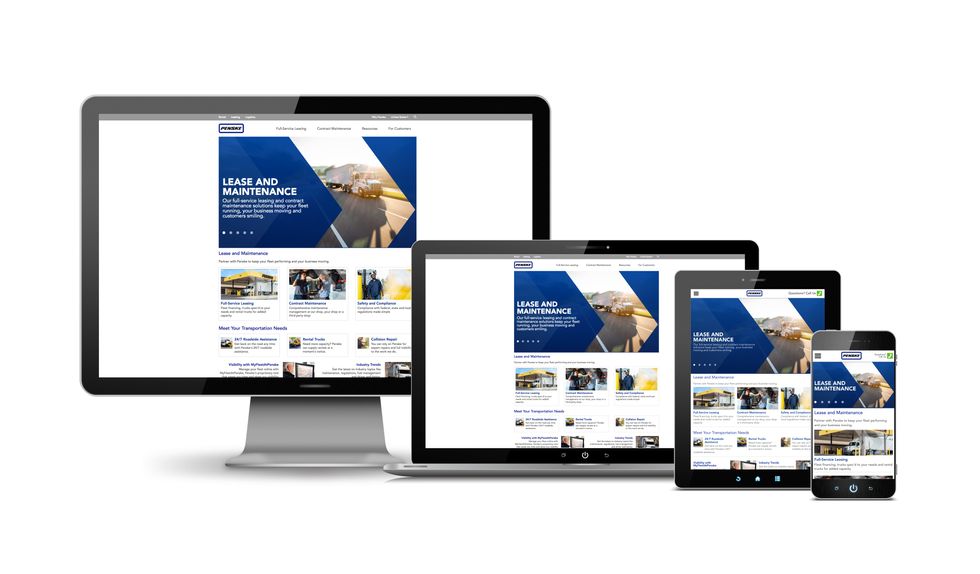 Penske Truck Leasing Introduces New Mobile-Friendly Website and Online Resource Center
Penske Truck Leasing has launched a new, updated website that provides valuable information about its full-service leasing and contract maintenance services, with a seamless experience for customers accessing it from any mobile device, tablet or desktop.
---
Fleet operators who visit the new www.pensketruckleasing.com site will find a wealth of resources about the options and benefits available through full-service leasing and comprehensive fleet maintenance including how to reduce risk, manage costs, operate efficiently, remain in compliance with regulations, adopt effective fuel management strategies, and procure branded vehicles customized for their company.
"Every day our team comes to work focused on how to provide the best trucks and service to keep our customers moving forward, and we wanted our new site to bring that commitment to life," said Sherry Sanger, senior vice president of marketing at Penske. "This site includes everything from valuable insight on industry trends to videos illustrating how we've helped customers achieve success."
The site outlines benefits customers gain from contracting with Penske for maintenance, such as increased vehicle uptime, improved insight gleaned from the collection of big data, and reducing the staffing and capital investment burden needed to keep up with the increasing complexity of equipment.
The new leasing site completes the redesign of websites for Penske's main lines of business, to provide a consistent branded look and mobile-friendly design. Earlier this year, the redesigned Penske Truck Rental website was launched, adding new capabilities for businesses to make commercial truck reservations and consumers to purchase moving supplies from mobile devices. The rebranded Penske Logistics website was introduced earlier, highlighting the company's work in transportation management, warehousing and distribution and supply chain management across multiple industries.
By "Move Ahead" Staff