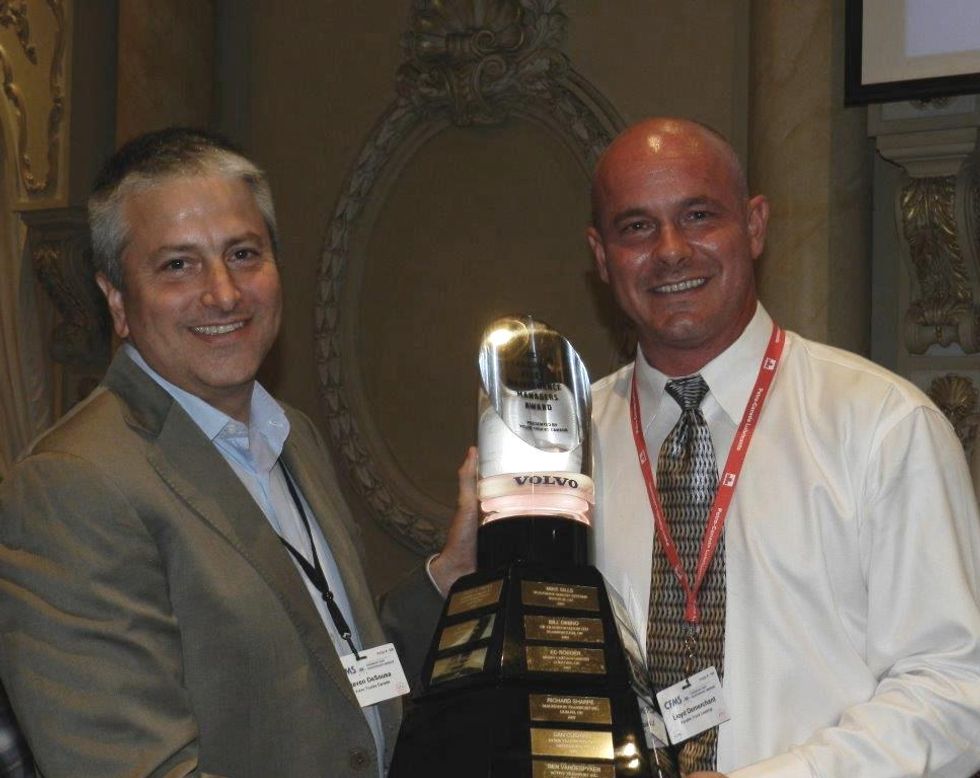 Penske Associate Gets Fleet Maintenance Manager of the Year Award
Lloyd De Merchant, area maintenance manager forPenske in Mississauga, Ontario, Canada, was named the Volvo Trucks Canada Fleet Maintenance Manager of the Year at the Canadian Fleet Maintenance Seminar June 18.
---
"This was a huge honor for me to have all my peers in the industry in Canada in one room on one day," said De Merchant, who was unaware he was receiving the award and that his family was present. "It meant a lot to me."
As an area maintenance manager, De Merchant oversees 22 Penske maintenance facilities and 8,000 pieces of equipment across Eastern Canada.
Working with fellow maintenance professionals and customers is what De Merchant enjoys most about his position. "I like to support my team of technicians in any way I can and help them do their job right," he said. "The way I feel when I help a technician or a customer is rewarding. I like seeing people succeed. That's what makes my job fun."
De Merchant's supervisor, Tim Prior, area vice president, said De Merchant was worthy of this honor.
"One of the things that's impressive about Lloyd is his technical ability to diagnose problems," Prior said. "He's very familiar with our processes. He's engaged in the work he's doing. He's progressed through the various roles and understands each function and how it's important to the business."
De Merchant began his Penske career 18 years ago as an apprentice mechanic. He then held several service manager and district manager roles before assuming his current position.
"I like working for Penske. We strive to always stay one step ahead of the curve technology-wise," said De Merchant, who is pictured on the right receiving the award from Steven DeSousa, Volvo Group's district service operation manager.
His career in the transportation industry began 25 years ago when he worked as a technician at his father's trucking company in Mississauga.
He resides in Burlington, Ontario, with his fiancée, Shelly, and three children.
The Canadian Fleet Maintenance Manager of the Year Award is given to a nominated fleet maintenance manager who oversees 25 or more Class 8 trucks, performs at least 80 percent of repairs in-house and has at least five years of experience and a minimum of three years in a management role. Trade journalists and past recipients comprise the judging panel, who selects the winner based on major accomplishments and innovations.
Read more about De Merchant and his commitment to fleet maintenance and safety on trucknews.com.
By Kandace Wertz