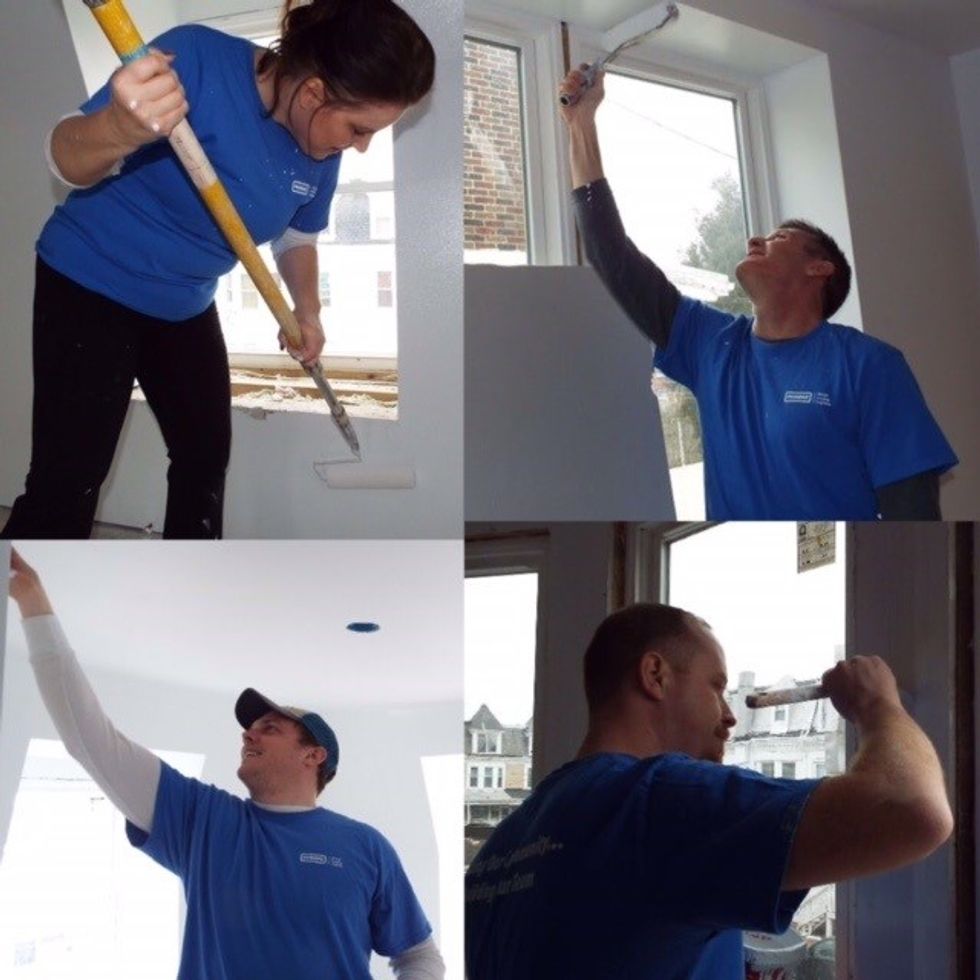 Penske and Habitat for Humanity's Revitalization Project Nears Completion
The aroma of freshly painted walls – a symbol of rebirth and renewal – waded through a once-blighted Reading, Pennsylvania, row home, the site of a joint revitalization project between Penske and Habitat for Humanity of Berks County.
---
A group of associates from Penske's Remarketing Department traded their expertise in transportation for a turn as painters, donating their time as volunteers as they have done for many weekends for nearly a year.
In all, Penske associates have volunteered more than 250 hours to help revitalize the Tulpehocken Street house which, when completed this summer, will become a home for a local family in need.
"When you consider what comes from the outpouring of volunteers, that is really something to be respected and admired," said Tim Daley, executive director of Habitat For Humanity of Berks County. "Thank you, Penske."
The joint venture is the first between the non-profit Habitat For Humanity of Berks County, a United Way of Berks County agency partner, and an area corporation. In addition to providing sweat equity, Penske, with offices in suburban Reading, donated $5,000 to help fund the project.
The idea for Penske's involvement came from Justin Sobotka, a telephone sales representative in the Remarketing Department, who approached department management – including Bob Glenn, director of Remarketing – to offer the volunteer effort as a department-wide team-building project.
"Not all of us work together closely because of the different roles we have within our department," Glenn said. "The Habitat project has allowed for us to spend time together outside of work and to get to know one another better."
Driving Home Ownership
Habitat For Humanity of Berks County formed in 1988 to address the need for affordable housing by serving as a conduit for neighborhood revitalization and providing opportunities for homeownership for area families.
Homes are sold to the families at no profit, financed by Habitat with little or no interest mortgages. The mortgage payments made by the families are used for more Habitat projects in the community.
Families vying for a Habitat home must perform 300 hours of "sweat equity" as part of the qualification requirements to be able to purchase a Habitat home.
When the project began, the house was in blighted condition with boarded-up windows and peeling paint. The combined efforts of Penske volunteers, as well as other volunteer groups and skilled labor, have transformed the building into essentially a new structure.
There is still more work to be done in the coming weeks, including completing the electrical, plumbing, heating and air-conditioning systems as well as rebuilding the front porch and completing some yard work, said Mike Rodino, director of construction.
People Helping People
On one recent chilly Saturday, Glenn and Shannon Figueroa, a used vehicle purchase coordinator, were among the group of painters working to bring the structure's walls to life.
Now that the project is entering its final stages, Glenn reflected on the contributions made by associates from his department.
"There has been a lot of coordination, communication, teamwork and hard work to bring us where we are today," Glenn said. "It has been fun working through the stages of a renovation. From demo work to framing and now painting, we have been able to see how much work goes into this type of rebuild project."
Figueroa said she was proud to work for a company so invested in giving back to the community and changing lives.
"It's a fun opportunity to help the community," said Figueroa, who concentrated her efforts on the dining room and a powder room. "Just a few hours on the weekend makes such a big impact on someone's life."
By Bernie Mixon