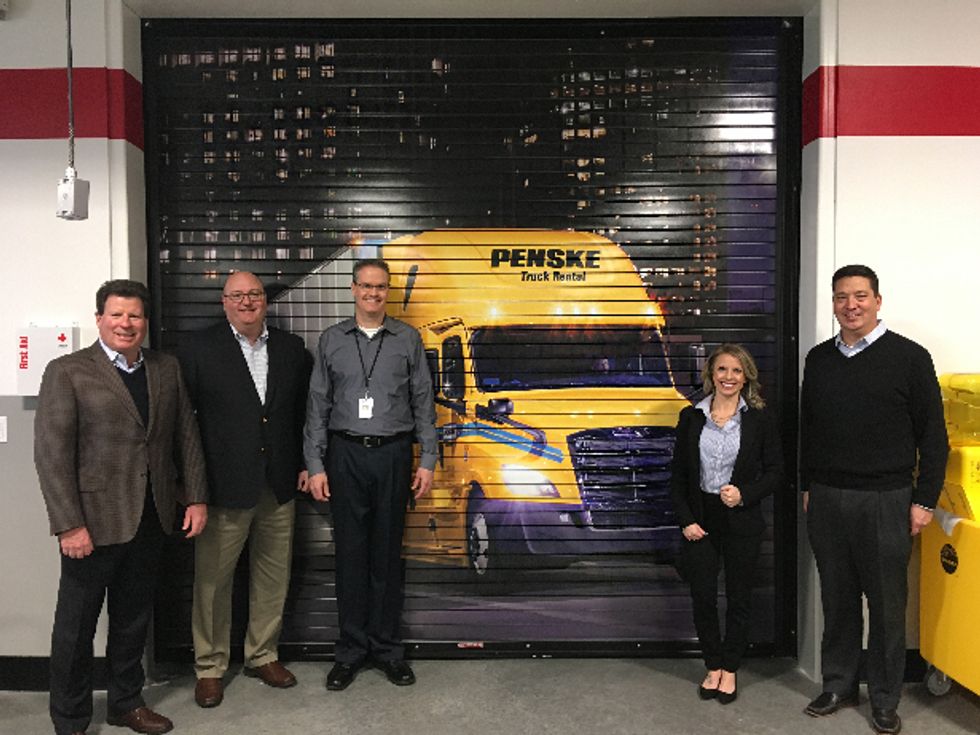 New UTI Campus Opens Penske-Branded Diesel Lab
Penske Truck Leasing recently had the opportunity to leave its mark on a newly opened technical school – literally.
---
In 2018, Universal Technical Institute, or UTI, opened a campus in Bloomfield, New Jersey. Danielle Dilks – a recruiter at Penske – and a few other associates met with the school's campus officials and discussed the possibility of branding the new building's diesel lab for students. The branding included wall space with some imagery from Penske's latest advertising campaign.
The idea to bring this kind of exposure into tech school classrooms was not a first for the company. Penske has done similar projects at various other schools across the country as a way to promote its brand and recruitment efforts for new graduates, so they can become familiar with the industry-leading company and pique their interest in applying as entry-level technicians and customer service representatives.
"The UTI campus in Exton, Pennsylvania, already has a lot of our branding," said Dilks. "When we were heard that UTI was going to be opening a new campus in the metro New York area – this one in Bloomfield – we wanted to do something similar to their diesel lab."
Dilks says that the Garden State's newest location will help with obtaining more talent for Penske facilities across the northeastern U.S. region. Because of this, she wanted to loop in associates from the company's Metro New York and the Northeast areas, including Metro New York Area Vice President Michael Duquette, Northeast Area Vice President Andrew Vassil and recruiter Amber O'Roke, to get their input on images they wanted to portray.
After much collaboration with school officials about branding the new space and coming to an agreement, the school invited them to tour the facility.
Penske has had no trouble attracting graduates from UTI. Dilks said that between the Metro New York and Northeast areas, Penske Truck Leasing hired nearly 60 UTI students in 2018. The company views the school as a hotbed for recruiting fresh talent – in an industry that is starving for it.
"Visiting tech schools, such as UTI, and speaking with students about our brand and company values is a big part of my recruiting efforts," said Dilks. "Establishing relationships with these campuses and branding their diesel lab help us get a head start by getting our feet in the door from the beginning."
But, the relationship with the school doesn't stop there.
To further spread the word about Penske and its work culture, Dilks and her colleagues conduct Future Tech Days at Penske facilities for high school students considering going to UTI and pursuing a technical career. Students have a chance to meet with associates who are UTI alumni, tour the facility, see the new technology Penske's technicians use daily and learn about the different career options at the company.
Branding of the diesel lab finished at the end of 2018, and the lab officially opened to students and faculty this month.
Pictured (from left) are Senior Vice President of the Northeast Region Jack Gallagher; Duquette; UTI Bloomfield, New Jersey, Campus President Steve McElfresh; O'Roke; and Vassil.
By Chris Abruzzo