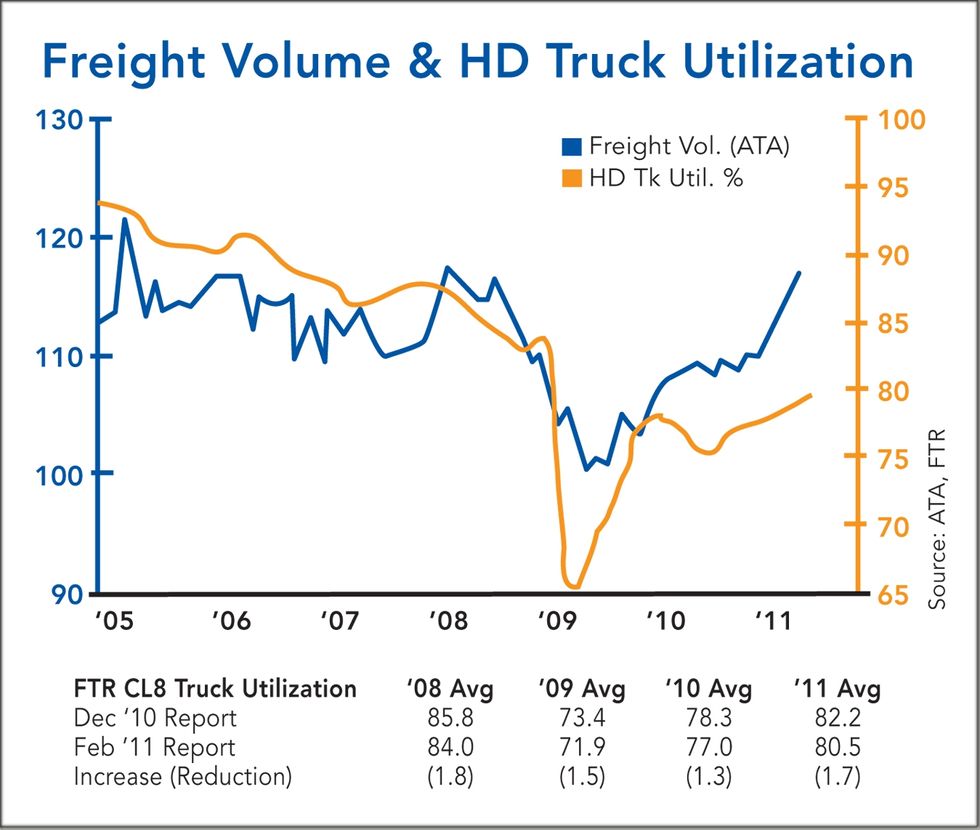 Fuel Costs, Regulatory Impacts and Economy Create Concern for Truck Capacity
Industry experts continue to predict that truck capacity will tighten. This is due in large part to economic growth combined with industry-specific regulations like the Federal Motor Carrier Safety Administration's (FMCSA) newCompliance Safety Accountability (CSA) program, new hours-of-service (HOS) rules, and escalating fuel costs.
---
CSA
CSA is being rolled out in an effort to improve safety over the FMCSA SafeStat program. The expected trade-off will result in a significant reduction in capacity. CSA will purge bad commercial drivers from the industry, resulting in improved screening processes for new drivers, and closer monitoring of existing drivers' performance. Carriers who continue to hire or retain "un-fit" drivers will face litigation exposure for negligent hiring/retention. CSA could potentially force seven to 10 percent of the existing driver workforce out of the industry, as many drivers will no longer qualify to operate commercial trucks.
Increasing Freight Volumes
Freight volumes are continuing to grow as the economy rebounds. Manufacturing is the prime driver for freight growth, and manufacturing output has grown at its fastest pace in seven years, according to the Institute for Supply Management. With Gross Domestic Product expected to grow by 3.3 percent this year and slightly more in 2012, the impact will continue to increase freight volumes, creating the need for more capacity.
Escalating Fuel Costs
The latest industry predictions for diesel fuel is expected to average $3.81 a gallon this year, and by 2012, the average fuel cost will be $3.82, according to the U.S. Energy Information Administration (EIA).
Many shippers developed budgets based on out-of-date information. What was factual information in 2010 didn't hold true in January. First of the year predictions had fuel at $3.23 per gallon.
Small fleets, which provide a substantial percentage of truck capacity, are more vulnerable to increased fuel prices than the larger fleets. Historically, as fuel prices rise, there has been an increase in carrier failures.
HOS
Anticipated changes to HOS rulemaking will impact the daily drive time and drivers' restart. Driver time is expected to be reduced from 11 to 10 hours, which equates to a nine percent reduction in drive time. The change would require 150,000 more trucks to move the same amount of freight. Additional changes to HOS rulemaking will have an impact on truck utilization and capacity.
For more information on truck capacity and how Penske can help, contact your local representative, or visit PenskeTruckLeasing.com.
By Kathleen Walter