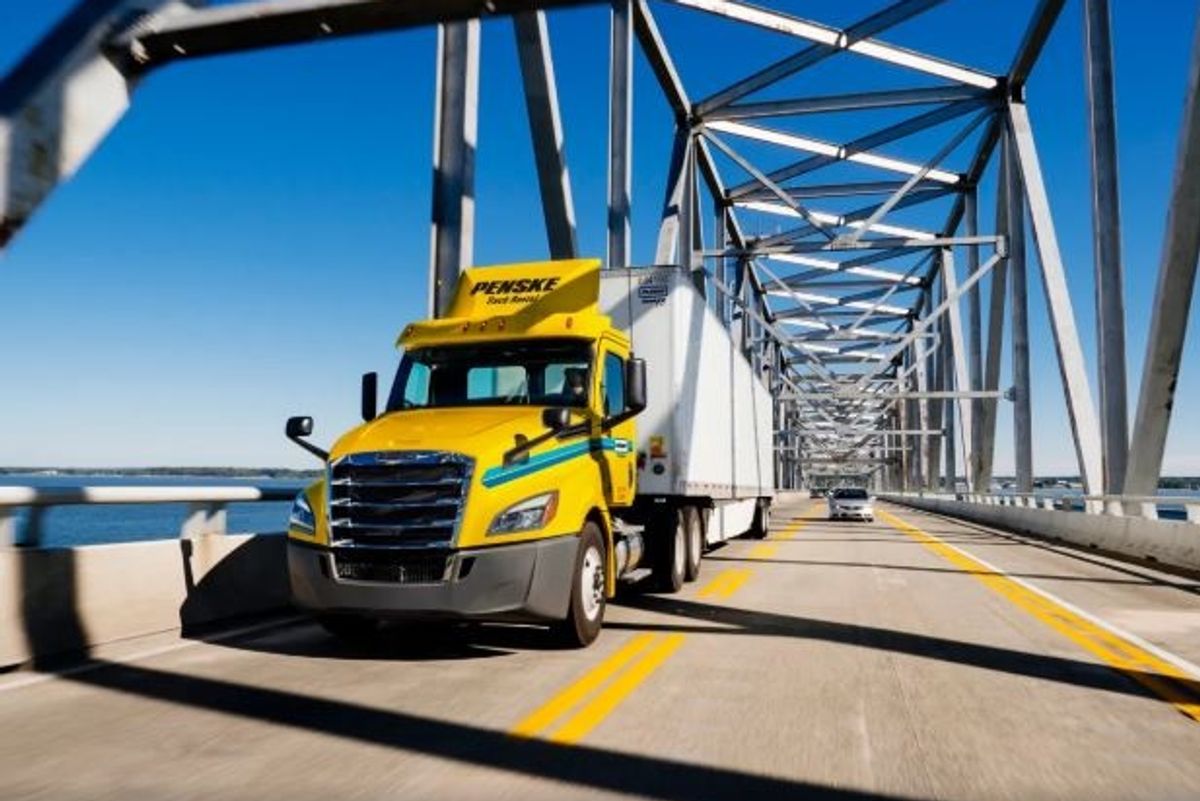 Choosing Between Leasing or Buying Trucks for Your Fleet? Penske Can Help.
Leasing or buying a truck: how do you choose?
It's a decision fleet managers have had to make for years, going back and forth with weighing the pros and cons associated with each of them. But the decision between the two doesn't have to be one or the other, says Penske Truck Leasing Senior Vice President of Sales Jim Lager.
---
"Some businesses may feel a mix of both leasing and owning their vehicles works best for them," said Lager. "What's important is knowing your options and understanding the impact on your business – both operationally and financially – those decisions will have."
That being said, there are benefits to both leasing and owning commercial vehicles, and depending on the fleet size, it could be an "either-or" scenario. But whichever option fleet managers opt for, they should consider the industry's economic climate and how that might affect their decision.
Trucking's Operational Costs Continue to Rise
According to a recently updated report by the American Transportation Research Institute (ATRI) based on collected industry data, the 2018 average marginal cost per mile in the trucking industry grew 7.7%, year over year. Some of the factors that pushed this rise in operational costs included higher diesel fuel prices, higher driver compensation and truck maintenance or repairs.
When you own trucks, you need truck drivers, and that's not as easy as it sounds. As illustrated in the ATRI's aforementioned report, "An Analysis of the Operational Costs of Trucking," rising driver wages, benefits and bonuses were recorded as the biggest line item cost for carriers for the last five years. A strong force behind these increases is said to be the truck driver shortage. To put it in perspective, the American Trucking Associations estimated that the number of drivers needed by 2028 will increase by 2.5 times – that's roughly 160,000 drivers.
And although vehicle ownership gives companies physical assets and a sense of control over those assets, many fleets – of all sizes – may not realize the abundant and increasing costs that go along with purchasing these trucks and vehicles. With them come:
Costly routine vehicle maintenance and unexpected pricey repairs
A need for a network of technicians you'll have to hire and manage
Having to find the capital to purchase newer equipment every few years
The need to keep up with newer technology
In 2018, repair and maintenance costs ran at 17.1 cents per mile, a nearly 25% jump from six years prior, according to the report. Needless to say, truck ownership can be a large financial commitment.
Why Leasing Might Make More Sense and Save You More Cents
When it comes to truck leasing or entering into a full-service lease, it allows you to focus more on your business, your customers and what you do best.
Full-service leases are tailored to fit your business. They allow you to reduce repair, maintenance, replacement and staffing costs and leverage the services of a professional transportation company. And with trucking operations costs on the rise, leasing your transportation needs through a company, like Penske, can help your bottom line.
Lager says leasing can bring many financial benefits to an organization, like flexibility, risk reduction, and cost control and stability.
"Trucks and other vehicles depreciate rapidly over time and are becoming obsolete faster due to technological advancements," said Lager. "Instead of tying up capital there, you can put that money to work elsewhere in your business and let us handle all the costs that go into operating and maintaining a fleet. It's one less thing on your plate."
If you think a full-service lease may be right for you, consider Penske. Some of the key features of Penske's full-service leases include:
Simplified financial planning with a single predictable monthly payment
Track and monitor repair information, performance reporting, maintenance records and scheduling with one-click online access to your fleet
Body maintenance and repairs available nationwide
Disposal of old vehicles without wasting time, money or energy
Consistent fuel prices and automatic expenditure tracking at over 2,000 fueling locations nationwide.
Peace of mind knowing Penske ensures your fleet stays compliant with federal, state and local laws and regulations
Leasing also allows your business to obtain equipment without the upfront costs and credit constraints of ownership. That means getting up-to-date and well-maintained vehicles without having to buy them – leaving more money in your pocket.
Interested in learning more about Penske Truck Leasing and how they can help you with your transportation needs? Visit https://www.pensketruckleasing.com/.
By Chris Abruzzo