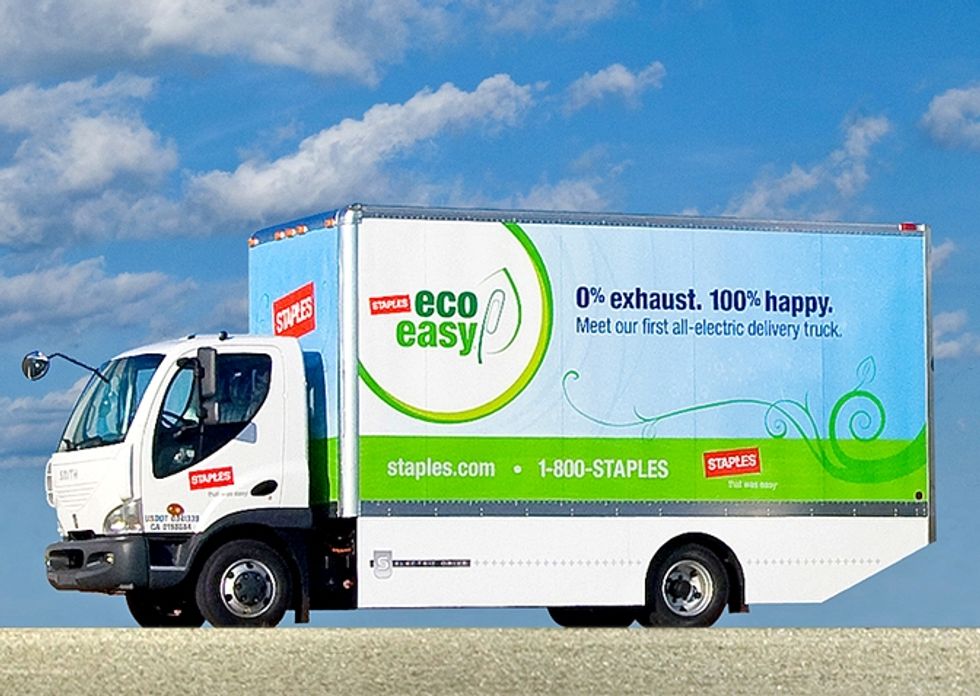 Businesses Share Environmental Improvement Efforts at Annual Summit
While their products, services and consumers vary, businesses at the Alternative Fuels Renewable Energies Council (AFREC) Sustainability Summit May 31 in Hershey, Pa., all share one common goal: to be better environmental stewards.
---
Penske Truck Leasing was among the major sponsors of the summit, where executives from leading private and Fortune 500 companies gathered to learn about sustainability improvement efforts. Bob Douglas, Penske Truck Leasing's vice president of field maintenance for the Northeast region, and Drew Cullen, vice president of energy and telecommunications services, co-presented.
Douglas shared one of Penske's environmental success stories involving Staples' implementation of 60 all-electric, class 6 trucks in six markets into its existing fleet of 400. Penske is the exclusive contract maintenance provider for the electric delivery trucks.
"We began servicing the electric vehicles in 2011, and both Penske and the customer are pleased with the results," Douglas said. "The trucks have resulted in fuel and emissions savings and have proven reliability."
Switching to an electric fleet isn't feasible for all customers, Cullen explained. He urged attending businesses from the transportation, logistics, and shipper sectors to consider joining the Environmental Protection Agency's (EPA) SmartWay Transport Partnership to help further reduce fuel consumption needs and emissions.
"Joining SmartWay shows that you are committed to measuring and improving your performance, which helps drive a reduced carbon footprint for the transportation industry," Cullen said. "It's in Penske's DNA to improve our customers' efficiencies, so joining and advocating for this program are right in line with our core business values."
SmartWay's 3,000 members have access to certified tools – designed with input from the freight industry – to measure and benchmark fuel consumption and emission rates for individual fleets (truckload, less-than-truckload, etc.) and truck improvement.
"The tools give you visibility to your performance, help you identify areas of opportunity, and benchmark against other SmartWay partners to help continually drive improvement," Cullen said.
Speaker Katherine Neal Blue, managing director of U.S. climate change and sustainability at KPMG, said her company is seeing numerous sustainability trends, including a push toward more rigorous integrated sustainability reporting similar to financial reporting that shows "how you can continue growing your products and services while reducing resource intensity and global emissions."
Other sustainability improvement efforts mentioned by participants included educating consumers, reducing energy use and increasing recycling efforts.
Penske Truck Leasing blog story on yesterday's @AFREC1 sustainability summit in Hershey, Pa.: http://t.co/m74reBzO

— Penske Transportation Solutions (@Penske Transportation Solutions) 1338568129
By Kandace Wertz